---
GAME ON!

THIS EVENT IS A GAME CHANGER!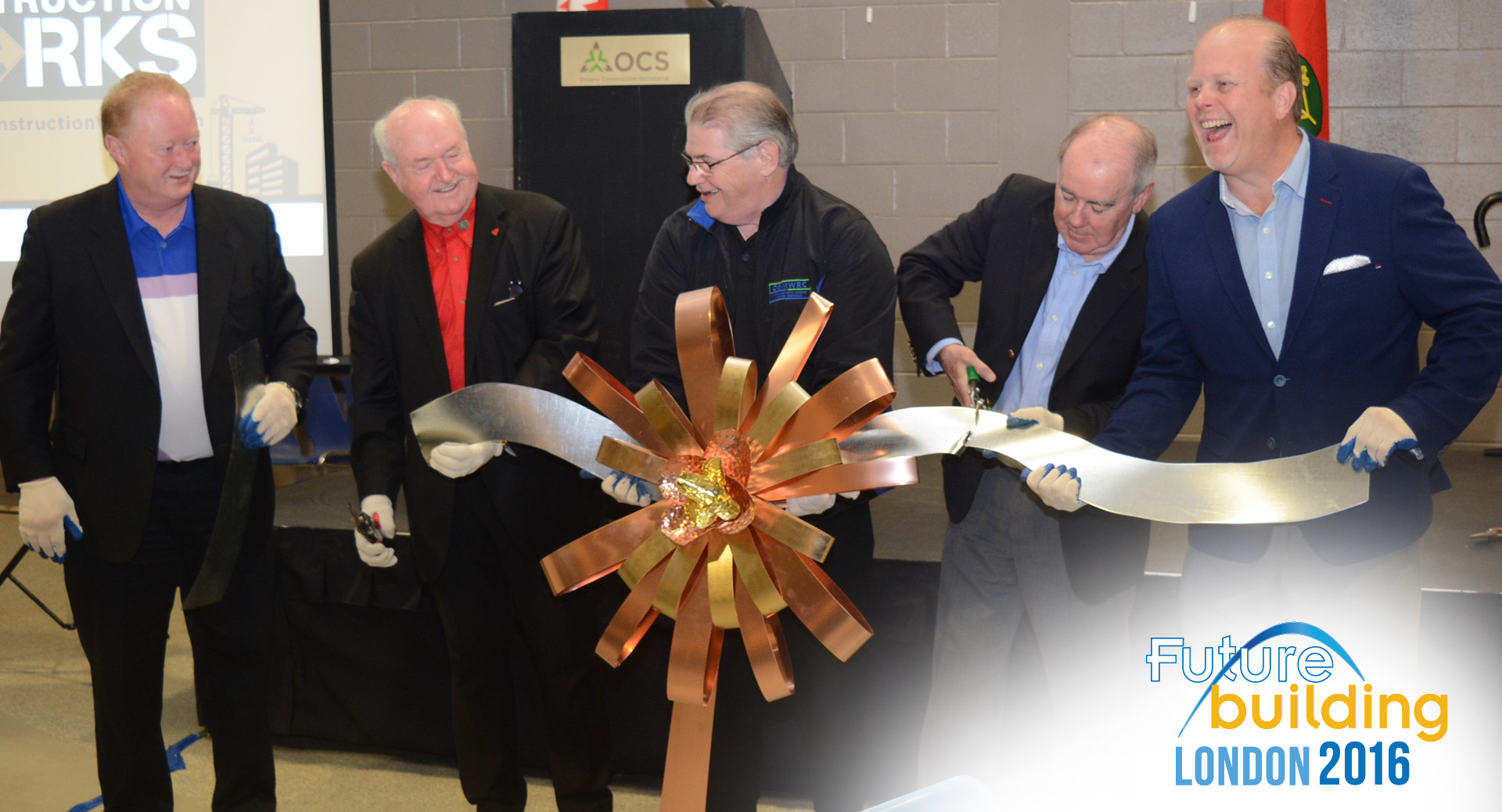 Photo: (L to R) OCS Board members, John Grimshaw (IBEW Construction Council of Ontario), Patrick Dillon (Provincial Building & Construction Trades Council of Ontario), Tim Fenton (Ontario Sheet Metal Workers' & Roofers' Conference), OCS President Joe Keyes (Construction Labour Relations Association of Ontario), and OCS Chief Executive Officer Sean Strickland.  Photo courtesy: Fred Lehmann (OCS)
More than 5,000 students from London and area experienced the Ontario Construction Secretariat's Future Building 2016 April 19-21 at the Western Fair District Metroland Media Agriplex.  They worked with tools and asked a lot of questions, and after the three-day exposition, the trades, teachers and students agreed the exposition was a great success.
A total of 20 school boards attended with great representation from the Thames Valley District School Board and the London and District Catholic School Board.  Other school boards travelled quite a distance to attend including the Rainbow School Board and Algoma District School Board in Northern Ontario and the Lambton-Kent and the Windsor-Essex Catholic District School Boards west of London.
Dan Twomey is the Assistant Training Coordinator for U.A. Local 527 in Waterloo.  He called the show "a great way to introduce different trades to many young people".  "Your show gave us the opportunity to teach a lot of students what a career in plumbing, steamfitting and welding is all about".
In addition, exhibitors included Build Together – Women of the Building Trades and the Canadian Association of Women in Construction, helping to promote the trades as a career choice to the young women who attended.  One teacher remarked she was heartened to see so many women in the trades as represented by the women exhibitors, which she noted was a strong message to her students.
From making whistles to soldering pipes to simulating the operation of a crane, it was all hands-on for the students.
Grade 8 teacher at Mary Wright Public School in Strathroy – CJ Mandrapilias – called Future Building 2016 "a phenomenal experience" for his students.
"I took a group of kids that ranged from unmotivated in the classroom to eager academics, and let me tell you, each of them came back excited, interested and extremely happy to have attended!  They loved the information, the hands on experience and the personalities that helped them explore future career opportunities.  The event itself is a game changer when it comes to inspiring kids to enter the skilled trades and realize that a career in the construction field can be personally and financially rewarding.  I would love to bring all of the 13 and 14-year-olds at our school next year so that they can experience it as well".
Not only students attended.  An older demographic was invited to attend a special evening session on the Wednesday.  Attendees included post-high school students, those looking for a career change and mature adults looking to learn a trade for volunteer opportunities they are considering.
The event also generated significant media interest from the London Free Press, CTV London and Rogers Cable TV, as well as Blackburn Media, CJBK Radio/Virgin Radio and AM 980 News in London.  Media from Sarnia, Brantford and Toronto also reported on the show.
Next year, Future Building will be held in Ottawa with dates to be confirmed.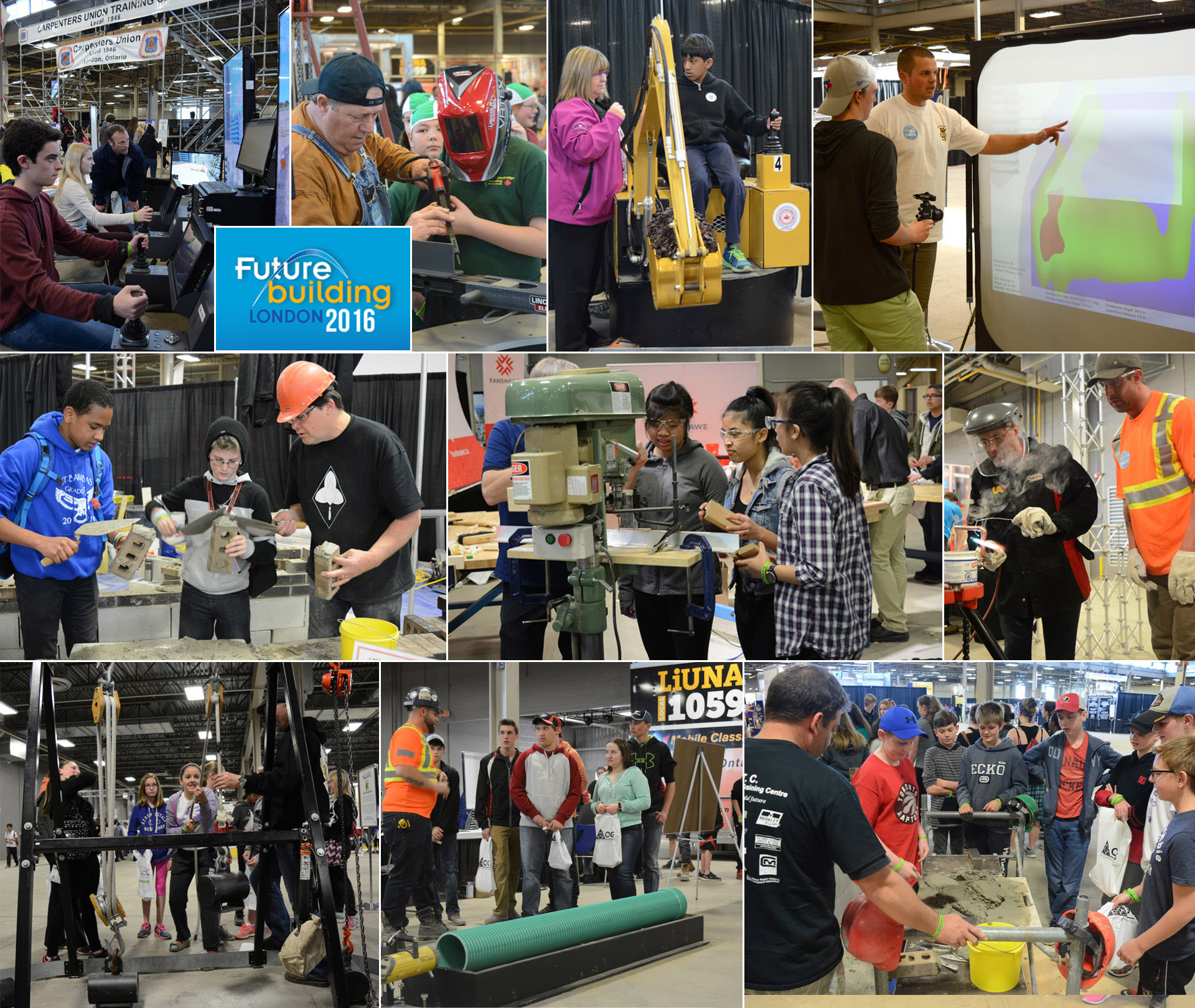 _____________________________
FOR MORE INFORMATION, CONTACT:
Katherine Jacobs
Director of Research,
kjacobs@iciconstruction.com
or
Fred Lehmann
Communications Coordinator,
fredl@iciconstruction.com
Ontario Construction Secretariat (OCS)
180 Attwell Drive, Suite 360, Toronto, ON M9W 6A9
P 416.620.5210 ext. 222
F 416.620.5310