---
FEATURE ARTICLE:
ATTORNEY GENERAL RELEASES COMPREHENSIVE REVIEW OF CONSTRUCTION LIEN ACT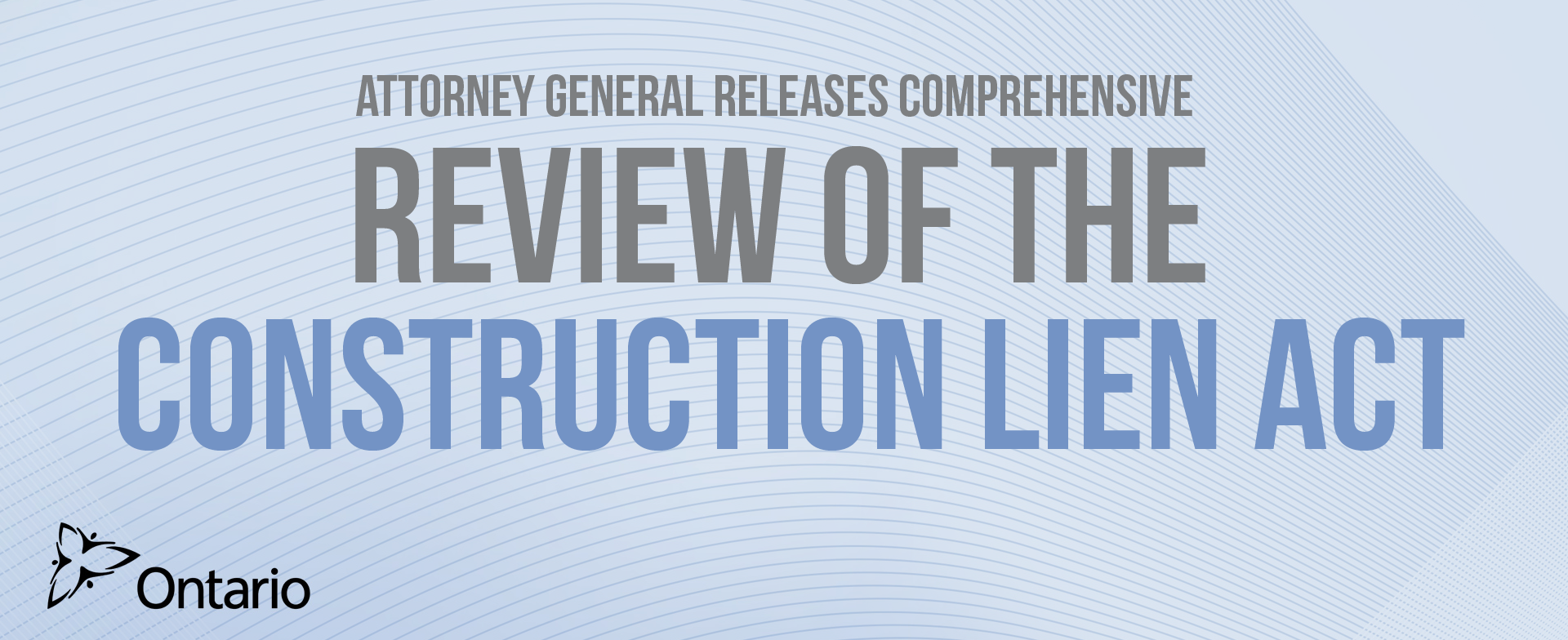 After 18 months of a thorough and comprehensive review of Ontario's Construction Lien Act, construction law experts Bruce Reynolds and Sharon Vogel of Borden Ladner Gervais LLP, have released their long awaited updates to the Province's Construction Lien Act.
The findings and recommendations can be found in their report entitled Striking the Balance: Expert Review of Ontario's Construction Lien Act.
Three main principles found throughout the report are:
Modernizing the construction lien and holdback rules
Introducing rules around prompt payment, and
Creating a new process to speed up dispute resolution.
Ontario's construction industry is acknowledged to be a driving force of the provincial economy.  As a result, modernizing Ontario's construction laws is part of the Government's plan to build Ontario up and deliver on its number one priority to grow the economy and create jobs.
The Province commissioned a review of the Construction Lien Act in February 2015 in response to stakeholder concerns related to prompt payment and effective dispute resolution.  As part of the process, Mr. Reynolds and Ms. Vogel consulted with construction industry stakeholders, including the Ontario Construction Secretariat.  They received 77 written submissions and held 30 stakeholder meetings involving more than 60 key construction industry groups.
Further consultations will continue this fall to ensure the proposed legislation is fair, balanced and reflects the diversity of the opinions received.  The Ministry of the Attorney General will collect the feedback through meetings with industry and stakeholder groups.
"We are pleased to deliver a report that strikes a balance between the diverse opinions we've heard throughout our stakeholder consultations", says Bruce Reynolds, Senior Partner at Borden Ladner Gervais LLP, "between a number of mutually supportive payment, payment security and dispute resolution strategies.  We believe our recommendations will address the key concerns of the many people who work in the construction industry, many of whom have contributed to our work, and will help to modernize this important sector".
To read the report click here.
If you have any questions, you can email them to constructionlienactreview@ontario.ca.

_____________________________
FOR MORE INFORMATION, CONTACT:
Fred Lehmann
Communications Coordinator,
fredl@iciconstruction.com
Ontario Construction Secretariat (OCS)
180 Attwell Drive, Suite 360, Toronto, ON M9W 6A9
P 416.620.5210 ext. 222
F 416.620.5310