---
ONE-ON-ONE WITH INFRASTRUCTURE ONTARIO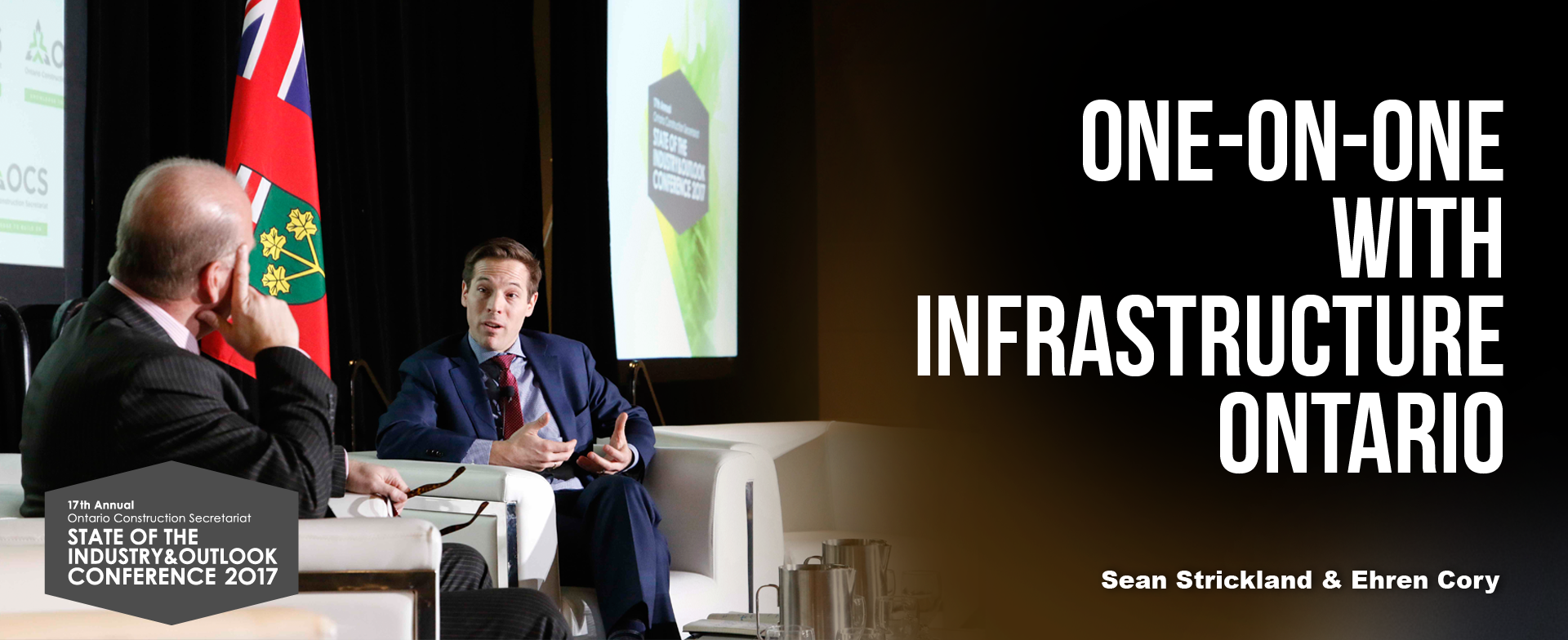 It was billed as an armchair chat.
However, Ehren Cory now sits in the "big chair" at Infrastructure Ontario (IO), having recently been appointed as the organization's new President and Chief Executive Officer.  Needless to say, the Ontario Construction Secretariat (OCS) was pleased and honoured when Cory agreed to discuss infrastructure on the Conference's main stage – his first public appearance as President and CEO of Infrastructure Ontario.  Together, OCS CEO Sean Strickland and Cory engaged in a wide-ranging discussion with topics from market capacity to innovation.
Cory says it's a great time to be in the industry.
"It's a great time because of the infrastructure we're building.  We've always talked about an attitude of being proud, but not satisfied.  We're proud of what we've done in the short time since IO was created, but the challenge throughout the world the past 30/40 years hasn't been the need, but rather a lack of confidence that we can get stuff built…quickly, effectively and affordably."
Previously, Cory served as President of IO's Project Delivery Division where he and his team led the tendering and construction oversight for all major capital projects undertaken by the Province, ensuring on-time and on-budget delivery.
With projects getting bigger rather than smaller, Strickland asked Cory about market capacity and the challenges they present to the industry in effective delivery.
"We've spent a lot of time lately engaging with industry and organizations such as the OCS to talk about market capacity and trying to tease out where the risks are.  The biggest pinch point that we see is in that project management layer – engineering oversight, managing design and so on.  Some of those we do worry about."
More importantly says Cory is the question "does it make sense to break up a big project in order to manage it better".  Mega projects are typically civil projects and Cory says yes, it does make sense but cautions against the risk of integration between players, adding "you would only break up a project if the market tells you it can't handle or have the capacity to do it".
While building the next generation of skilled trades is something Cory is also excited about, he understands the accompanying challenge of ensuring there are sufficient and knowledgeable senior project staff to manage a project pipeline that spans the next several years.
"The site superintendent of today will not be the same person ten years from now.  We need to keep talking to the industry.  It's a lot different (I'm told) to manage a $10-million, $100-million and $1-billion project.  So (the question is) how do we start to skill up people through those bigger projects?"
In their discussion, Cory and Strickland also touched on foreign competition.  Cory says first and foremost, IO cares greatly about getting projects built affordably, quickly and effectively with high quality.  To be successful however requires "strong local capabilities".  So a few years back, IO introduced local knowledge as a formal part of their evaluation.
"It was not for protectionism reasons and not because we're trying to keep out foreigners or help the local guy" says Cory.  "We did that because we know to get a project done well requires a knowledge of local labour markets, how to get stuff done in a municipality and how to get through the regulatory process.  It's just good contracting sense."
However, Cory is quick to point out that foreign players in the marketplace still provide a net benefit to the ability of delivering projects.  He explains they often are able to bring specialized expertise to projects, especially as "we get into more unique areas".  The result he says is a partnership of local knowledge and capability and global expertise and financing capacity.
Cory says IO can't take the credit for that, pointing out the industry is making it happen, but "we like it."
The armchair chat with Ehren Cory represents an interesting look at how the Province of Ontario considers and builds infrastructure projects.  To hear more from Ehren Cory, please click here to view the entire armchair chat.

_______________________________________________
FOR MORE INFORMATION, CONTACT:
Fred Lehmann
Communications Coordinator,
fredl@iciconstruction.com
Ontario Construction Secretariat (OCS)
180 Attwell Drive, Suite 360, Toronto, ON M9W 6A9
P 416.620.5210 ext. 222
F 416.620.5310