---
ONTARIO POISED TO BECOME CANADA'S ECONOMIC GROWTH LEADER IN 2017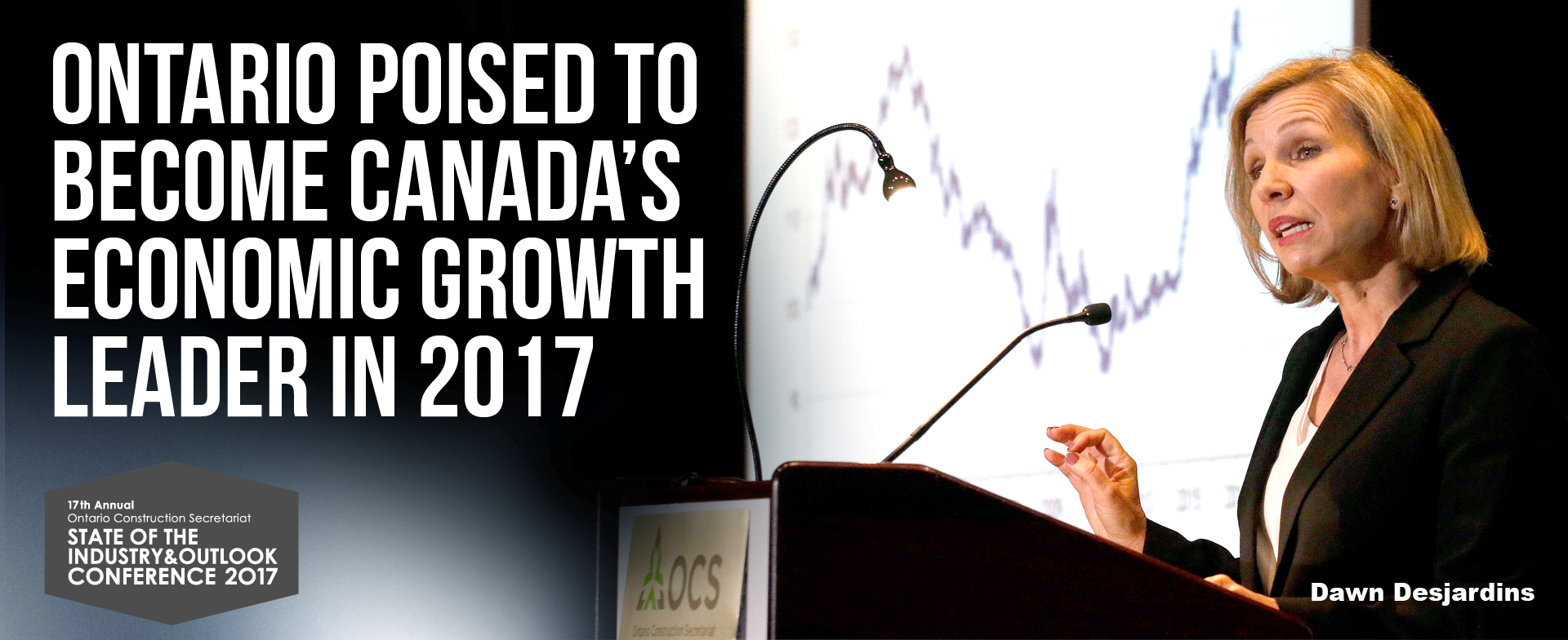 For the past couple of years, Ontario has been near the top when economists look at economic growth across Canada.  But in 2017, the Vice President and Deputy Chief Economist for the Royal Bank of Canada says our province will be a growth leader among all provinces.
Delivering the economic keynote address, Dawn Desjardins says this is Ontario's "year to shine".
In setting the stage for her positive prognosis of Ontario's economy, Desjardins began her presentation by taking a look at the global and Canadian economies.
Desjardins acknowledged there has been a significant increase in political uncertainty in Europe, pointing to Brexit and elections in the Netherlands for example.  However she says, financial markets don't seem to be as worried because in the U.S., new fiscal policies are being seen as stimulative that will encourage greater investment.
"Business surveys south of the border show 59% of businesses will be expanding in 2017 – more than double the percentage recorded only six months earlier.  Also, the price of oil will likely reach $60/barrel by the end of the year and while remaining extraordinarily low, interest rates will likely start to move up."
So what is fueling the economic growth in Ontario?  Desjardins credits the consumer.
"It is housing – no surprise there.  And it's trade.  We've seen a demand for Ontario exports trend higher of late.  In fact, exports grew by four percent in 2016."
Of course, a stronger economy means more people are going to work.  Speaking earlier at the Conference was Ontario Labour Minister Kevin Flynn who told the audience that in the past year, 76-thousand jobs were created in Ontario and of those, 64-thousand were full-time positions.  Desjardins says that means Ontario has become a "magnet" for immigration.
"We've always seen significant increases in new people coming to our economy from outside of Canada", says Desjardins.  "But in 2016, we actually saw people from other provinces move into Ontario and that's the first time that's occurred since 2002."
Of course, the stronger economy has resulted in the robust housing market.  However, Desjardins says don't expect it to last.  In fact she says, an easing of the pace of home sales have already been experienced.
That's the consumer side.  And while Ontario's businesses seem to be more reticent about putting their money to work, the construction industry is more encouraging.  Desjardins believes a lot of that has to do with all of the government dollars (both provincial and federal) flowing into infrastructure work.  Desjardins also says there is evidence that manufacturing companies are tending to increase their investments.
"Whether they are in transportation equipment, food industries or warehousing, companies are indicating a pick-up in terms of their intention to build buildings and facilities."
In closing, Desjardins described her presentation as cautiously optimistic, but added "I think more optimistic than we've been able to be for quite some time".
Click here for Dawn's slide presentation.

_______________________________________________
FOR MORE INFORMATION, CONTACT:
Fred Lehmann
Communications Coordinator,
fredl@iciconstruction.com
Ontario Construction Secretariat (OCS)
180 Attwell Drive, Suite 360, Toronto, ON M9W 6A9
P 416.620.5210 ext. 222
F 416.620.5310