---
PROVINCIAL BUILDING TRADES – STILL WORKING HARD AT 60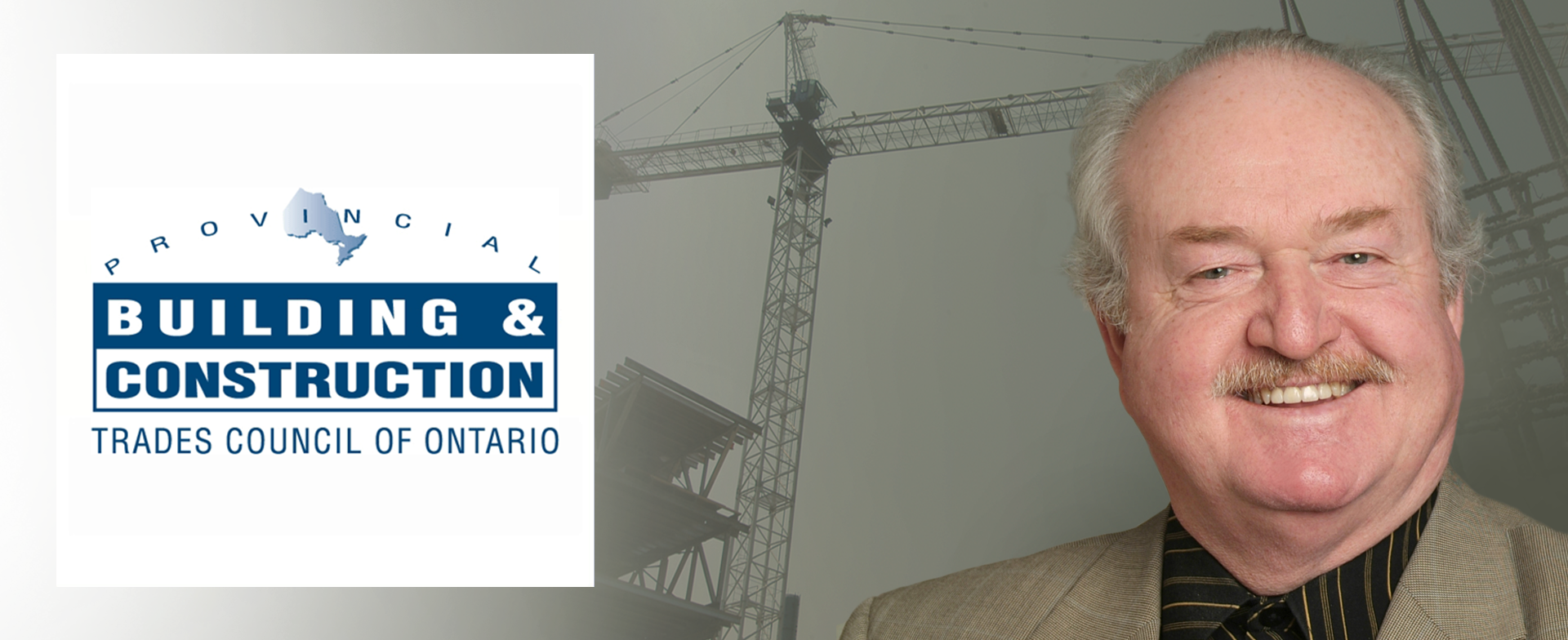 The Business Manager for the Provincial Building and Construction Trades Council of Ontario stopped short of suggesting it was a defining moment.  However Pat Dillon says the period between 1995 and 2003 "when there was a relentless attack on unionized construction in the province" proved that a building trades council was and is a necessity.
Dillon was reflecting on the past in the wake of the Building Trades Council's 60th annual conference, held last month in Niagara Falls.  The Building Trades has come a long way since 1957 and much has changed.  Today, Dillon describes labour relations in the unionized construction industry as "pretty sound".
"From a labour relations standpoint, the building trades have had many positive impacts on the unionized construction industry.  Health and safety in the construction workplace, relatively speaking, is a safer place to work than any other jurisdiction in Canada, and Apprenticeship and training as a system is as strong as any province in the country".
In fact, Dillon says the establishment of the Ontario Construction Secretariat is a direct result of a strong Building Trades Council working with unionized employers in a stable labour environment, adding the level of confidence and productivity in Ontario's unionized construction sector is second to none.
While that may be, Dillon says there remains a lot of work ahead for the Building Trades Council.
"At our recent conference, we had a total of 16 resolutions passed ranging from prevention to safety and WSIB practices to jurisdictional disputes.  The number of resolutions is typical for our annual conferences, but we have had more in some years."
Other resolutions called on the Council to lobby Ottawa to allow workers who travel to work on infrastructure projects to be able to write off their travel and accommodation expenses when they file their annual tax returns.  Members also passed resolutions that recommended the introduction of a national drug program and to work with industry partners to promote new green jobs.
The Ontario Building Trades Council represents 13 craft unions in every discipline of the construction industry, representing more than 150,000 workers throughout the province.  As a council, the members share a single goal – to work together with employers and government to fight for good jobs that working Canadians can depend on to secure meaningful income that supports families and communities.
With a provincial election next year, all three provincial party leaders were invited to speak to conference attendees.  Ontario Premier Kathleen Wynne and provincial NDP Leader Andrea Horwath spoke to attendees.  The Premier spoke about the government's investment in young people and the skilled trades, with an emphasis on diversity inclusion.  Ms. Horwath suggested an NDP government can build an even better Ontario with the help of the Building Trades Council.
Ontario Conservative Leader Patrick Brown however did not attend, citing a scheduling conflict.  Dillon was quoted after the conference as saying "it was not a good sign that they [the Conservative Party] chose not to be here."
Nevertheless, Dillon is encouraged by what he calls "important developments" on the political and legislative front at Queens Park.  They include the Changing Workplaces Review and the Fair Wage Policy which if successful says Dillon, will ensure that men and women who build publicly procured infrastructure are not exploited with public monies.  In his Conference message to attendees, Dillon also says that upcoming nuclear plant refurbishments at Darlington and Bruce Power will also be a major source of work for Building Trades members in addition to high and low rise residential, ICI, road building and transit work.

_______________________________________________
FOR MORE INFORMATION, CONTACT:
Fred Lehmann
Communications Coordinator,
fredl@iciconstruction.com
Ontario Construction Secretariat (OCS)
180 Attwell Drive, Suite 360, Toronto, ON M9W 6A9
P 416.620.5210 ext. 222
F 416.620.5310