---
SKILLED TRADES: HELPING OTTAWA RECOVER FROM THE SEPTEMBER TORNADOES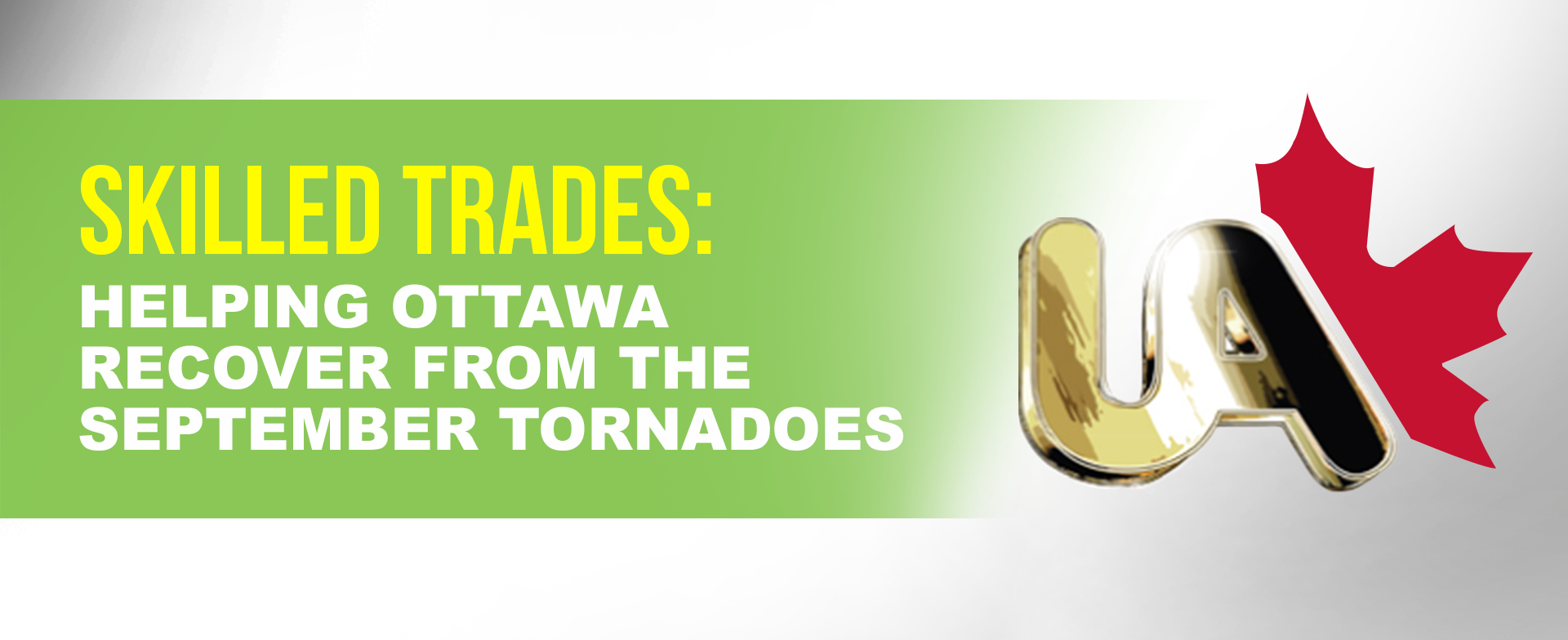 As was written in our Summer Edition eNewsletter, the construction sector is also a charitable sector. Each year, Ontario's unionized industrial, commercial and institutional (ICI) construction sector raises hundreds of thousands of dollars to benefit organizations in need.
Further proof was evidenced this past September 21st as a total of six tornadoes touched down and rolled through eastern Ontario and western Quebec.  The tornadoes caused extensive damage and some injuries.  Among the communities hit hardest were Dunrobin, located approximately 35 kilometres northwest of downtown Ottawa.  Environment Canada says the tornadoes reached gusts of up to 265 kilometres per hour, destroying several houses and building and downing power lines, leaving many neighbourhoods without power – some for several days.
One of the families impacted by one of the tornadoes was Todd Nicholson and his wife Emily Glossup. According to Richard Hayter, Director of Community Relations for the Ottawa Building Trades Council, the couple completely lost their home in Dunrobin and all of their belongings.
Nicholson is associated with the Ottawa Abilities Centre – a partner in the LeBreton Flats project which is to be built by a consortium including members of the Ottawa Building Trades Council.
Within days, the skilled trades in the Ottawa Region began rallying to help those affected by the storms.
One of the first to offer help was the UA Canada.  On behalf of UA Canada and all of its members, Steve Morrison – the Director of Canadian Affairs – donated $10,000 to the Ottawa Food Bank and another $10,000 to Moisson Outaouais to assist with relief efforts.
"The Canadian Piping Trades (UA) members across Canada are honoured to join their brothers and sisters in the Ottawa/Gatineau area to assist those in need after the terrible devastation result from the tornadoes."
While damage by the tornadoes was largely confined to residential areas, skilled tradespeople in Ottawa and area were ready and willing to do their part.  Less than a week later, there was a public call for skilled tradespeople to help as the work to rebuild began.
After all, building (and rebuilding) communities is what the construction industry does best.

_____________________________
FOR MORE INFORMATION, CONTACT:
Fred Lehmann
Communications Coordinator,
fredl@iciconstruction.com
Ontario Construction Secretariat (OCS)
180 Attwell Drive, Suite 360, Toronto, ON M9W 6A9
P 416.620.5210 ext. 222
F 416.620.5310