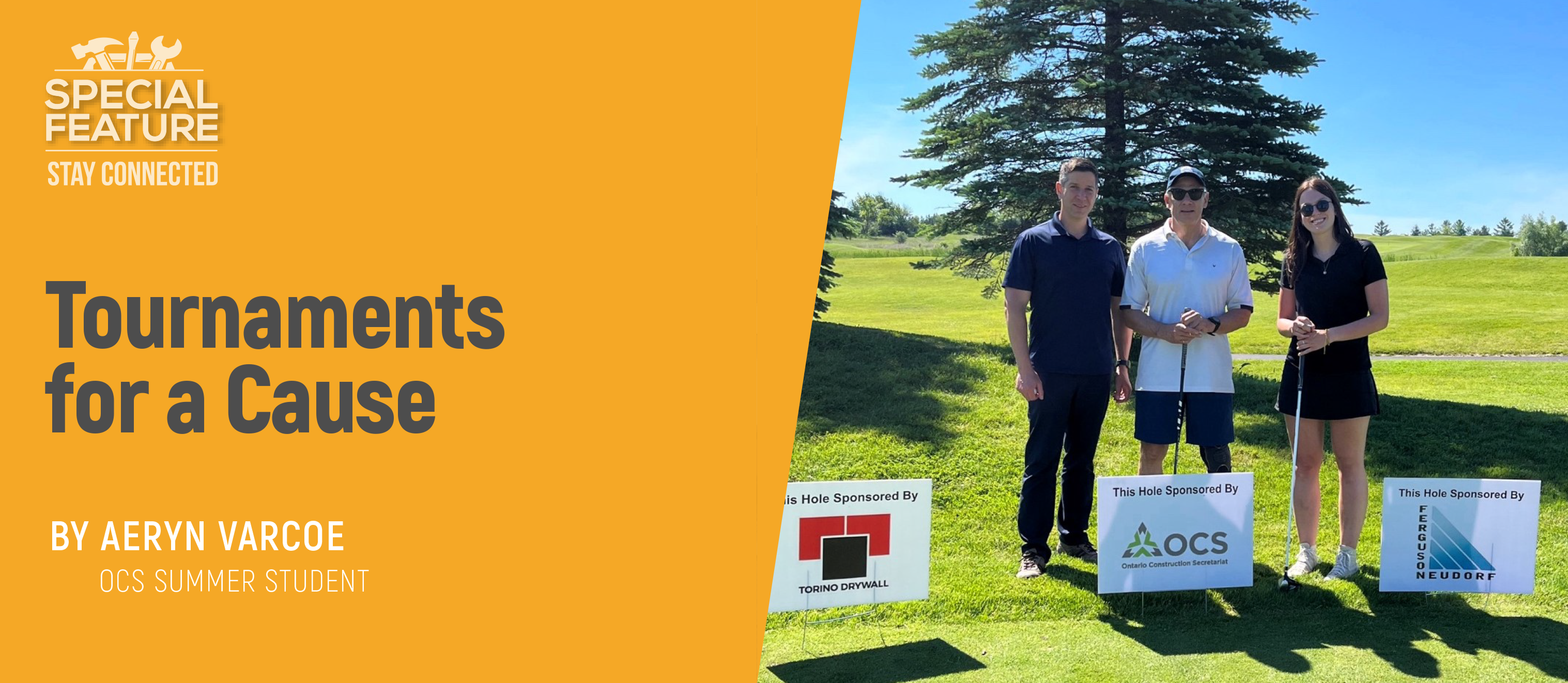 As we have now reached the end of summer, the Ontario Construction Secretariat has participated in 5 more industry Charity Golf Tournaments and one Bocce Ball tournament since the end of July. That adds up to a total of 13 golf tournaments the OCS has supported this summer. The OCS staff enjoyed engaging with stakeholders at these events, along with helping different organizations raise money for so many incredible causes. Each tournament, including Bocce, were hosted by a variety of labour management stakeholders and the proceeds were donated to a variety of charities.
The second half of summer kicked off with LiUNA Local 506's 29th Annual Nick Barbieri Charity Bocce Ball Tournament, hosted on August 18. The staff had a great time learning the game and engaging with stakeholders. Not only was it a fun day, but also a rewarding experience for staff who were thrilled to support the Luso Canadian Charitable Society. The team shocked everyone by making it to the playoffs but sadly, this is where their bocce careers ended. Overall, a fantastic day in the sun supporting another incredible cause.
Toward the end of August, we contributed to 3 more charity golf tournaments. Next up for the OCS was the Master Insulators Association of Ontario Golf Tournament hosted at the Royal Woodbine on August 25th. The tournament was in support of Mesothelioma Cancer Research at The Princess Margaret Cancer Foundation and the OCS staff hit the links once again.
August 29th was the Waterloo, Wellington, Dufferin & Grey Building & Construction Trades Council Golf Tournament at Rebel Creek. The proceeds from the tournament supported Juvenile Diabetes. Wrapping up the month, the Sheet Metal and Roofers hosted their charity golf tournament in Milton. The funds raised from the tournament were donated to the De Novo Treatment Centre and the OCS was proud to be affiliated with the generous donation.
On September 1, LiUNA local 183 hosted their annual tournament. Proceeds raised were donated to Make-A-Wish Canada, Camp Trillium, Down Syndrome Association, and more!
Wrapping up the summer, the COBT Hammer Heads hosted their 6th annual golf tournament at the Royal Ashburn. All proceeds from the tournament went towards the Hammer Heads Program. The program teaches the skills that are needed to gain meaningful employment as registered apprentices in the skilled construction trades to at risk youth aged 18-26 coming from Indigenous or under-resourced communities.
Overall, the OCS had an eventful summer filled with several industry charity events. We are thrilled to have contributed to so many good causes and are already looking forward to events next summer. Demand for support continues to grow and we're very proud of the unionized construction industry for investing in their communities and giving back.