REWIND: 2016 – A YEAR OF CHANGE

With the arrival of 2017, this is a good time to reflect on the past 12 months and how they have affected and impacted the unionized construction industry in Ontario.
2016 was a bargaining year and as such, rightfully consumed a lot of time and attention for much of the leadership in the unionized construction industry.  During bargaining, the Ontario Construction Secretariat (OCS) provides resources and reports to both sides in addition to fielding inquiries from bargaining agents on a variety of industry topics.  In 2013, we launched a collective agreement database which contains all collective agreements in the ICI sector and has proved to be a well-used resource.
25 Employee and Employer Bargaining Agencies worked hard to find common ground and negotiate new agreements for the next three years.  The Industrial, Commercial and Institutional (ICI) sector experienced only one brief, two-day labour disruption.  All other agreements were settled without any work stoppages.
That really speaks highly of our industry on both sides of the bargaining table.  It shows the maturation and cooperation that exists when it comes to collective bargaining and achieving settlements.  In fact over the years, the ICI construction sector has seen a significant decline in the number of work stoppages.  Since 2010, there have only been four work stoppages during collective bargaining as shown by the graph below.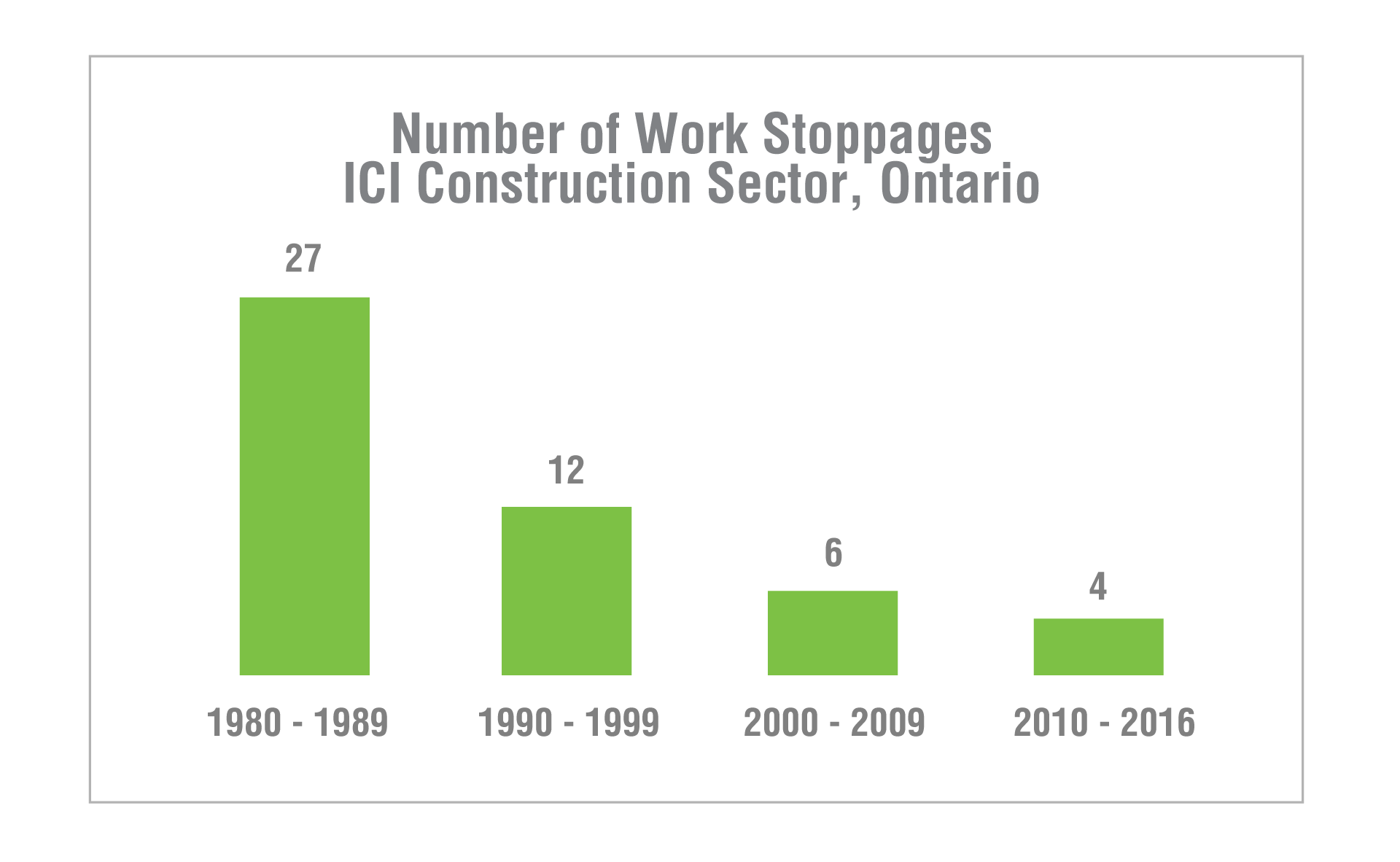 When it comes to strikes and lock outs, the trend for our industry is heading in the right direction, down.  Labour and management understand the importance of achieving fair settlements so that projects can proceed unencumbered by disruptions.  This is good for the construction industry and the Ontario economy.
Another newsworthy and important development for the construction industry in 2016 was the release of the expert review of the Construction Lien Act.  This report, prepared by construction law experts Bruce Reynolds and Sharon Vogel, was released in September and outlined numerous recommendations related to prompt payment reform and effective dispute resolution.
The recommendations to update and change the Lien Act are much needed especially related to prompt payment regulations and we look forward to implementation of the recommendations.
Last year, the Liberals returned to power in Ottawa and both the federal and Ontario governments introduced new budgets with both promising to spend billions of dollars on infrastructure.  Between the federal, provincial and municipal investments over the next ten years, a total of $750 billion will be spent in infrastructure across Canada.  Such investment bodes well for the future of the construction industry in Ontario and provides a great opportunity to attract and train new apprentices in the construction trades.  The OCS is pleased to see that some of our work with Infrastructure Ontario is coming to fruition with the passing of Bill 6 and requirements for apprentices and community benefit agreements for large publically funded infrastructure projects.
This is the third round of infrastructure spending in the past eight years.  Similar to previous infrastructure spending announcements, a requisite amount will be dedicated to roads, bridges, transit, hospitals and schools.  However, we need to do more with this investment.  Thankfully, the federal government is considering how to maximize and/or leverage infrastructure investment to help transform the economy.  We need to think big and consider investments in an east-west power grid, the Ring of Fire, border crossings and major transportation corridors to name but a few.  Projects that will give Canada's economy a leg up on the competition.
This topic is so important that the OCS has dedicated its 17th Annual State of the Industry and Outlook Conference on March 9, 2017 to it.  Building the Infrastructure Projects that will Transform Ontario's Economy will be held at the Metro Toronto Convention Centre.
Please check out our information packed and exciting conference schedule below and also click on the "REGISTER NOW" button to register today!
All the Best for 2017!
Sincerely,
Sean W. Strickland
Chief Executive Officer,
seans@iciconstruction.com
---
2017 CONFERENCE SCHEDULE
7:30 am Networking Breakfast
---
8:30 am Opening Welcome – Joe Keyes, President, OCS Board of Directors
---
8:45 am Greetings from the Provincial Government – Hon. Kevin Flynn, Minister of Labour

---
9:00 am Ontario's Economy – What to Expect in 2017 – Dr. Mike Moffatt, Assistant Professor, Ivey Business School, Western University
---
10:00 am Ontario's Construction Industry – Katherine Jacobs, Director of Reseach, Ontario Construction Secretariat
---
11:00 am Building the Infrastructure Projects that will Transform Ontario's Economy –
Janet Ecker, President & CEO, Toronto Financial Services Alliance (MODERATOR)
Jeff Lehman, Mayor, City of Barrie and Chair, Ontario's Big City Mayors' Caucus
Jeff Moore, Assistant Deputy Minister, Infrastructure Canada
Lou Serafini Jr., President and Chief Executive Officer, Fengate
---
11:45 pm Closing Remarks – Sean W. Strickland, Chief Executive Officer, Ontario Construction Secretariat
---
12:00 pm Reception & Lunch
---
1:00 pm Luncheon Panel – "The Generals – Challenges and Opportunities on Ontario's Construction Industry" (Panelists to be confirmed)
---
This is an event you won't want to miss. Please register today.
---


_____________________________
FOR MORE INFORMATION, CONTACT:
Fred Lehmann
Communications Coordinator,
fredl@iciconstruction.com
Ontario Construction Secretariat (OCS)
180 Attwell Drive, Suite 360, Toronto, ON M9W 6A9
P 416.620.5210 ext. 222
F 416.620.5310[/vc_column_text][/vc_column][/vc_row]