---
Eye on the Federal Budget 2016:  On the Right Track and Looking Forward to Future Investment

The Government of Canada presented its financial plan last week [March 22], choosing to spend its way to prosperity over the next five years.  In his first budget, Federal Finance Minister Bill Morneau delivered billions for municipalities, First Nations, the elderly and families.  It means an anticipated deficit of $29.4 billion dollars next year – almost three times the $10 billion deficit promised during the fall election campaign.  Towards the end of the Liberal term in office, the deficit is expected to be $17.7 billion.
This budget focuses more on program spending than it does on infrastructure spending.  Prior to the budget, Ottawa's plans indicated $120 billion will be spent over the next 10 years on infrastructure, which includes the existing $60 billion plus $60 billion in new spending.  However, the Prime Minister warned as late as last week that the first few years would see infrastructure spending on "unsexy" projects.  In the budget, he delivered by announcing a total of $11.9 billion dollars to be spent on infrastructure, split between transit, green and social infrastructure projects over the next five years.
NEW INFRASTRUCTURE SPENDING
Sean Strickland, Chief Executive Officer of the Ontario Construction Secretariat reacted to the amount of money being spent on infrastructure.
"I think the construction industry will accept this budget with muted enthusiasm", explaining the infrastructure investment of $11.9 billion will be well received, but remains well short of the expectations the industry had prior to release of the budget."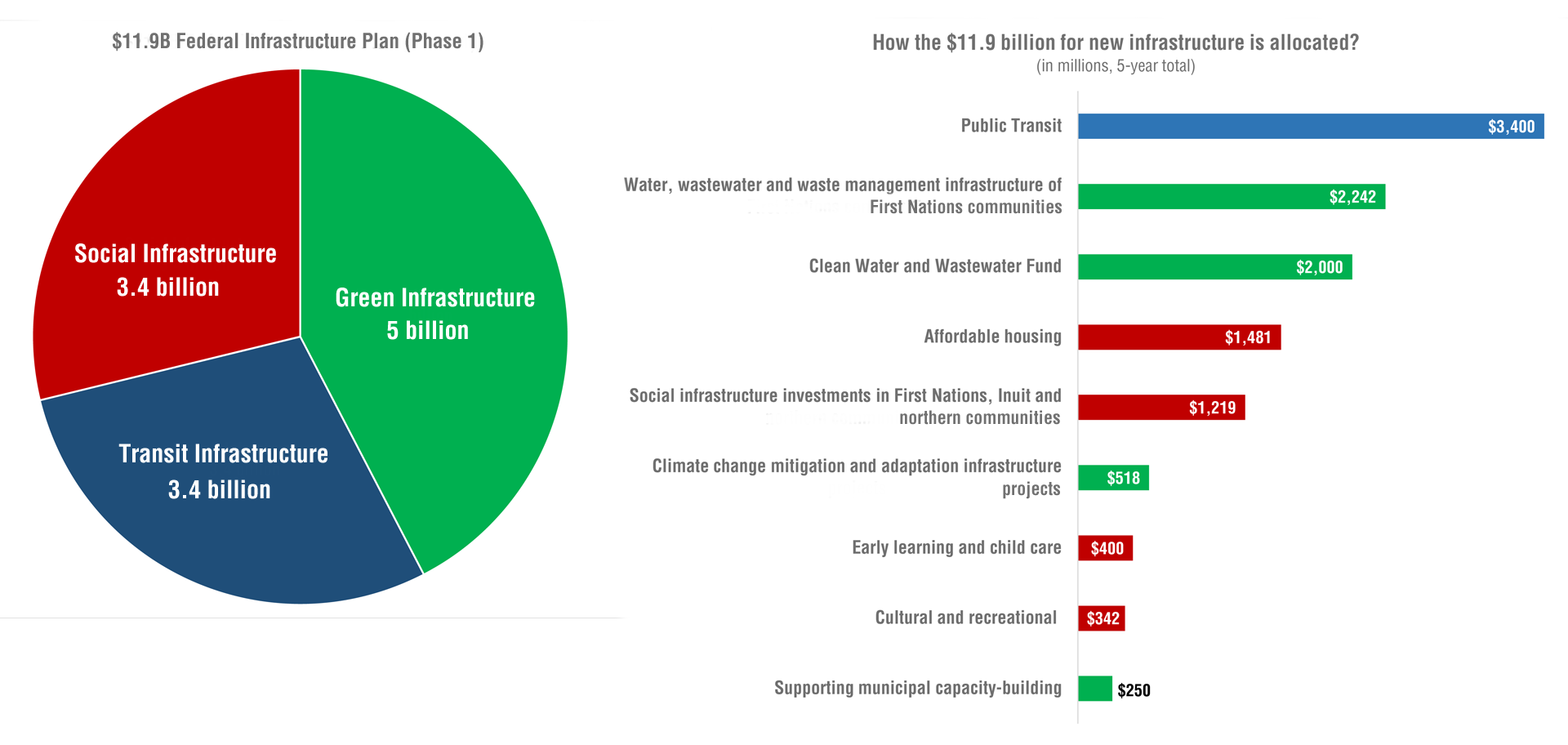 Here are some of the highlights on how much and where the Government will spend its infrastructure dollars over the next several years.
Transit Infrastructure
Among some of the public transit projects included in the budget, fleet replacement by the Toronto Transit Commission and accelerated design, implementation and construction of new large scale projects such as in Ottawa.  To get transit projects moving, the Government will fund up to 50% of eligible costs allocated to municipalities based on ridership.  For Ontario, that means $1.487 billion – the most of any province.
Green Infrastructure
The government will invest in electric vehicles and alternative transportation fuel infrastructure.  It will also invest in initiatives to foster regional electricity cooperation and development of building codes and standards that integrate climate resiliency requirements.
Recognizing an urgent need in many communities to modernize water and wastewater infrastructure, the Government will invest $2 billion over four years to establish a new Clean Water and Wastewater Fund for immediate improvement to water distribution and treatment infrastructure.
It proposes to provide $75 million to local governments to address climate change – money to be delivered by the Federation of Canadian Municipalities [FCM].  Also, Ottawa will add $125 million to FCM's Green Municipal Fund for projects that reduce greenhouse gas emissions.
Social Infrastructure
Ottawa will invest in affordable housing and early learning and child care to the tune of $504 million, including the construction of new housing units, repair of existing facilities and support housing affordability through rent supplements.
The Government will also spend $200.7 million over two years to support construction, repair and adaptation of affordable housing for seniors.  An additional $573.9 million will be spent over two years to address increasing demands for repairs and improve efficiency, reduce energy costs, lower utility costs to social housing, as well as improve water efficiency and reduce greenhouse gas emissions.
It will help expand affordable housing [including victims of violence] by investing $89.9 million for the construction and renovation of shelters and transitional houses for victims of family violence.  The Government will spend $4 million for the next two years to support the capital costs of construction and renovation related to improving physical accessibility and safety for people with disabilities.  It will also spend $270.2 million to improve community health care facilities for First Nation communities.
Another $168.2 million is earmarked for the renovation and construction of arts and heritage facilities.
TRAINING AND APPRENTICESHIP
Training and skills development also play an important role in creating jobs.  The federal government recognizes this, and so also promised to spend in the areas of training and union-based apprenticeship training.
Ottawa will add $125 million to the Labour Market Development Agreement [with the Provinces and Territories] to support unemployed workers who are eligible for Employment Insurance [EI].  In addition, $50 million will be earmarked for the Canada Jobs Fund Agreement to support those not eligible for EI.
The Government also promises to look into enhancing its support in these areas by conducting broad-based consultations with the Provinces, Territories and stakeholders to identify opportunities to improve these agreements and guide future investments to strengthen labour market programming.
To strengthen the role of union-based training providers, the Government will provide $85.4 million over the next five years to develop a new framework to support union-based apprenticeship training.  As well as improving the quality of training through investment in equipment, the framework will seek to incorporate greater union involvement in apprenticeship training and support innovative approaches and partnerships with other stakeholders including employers.
INFRASTRUCTURE BANK
Not included in the budget was mention of the infrastructure bank.  The government – upon its election last fall – promised to create the bank to provide low-cost financing for new projects, saying the government could use its strong credit rating and lending authority to make it easier for municipalities to build projects.  Amarjeet Sohi, the Minister of Infrastructure and Communities, says he will be working to develop it over the coming year.
The OCS is prepared to give Ottawa the benefit of the doubt as it rolls out the remaining funds and developing the Infrastructure Bank, believing that by taking its time, the federal government will be able to identify "shovel worthy" projects to maximize the return on investment.
Ottawa will create several new funds, two of which will have an impact on infrastructure projects.  One is the establishment of a $2 billion Post-Secondary Institutions Strategic Investment Fund that will support 50% of eligible costs of infrastructure projects.  The Government is also proposing a $50 million Capacity Building Fund to support the use of asset management best practices – to guide how core infrastructure assets are to be built, renewed, operated, maintained and replaced.  The Government says this will help to maximize use of public dollars.
CONCLUSION
There was more hope the infrastructure spending would be more front-end loaded rather than back-end loaded, which would have provided greater stimulus to our industry.  The OCS and the industry are prepared to work with the federal and provincial governments to focus on an appropriate method to determine "shovel worthy" projects in the future.  It is important to note however that future infrastructure spending by Ottawa is dependent on the Liberals being re-elected for a second and indeed a third term.  At present, this budget continues to provide more questions than it does answers where infrastructure spending is concerned.
---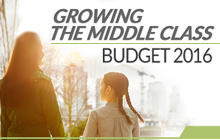 For the complete budget, click here.
---
FOR MORE INFORMATION, CONTACT:
Katherine Jacobs
Director of Research,
kjacobs@iciconstruction.com
or
Fred Lehmann
Communications Coordinator,
fredl@iciconstruction.com
Ontario Construction Secretariat (OCS)
180 Attwell Drive, Suite 360, Toronto, ON M9W 6A9
P 416.620.5210 ext. 222
F 416.620.5310