---
F E A T U R E  A R T I C L E
LOOKIN' FOR GOLD WITH COPPER!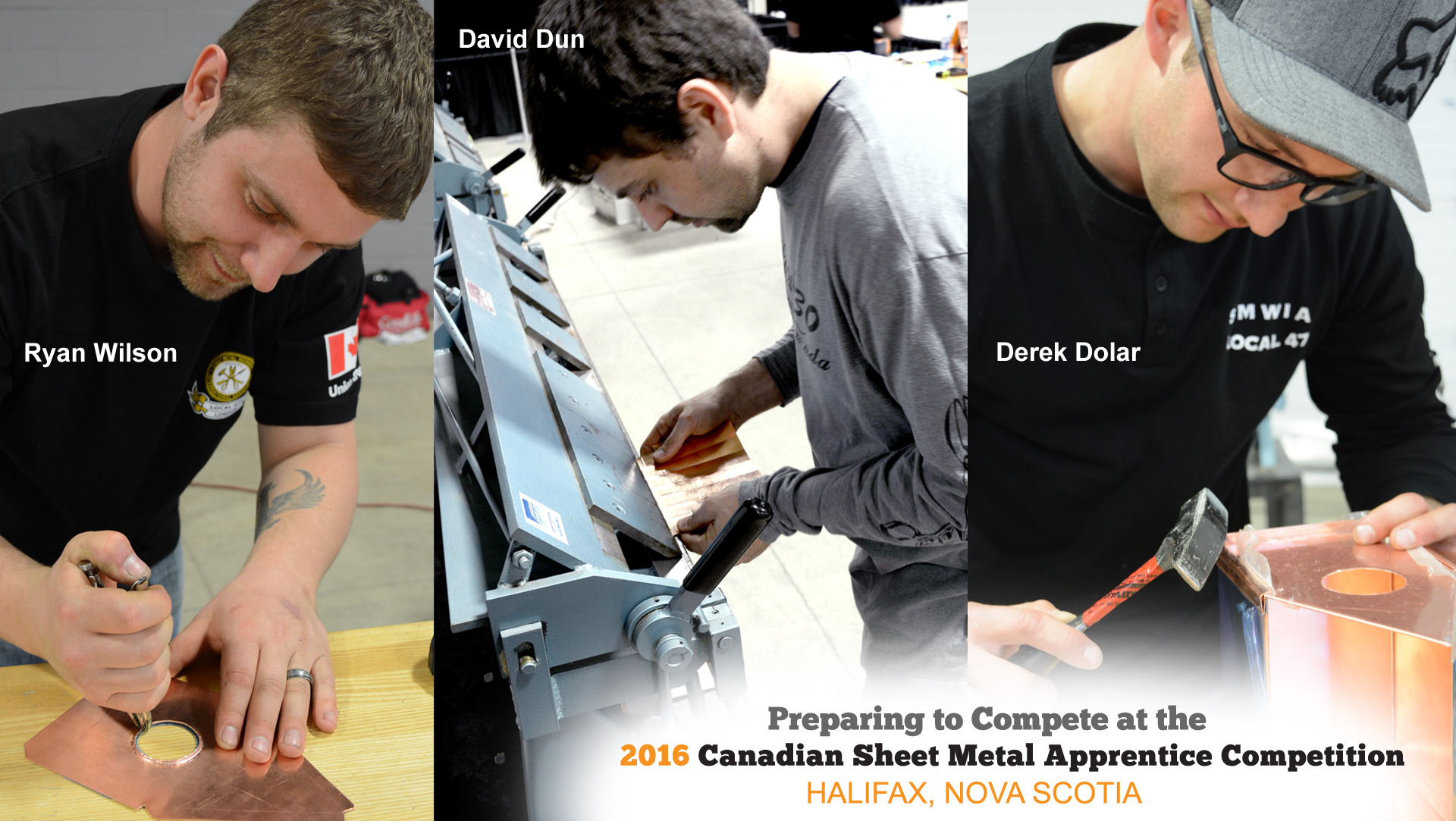 For Ryan Wilson, an apprentice with Local 47 of the Sheet Metal Workers International Association (SMWIA) in Ottawa, it's a chance to secure a brighter future in the industry.  Then again, pretty much all of the competitors at this year's Canadian Sheet Metal Apprentice Competition in Halifax, Nova Scotia will tell you the same thing.  The national competition takes place in July this year and Wilson is one of five sheet metal apprentices that will represent Ontario at the competition.
Wilson and his four union brothers: Donovan DuRandt and Joshua Wettlaufer from Local 562 in Kitchener, David Dun from Local 30 in Toronto and Derek Dolar from Sarnia Local 235 earned the right to wear Ontario's colours by beating out seven other apprentices and winning the 43rd Ontario Sheet Metal Apprentice Competition in Kingston last fall.
"Winning opens a lot of opportunities", says Wilson.  "A lot of employers from across Canada go to this competition to look for future employees.  Since placing in the Ontario competition, several companies have called and asked me if I would be interested in working for them".
To win the Ontario competition, the apprentices had to compete in practical, theory and pattern drafting.  Is there pressure?
"Yeah, there's pressure", says David Dun.  "For the most part, you're going against your own skills.  But the competition pieces are copper so they're softer, and if you're not careful, you can really mess things up in a hurry".
The competitive aspect however is part of a bigger picture.  The apprentices study for up to five years.  It includes 720 hours of technical training and 9,000 hours of on-the-job training.  This provides them with the proper skills and techniques that allow them to be successful – not just at a competition – but also everyday on the job.  Training in the classroom and on the job ensures customers and contractors have the right skills and assets to complete their jobs.
SMWIA/SMART represents 150,000 skilled craft persons throughout Canada, the U.S. and Puerto Rico.  Sheet Metal workers perform architectural sheet metal work, fabrication, installation and service heating, ventilating and air conditioning systems, as well as shipbuilding, rail work and more.
In fact, sheet metal workers were once described as artists because everything they do starts from a flat piece of metal, and finishes as a three-dimensional object.
Derek Dolar from Sarnia is a third-generation sheet metal apprentice.  He knew about the Canadian Championship but never thought he would have the opportunity to compete.
"We've had guys from our Local go to the competition in the past, so I knew what it was all about and what was involved.  But when I placed in the Ontario competition, I jumped at the opportunity to go to Halifax and compete and learn more about the sheet metal trade".
Dolar, Dun and Wilson all attended Future Building 2016 in London this past month.  With their two other colleagues on the Ontario team, the group spent three days providing a sheet metal demonstration to the thousands of students who attended the event as well as using the time to practice their sheet metal technique.
The practice time is greatly appreciated.
"Our union has set up a lot of opportunities for us to practice for these competitions", says Wilson.  "But it's not enough sometimes.  We all work during the day and then come home and practice another 2-3 hours.  It's tough".
Wilson says patience is the key, and you have to be a perfectionist.
"It's the only way" he says.  "Your craftsmanship really shows with the time you take".
While clearly there is an emphasis on the competition aspect of the Skills Challenge, the opportunity to travel and learn from and relax with fellow sheet metal workers is also a lure.
Dolar has never been to Halifax and so he's excited to travel and experience Canada's east coast.  He knows there will be much more to see and do away from the competition.  And while he knows he will continue to learn about the sheet metal trade by competing alongside his brothers, he's also looking forward to the new friendships that will be forged at and away from the competition.
Dun echoes his colleague's sentiments, particularly when it comes to learning from your fellow competitors.
"Some of the guys maybe haven't done field work – they've only ever done shop work so they assemble everything.  Some guys just hang the stuff that has been made, so yes, you can learn a lot from them".
The 2016 Canadian Sheet Metal Skills Competition in Halifax takes place July 20-23.
_____________________________
FOR MORE INFORMATION, CONTACT:
Katherine Jacobs
Director of Research,
kjacobs@iciconstruction.com
or
Fred Lehmann
Communications Coordinator,
fredl@iciconstruction.com
Ontario Construction Secretariat (OCS)
180 Attwell Drive, Suite 360, Toronto, ON M9W 6A9
P 416.620.5210 ext. 222
F 416.620.5310