---
MARK YOUR CALENDARS!

The Ministry of Labour (MOL) has announced its inspection blitz schedule for 2016/17.  Workplace injuries and fatalities can usually be traced to a few root causes.  Occupational health and safety inspectors conduct proactive blitzes on sector-specific hazards which also raises awareness and increases compliance with the Occupational Health and Safety Association.
Reports from previous year blitzes are available on the MOL website.  Construction sector blitz dates are noted below.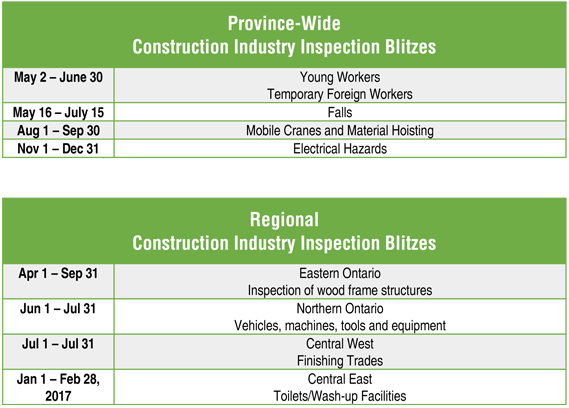 _____________________________
FOR MORE INFORMATION, CONTACT:
Katherine Jacobs
Director of Research,
kjacobs@iciconstruction.com
or
Fred Lehmann
Communications Coordinator,
fredl@iciconstruction.com
Ontario Construction Secretariat (OCS)
180 Attwell Drive, Suite 360, Toronto, ON M9W 6A9
P 416.620.5210 ext. 222
F 416.620.5310