---
REMEMBERING FRIENDS, FAMILY, COLLEAGUES AND JOB SAFETY!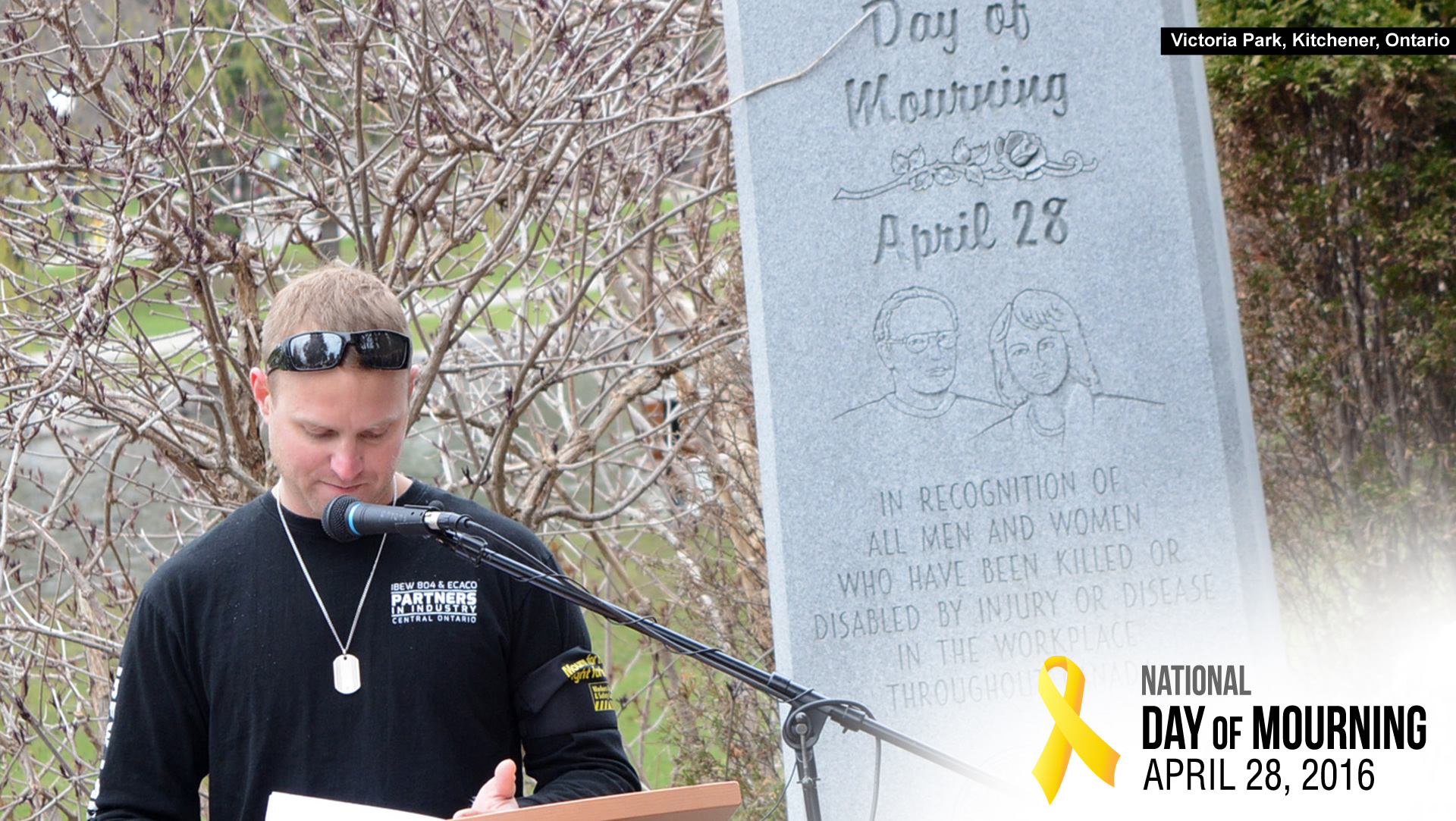 Photo: Eric Hunter, an electrician with IBEW Local 804 speaking at the Day of Mourning ceremony held at Victoria Park in Kitchener, Ontario
In Southwestern Ontario, the weather on April 28th matched the sombre atmosphere at many Day of Mourning observances.  The cloudy skies and cold temperatures greeted workers, trade unions, employers, families and politicians from all levels of government as collectively, they remembered friends and families who died or were injured while working on the job.
The Ontario Construction Secretariat attended four ceremonies: in Toronto, York Region, Oakville and Waterloo Region.  For all, the message was the same and remains important.
In Toronto, Cheri DiNovo is the NDP MPP for the Riding of Parkdale-High Park.  In her speech to the assembled, the message was simple:  "More unions mean safer jobs."  In Waterloo Region, Greg Bobier of the Waterloo-Wellington Dufferin Grey Building and Construction Trades Council told the gathering that "unsafe constructors need to be held accountable".
Speaking after Bobier was Eric Hunter, an electrician with IBEW Local 804 in Kitchener.  Speaking to a crowd of more than 100, Hunter shared the story of his friend who died last August when he became pinned in a lift against a ceiling on a job site in Guelph.
"Electricians don't need to be electrocuted to be killed", said Hunter.  "Every job has its own dangers".
Hunter's friend, 26-year-old James Wylie had a 16-month old daughter when he died.  Hunter says she is his living legacy.  "Everyone wants to be there and help her grow and show her the world and remind her what a good guy her dad was".
Businesswoman Tracy Mino also spoke at the Ceremony.  Mino lost her father when he lost his balance and fell from a 6-foot aluminum ladder.  That was six years ago, and only recently, has the healing process really begun.
The latest statistics on workplace deaths provided by the Association of Workers' Compensation Boards of Canada shows a total of 289 fatalities were recorded on the job in 2014.  Ontario construction industry fatalities totalled 87.
As Dave Killham, the Executive Director of the Workers Health and Safety Centre tweeted this year, "One death is too many.  One day is not enough".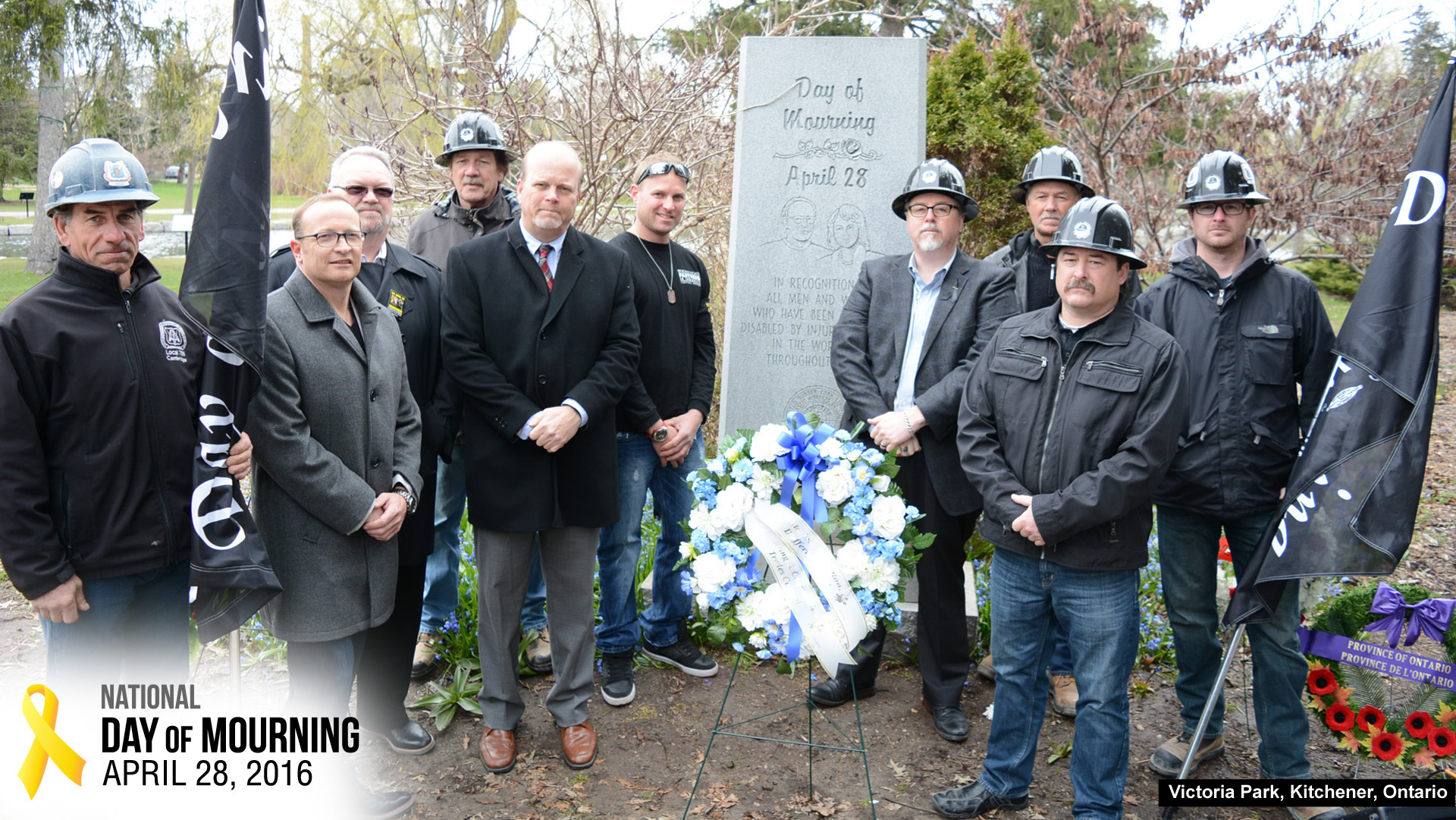 Inset: OCS Chief Executive Officer Sean Strickland, Eric Hunter of IBEW Local 804, Greg Bobier and members of the Waterloo-Wellington Dufferin Grey Building and Construction Trades Council – at the Waterloo Region Day of Mourning ceremony at Victoria Park (Kitchener, ON)
_____________________________
FOR MORE INFORMATION, CONTACT:
Katherine Jacobs
Director of Research,
kjacobs@iciconstruction.com
or
Fred Lehmann
Communications Coordinator,
fredl@iciconstruction.com
Ontario Construction Secretariat (OCS)
180 Attwell Drive, Suite 360, Toronto, ON M9W 6A9
P 416.620.5210 ext. 222
F 416.620.5310