---
OCS LOOKS FORWARD TO WORKING WITH NEW PROVINCIAL CABINET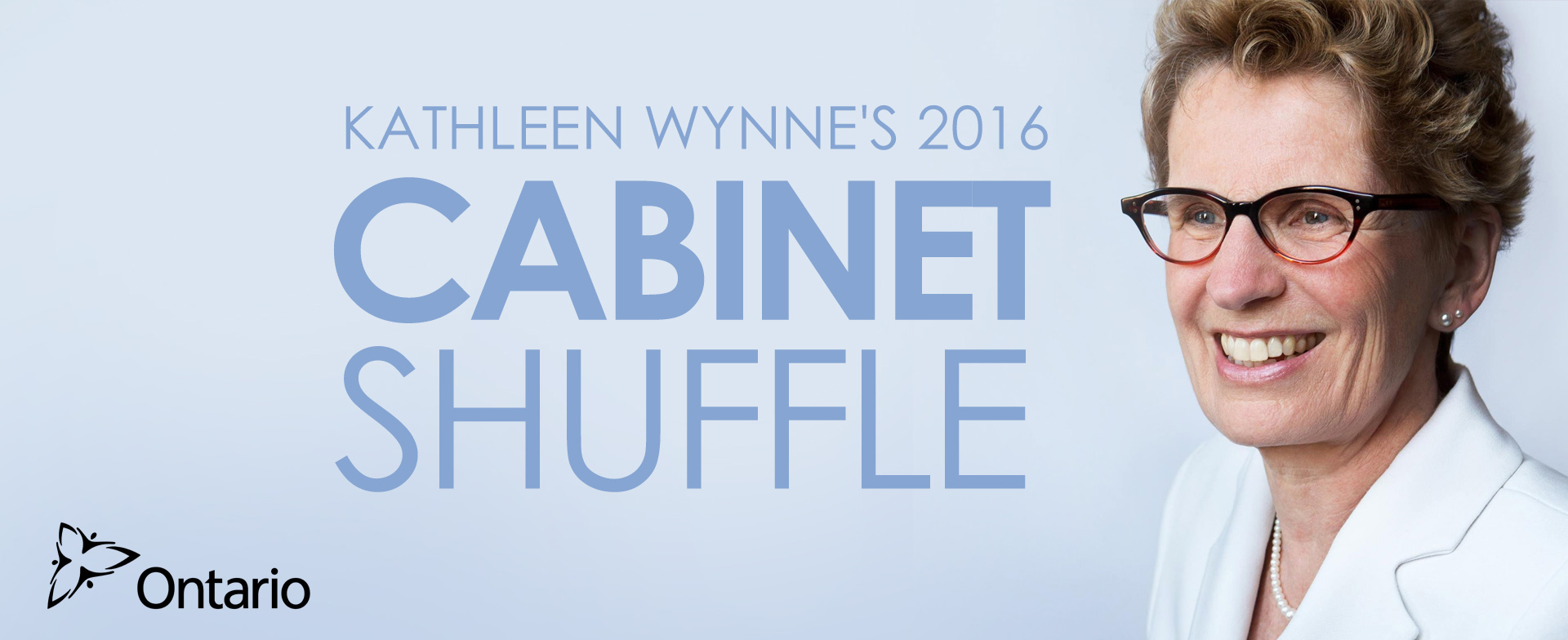 On June 13, Premier Kathleen Wynne shuffled her cabinet.  Two years and a day after the Liberal majority election, the changes included some "shifts" and some new faces.  The size of the Cabinet also increased to 30 members from the previous 27.
Here is the new-look Cabinet:
Premier – Kathleen Wynne
Advanced Education and Skills Development (+ Digital Government and Deputy Premier) – Deb Mathews
Agriculture, Food and Rural Affairs – Jeff Leal
Attorney General – Yasir Naqvi
Children and Youth Services (+ Anti-Racism Secretariat) – Michael Coteau
Citizenship and Immigration – Lara Albanese
Community and Social Services – Helena Jaczek
Community Safety and Correctional Services – David Orazietti
Economic Development and Growth – Brad Duguid
Education – Mitzie Hunter
Energy – Glenn Thibeault
Environment and Climate Change – Glen Murray
Finance – Charles Sousa
Associate Finance (Ontario Retirement Pension Fund) – Indira Naidoo-Harris
Government and Consumer Services (+ Francophone Affairs) – Marie-France Lalonde
Health and Long-Term Care – Eric Hoskins
Housing (+ Poverty Reduction Strategy) – Chris Ballard
Indigenous Relations and Reconciliation – David Zimmer
Infrastructure – Bob Chiarelli
Intergovernmental Affairs – Kathleen Wynne
International Trade – Michael Chan
Labour – Kevin Flynn
Municipal Affairs – Bill Mauro
Natural Resources and Forestry – Kathryn McGarry
Northern Development and Mines – Michael Gravelle
Research, Innovation and Science – Reza Moridi
Tourism, Culture and Sport – Eleanor McMahon
Transportation – Steven Del Duca
Treasury Board – Liz Sandals
Minister without Portfolio (+ Seniors Affairs) – Dipika Damerla
Minister without Portfolio (+ Women's Issues and Accessibility) – Tracey MacCharles
Government House Leader – Yasir Naqvi
Notable changes include the elimination of the Ministry of Training, Colleges and Universities.  It is now the Ministry of Advanced Education and Skills Development.
Aboriginal Affairs will now be known as Indigenous Relations and Reconciliation.  Two ministries receive additional responsibilities: Economic Development and Growth and Research, Innovation and Science.
To create the additional cabinet posts, three ministries have been split up.  Housing is longer attached to Municipal Affairs, International Trade has been split from Citizenship and Immigration, and Infrastructure returns to being a separate ministry.
The new faces in cabinet are Chris Ballard, Laura Albanese, Kathryn McGarry, Eleanor McMahon, Glenn Thibeault, Marie-France Lalonde and Indira Naidoo-Harris.
The most significant change among incumbent ministers involves Liz Sandals who moves from Education to Treasury Board.  Mitzie Hunter takes over Education.  Yasir Naqvi will add the role of Attorney General to his responsibilities, continuing as Government House Leader.
The Ontario Construction Secretariat congratulates all of the new Ministers and Parliamentary Assistants in their new portfolios and roles, and it looks forward to working with all key ministers in advancing the unionized construction industry in Ontario.
_______________________________________________
FOR MORE INFORMATION, CONTACT:
Fred Lehmann
Communications Coordinator,
fredl@iciconstruction.com
or
Katherine Jacobs
Director of Research,
kjacobs@iciconstruction.com
Ontario Construction Secretariat (OCS)
180 Attwell Drive, Suite 360, Toronto, ON M9W 6A9
P 416.620.5210 ext. 222
F 416.620.5310