---
KITCHENER'S BALL CONSTRUCTION ALSO TITANS IN PRO SPORTS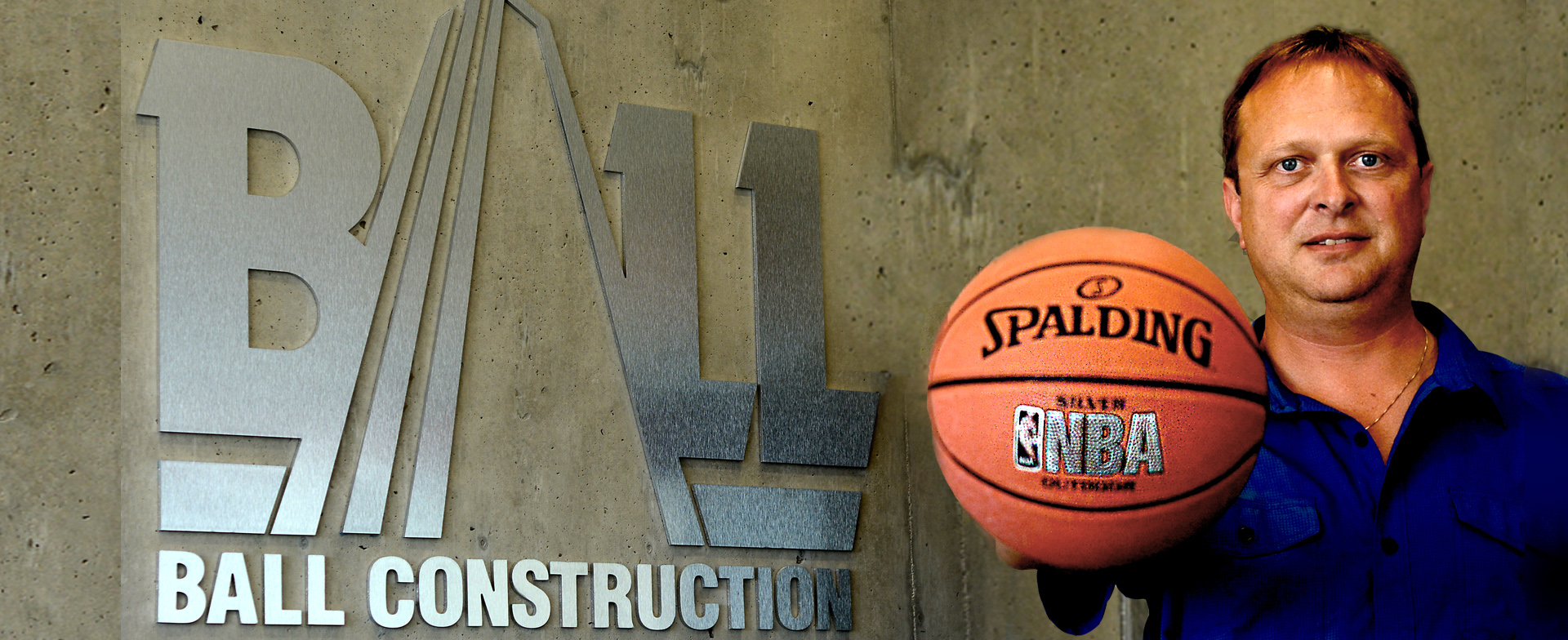 Inset: Cameron Ball, Vice President of Ball Construction.

There is no doubt that Ball Construction (@BallCon2) in Kitchener, Ontario is a major player in the construction industry.  With more than 100 field staff and an office staff of 30, the family-owned company has been helping to build communities since it was first established in 1923.
That's a lot of building primarily in the industrial, commercial, energy and residential sectors.  However, Ball Construction also has a lot of experience in the recreational sector, having built the Wayne Gretzky Sports Centre in Brantford, the Meridian Centre in St. Catherines, the Plattsville Arena near Woodstock and the 2012 expansion of Kitchener's Memorial Auditorium.
So it shouldn't come as a big surprise when Ball Construction agreed to become majority owner in the National Basketball League (NBL) of Canada's newest franchise – the K-W Titans.
The relationship between construction and sports is not new.  In fact, Ball Construction Vice President Cameron Ball says they've been involved with sport for many years.
"We support a lot of various teams through sponsorship," says Ball.  "A lot of them are minor league teams in the Region of Waterloo including hockey, baseball and soccer teams.  But we never entertained the concept of being involved on the ownership side."
Until now.
"When we were first approached about getting involved with the NBL, we knew nothing about the League.  We didn't know about the economics or the structure.  We thought the best way to find out was to take in a game in nearby London."
Cameron was right.
"We began to quickly understand what the League was about, the kind of support the London team was receiving and how the community had embraced the franchise."
"We went to the game not knowing very much, but left the game realizing that an NBL franchise was a great opportunity and a benefit the Region would be able to support, enjoy and embrace."
This story mirrors one involving Kilmer Van Nostrand Co. Ltd. – a holding company of the Kilmer Group, which played a major role in the construction of the Pan Am Village in Toronto.  It's Chairman and CEO is Larry Tannenbaum.
With a long-standing interest in sports, Tannebaum spearheaded an effort in 1991 to bring professional basketball to Toronto.  In 1996, he acquired the Toronto Maple Leafs and in 1998, was an active force in forming Maple Leaf Sports and Entertainment Limited (MLSE).
So what is it about construction and sports?  What's the appeal?  Ball thinks he knows.
"Construction is so competitive," he says.  "We compete every day against each other for work.  Once we're awarded a project, there's the struggle and competition to get it completed.  It's a battle in a lot of ways and it's that mentality that carries over from the sports playing field."
Despite the fact that Ball Construction and the K-W Titans will share some office space initially, operation of the basketball team will not impact on the day-to-day work at Ball.  Both will be treated as separate entities.  A GM has been hired to be responsible for all "off-court" activities.  Some of the administrative work such as marketing, sales and sponsorships will be handled by in-house staff.
Only time will tell how successful the K-W Titans will be.  No doubt there will be many growing pains in the years to come, but Ball Construction is always encouraging its employees to creatively solve problems through innovation.  It is part of the reason the company has been around for 93 years and a pretty good foundation on which to build a successful pro basketball franchise.

_____________________________
FOR MORE INFORMATION, CONTACT:
Fred Lehmann
Communications Coordinator,
fredl@iciconstruction.com
Ontario Construction Secretariat (OCS)
180 Attwell Drive, Suite 360, Toronto, ON M9W 6A9
P 416.620.5210 ext. 222
F 416.620.5310