---

As the summer of 2016 begins to draw to a close, the Ontario Construction Secretariat (OCS) is busy preparing for a busy fall season.
It's all hands on deck as the OCS is planning the Annual General Meeting and Conference to be held September 14 and 15 in Waterloo, Ontario.  The theme of this year's conference is Innovative Approaches to Enhancing Market Share.
The OCS will also be attending a meeting of the Alberta Building Trades on September 21-22 and the ECAO's Annual Industry Conference in Muskoka September 21-25.
On September 22nd, the OCS will be honoured to attend a Retirement Dinner for Wayne Peterson of the Ontario Sheet Metal Contractors Association.  Wayne is also a member of the OCS Board of Directors.
This past month, the OCS supported LiUNA Local 506, IBEW Local 353, Aecon and the Waterloo, Wellington Dufferin and Grey Building and Construction Trades Council at various events and dinners.  Charitable organizations supported included ALS Stem Cell Research (Adaptive Canuck), Thalassemia Foundation, Special Olympics, Peter Reed, Brody & Mason Trust Fund, Granville Children's Centre, KidsAbility, Cambridge Humane Society, Cambridge Shelter, The Working Centre, Trinity Community Table and the Juvenile Diabetes Research Foundation.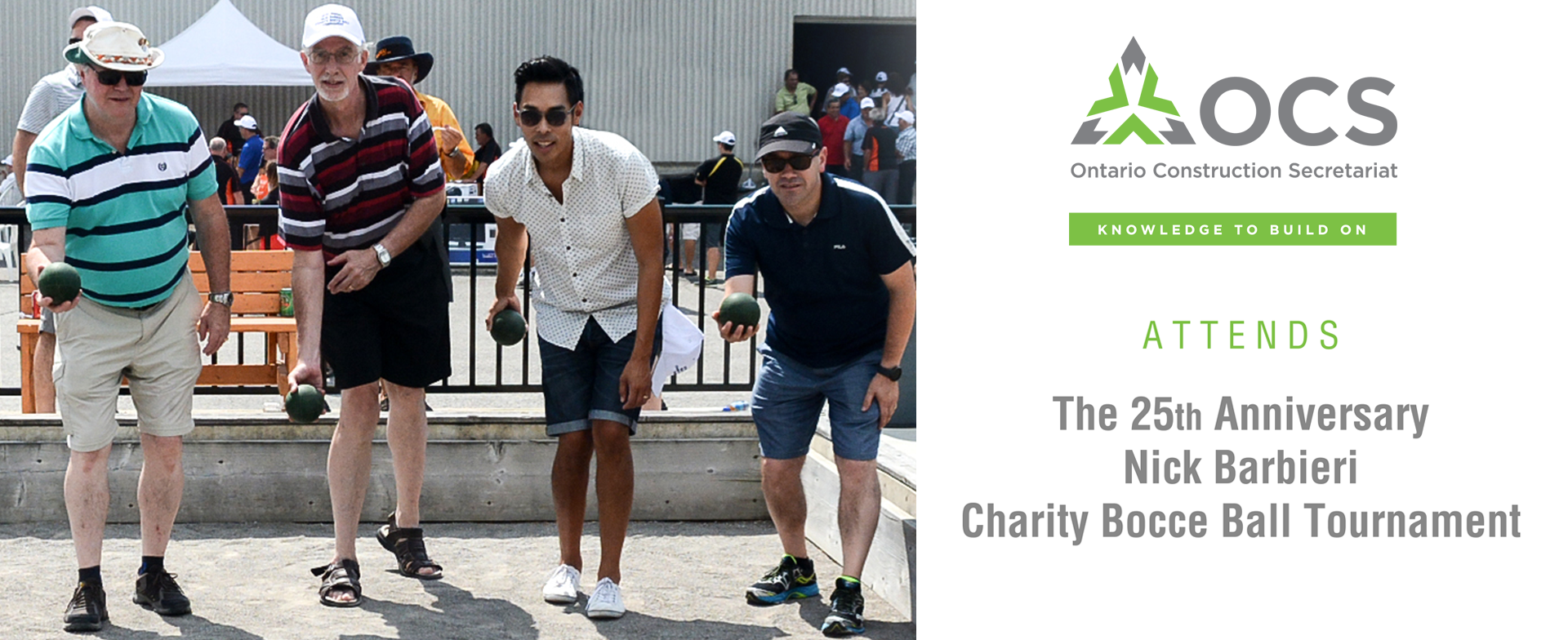 Inset: Jim Wright, Fred Lehmann, Ryan Isojima, and Gianluca Cipriani of the OCS participated in the 25th Anniversary Nick Barbieri Charity Bocce Ball Tournament in support of the Thalassemia Foundation of Canada and the Adaptive Canuck ALS Foundation.  This annual charity tournament is hosted by LiUNA Local 506 and General Contractors' Section – Toronto.
. . . . . . . . . . . . . . . . . . . . . .

_______________________________________________
FOR MORE INFORMATION, CONTACT:
Fred Lehmann
Communications Coordinator,
fredl@iciconstruction.com
Ontario Construction Secretariat (OCS)
180 Attwell Drive, Suite 360, Toronto, ON M9W 6A9
P 416.620.5210 ext. 222
F 416.620.5310