---
CHANGES ARE COMING TO WSIB PREMIUMS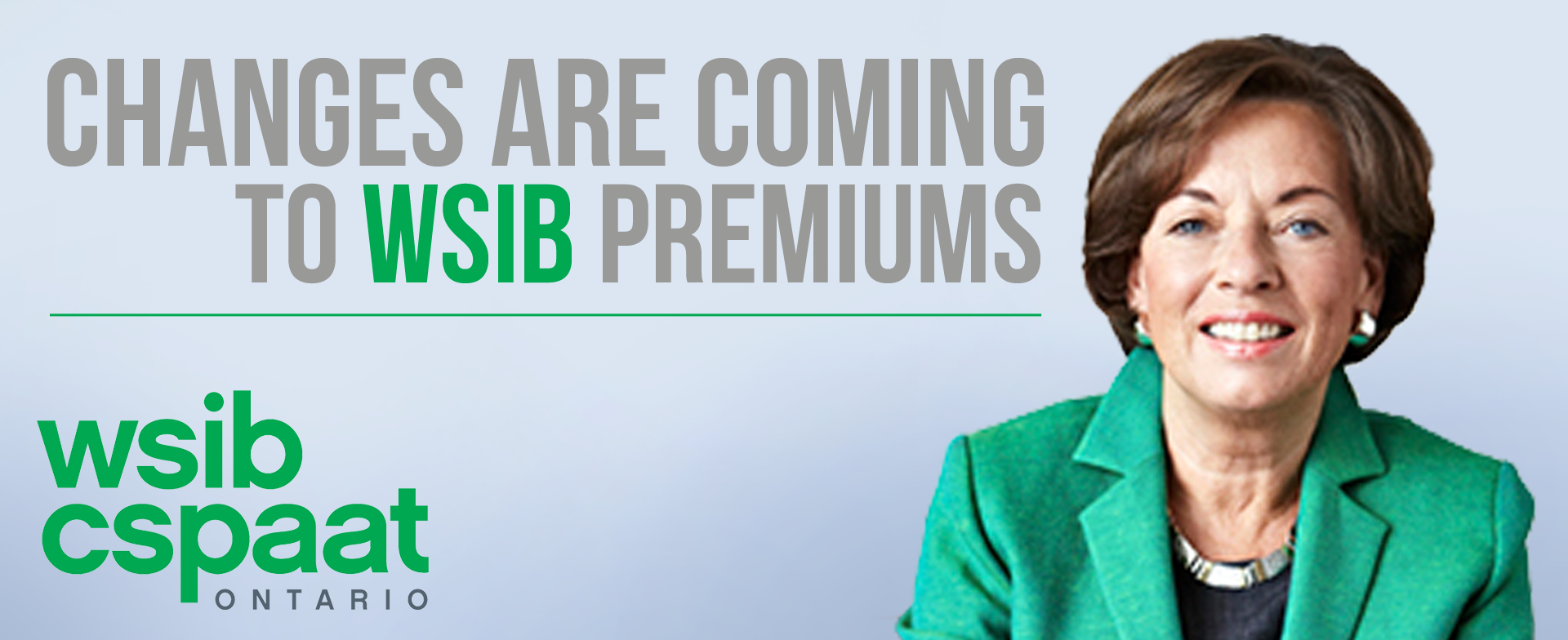 This fall, the Board of Directors for Ontario's Workplace Safety and Insurance Board (WSIB) (@WSIB) is expected to approve a Rate Framework Modernization that will address the many operational challenges faced by the WSIB – including how premium rates are set.
In conversation with the Ontario Construction Secretariat (OCS), Elizabeth Witmer, the Chair of the WSIB, said that following Board approval of the framework, the changes will be implemented in 2019 at the earliest.
"We've had some robust stakeholder engagement", Witmer told the OCS, "and the consultation process is continuing and will continue throughout the coming months – even after the Board votes on the plan". 
In the initial round of consultation, the working groups received 57 formal submissions.  Another 19 were received earlier this year.
During the consultation process last December, the WSIB posted premium rate information for each of the proposed 34 industry classes, in addition to the Rate Group and Risk Disparity analysis that provides greater detail on rate implications and classification structure.
Up to date information on the full process can be found on the WSIB website, click here to read about the proposed preliminary rate framework and a current state analysis.
If you wish to comment on the plan and proposed changes, please email consultation_secretariat@wsib.on.ca.
Witmer says independent of the proposed framework modernization, premium rates could see a reduction as early as 2018/2019.
Earlier this month, the WSIB announced a 5% reduction on the average premium rate for 2017.
In making the announcement at the WSIB's Annual General Meeting for stakeholders in Toronto, Witmer explained that some groups will see premium rate decreases of up to 14%.  This includes form work and demolition.  Other groups experiencing a rate decrease include electrical (3.5%), millwrighting and welding (2.6%).  The large, general contractors included in the ICI construction sector (Rate Group 723) however will hold steady with no rate reduction.  Click here to see how the rate changes affect your trade.
"While new claim costs improved", says Witmer, "they didn't improve enough to trigger a premium rate reduction in the ICI sector".
That's not to say future premium rate reductions are not on the horizon says Witmer.
"Assuming the economy continues to be positive in the coming years, the WSIB could consider reducing the premium rate anywhere from five to 10% in 2018/2019".
The rate reduction was the first one since 2001.  The reason says the WSIB, is a result of safer workplaces, better outcomes for injured workers and operational and financial improvements within the WSIB.

_____________________________
FOR MORE INFORMATION, CONTACT:
Fred Lehmann
Communications Coordinator,
fredl@iciconstruction.com
Ontario Construction Secretariat (OCS)
180 Attwell Drive, Suite 360, Toronto, ON M9W 6A9
P 416.620.5210 ext. 222
F 416.620.5310