---
MORE THAN BRICKS & MORTAR: THE NEW LiUNA TRAINING CENTRE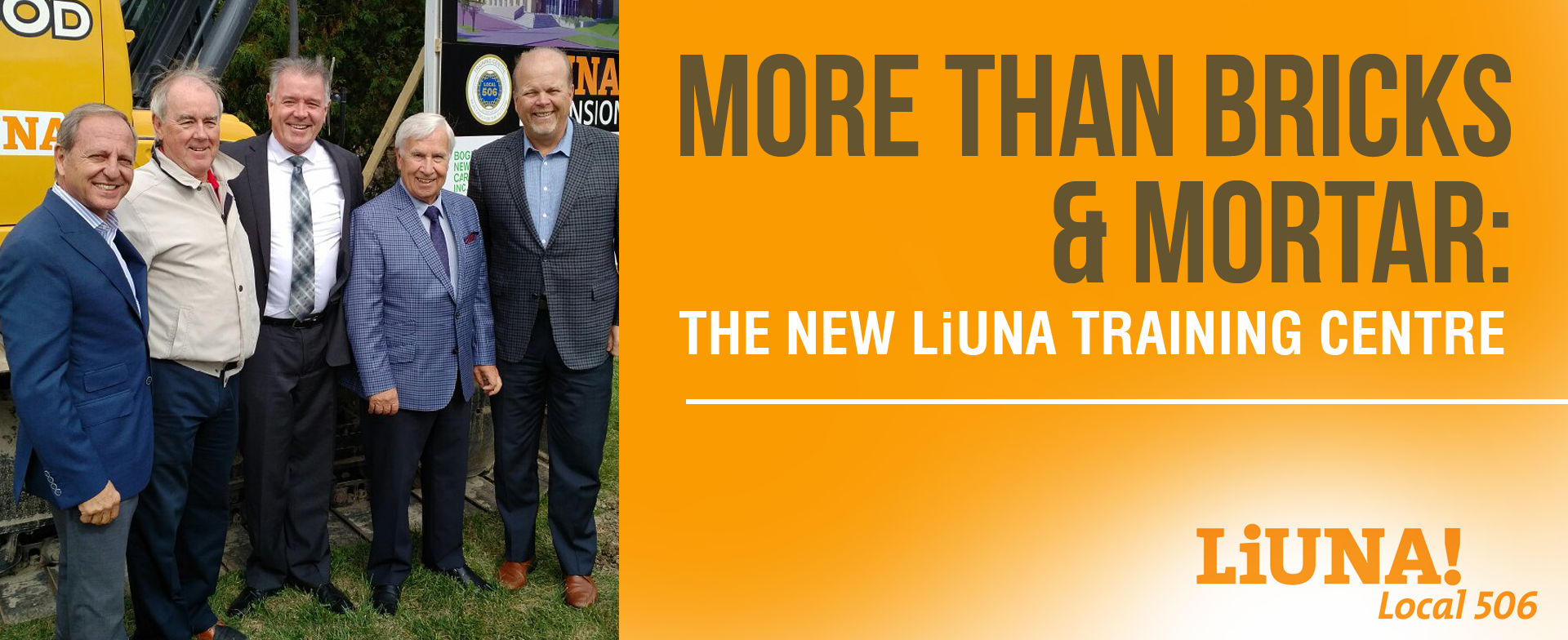 Inset: (L-R): Joe Mancinelli, LiUNA International VP & Regional Manager for Central and Eastern Canada; Joe Keyes, GM of Construction Labour Relations Association of Ontario and President of the OCS Board of Directors; Kevin Flynn, Ontario Minister of Labour; Carmen Principato, Business Manager of LiUNA Local 506; Sean Strickland, Chief Executive Officer of the Ontario Construction Secretariat.

---
It's been a long time in coming – a new $19-million training facility for LiUNA Local 506 in Richmond Hill, northeast of Toronto.
"We have outgrown this facility and we need to build to keep up with the demands of apprenticeships, skills and health and safety training".
Speaking at the project's ground breaking this past fall, Ted Gedney, Local 506 Training Director looked back more than 30 years, describing trailers that served as classrooms, washrooms that were temporary and a facility that very much resembled a job site.  Five years later in 1991, the Local 506 Training Centre was built.  It had three classrooms, a small office, a director's office and large training bay and totalled more than 17,500 square feet.
In 2017, construction will begin on an addition that will result in a facility that will include 4 training bays dedicated to specific skills training – one complete with an overhead crane – 9 classrooms, a lecture hall, new administrative and instructor offices with a total building footprint of 64-thousand square feet.
Carmen Principato – the Business Manager for LiUNA Local 506 says this isn't just about a new training facility.
"This is about re-affirming our strength and commitment to growth and prosperity of this organization.  LiUNA wants to continue to supply signatory contractors with the best trained members to ensure a skilled, second-to-none work force."
Training has become one of the cornerstones and pillars of the organization.  Joe Mancinelli, LiUNA International Vice President and Manager for Central and Eastern Canada, says LiUNA cannot function as an organization if it doesn't give a high priority to training.
Mancinelli says young people come out of college and university and choose the construction industry as an occupation.  But he says they can't go straight into the trades.  He says health and safety training and a number of other training initiatives have to be completed before they can go out into the world of construction.
"That's why a training centre like this is so important", he says.  "Not only for the future of our organization, but for the future of the construction industry in Ontario".
Calling it a "landmark" day, Ontario Minister of Labour Kevin Flynn thanked LiUNA for what it's done for the province, for the way the organization "is moving us ahead", and for continuing the leadership role "we enjoy here in the province".
"You bring so much to the industry, the economy and our young people", says Flynn.  "The leadership that has been shown by your organization is an example to all in the field of labour, field of business and in construction.  You do it right".
Jim Vlahos, the Director of Labour Relations for the General Contractors Section, called the ground breaking a momentous occasion.
"We stand here today – labour and management – even more united, more cohesive and resolute in our vision, thanks to our shared experiences in the planning and execution and ultimately construction of this great facility".
Infrastructure work by the Region of York and the Town of Richmond Hill has provided LiUNA with some opportunities to tweak its plans in the months following.  Specifically, the organization is studying options that will improve the entrance and egress from the LiUNA property.
At present, building permits are being secured and LiUNA is signing contracts with its subcontractors and construction on this environmentally sustainable development is anticipated to begin in the spring.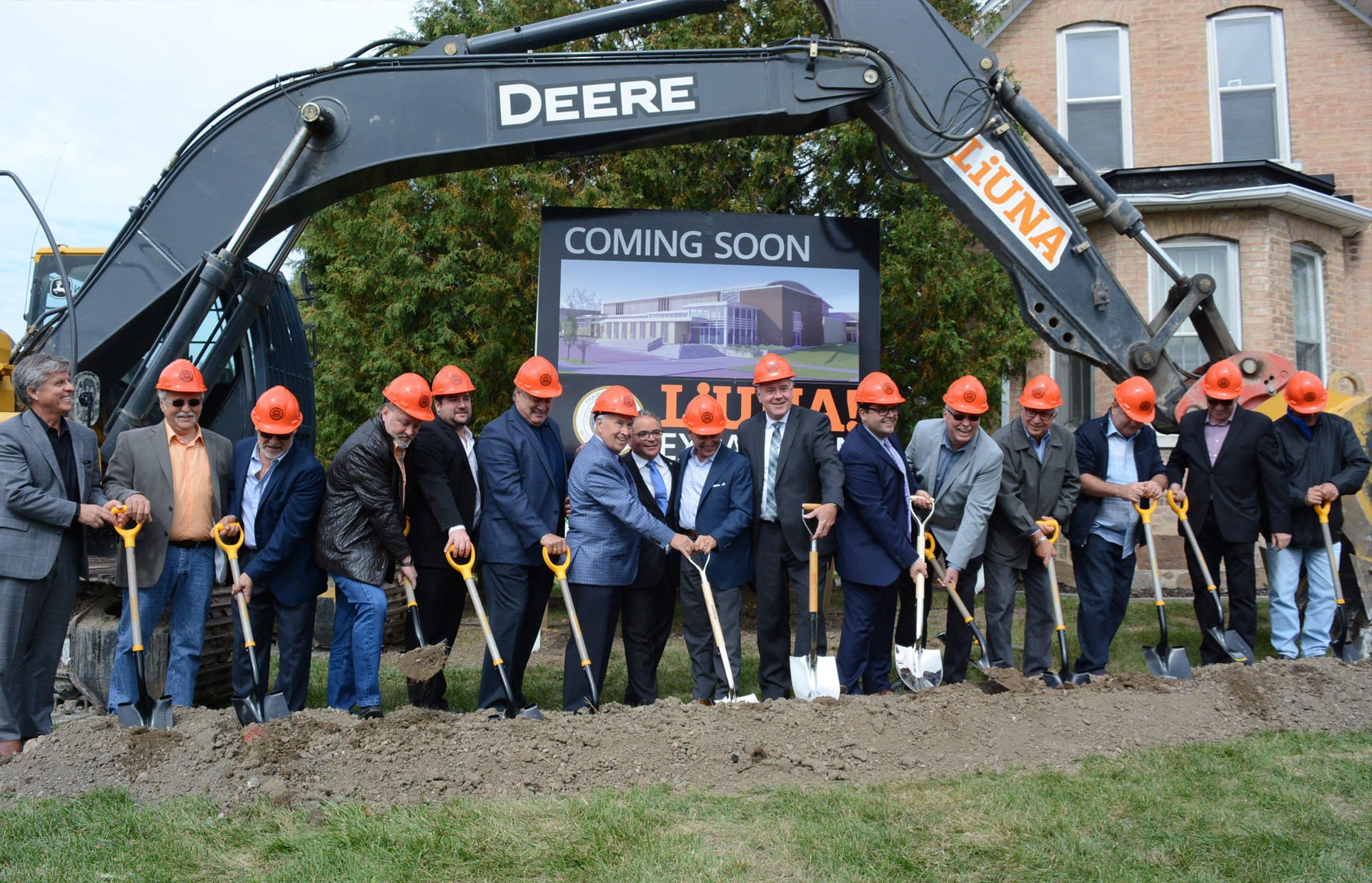 Inset: LiUNA Local 506 and Partners "shovel ready" for new Training Centre!


_____________________________
FOR MORE INFORMATION, CONTACT:
Fred Lehmann
Communications Coordinator,
fredl@iciconstruction.com
Ontario Construction Secretariat (OCS)
180 Attwell Drive, Suite 360, Toronto, ON M9W 6A9
P 416.620.5210 ext. 222
F 416.620.5310