---
Federal Budget 2017: Momentum Stalls on Infrastructure Commitments

Federal Finance Minister Bill Morneau presented a much more cautious budget on March 22nd than he did in 2016. While the 2016 Budget and 2016 Fall Economic Statement both overflowed with infrastructure funding announcements (totalling $180 billion), 2017`s budget repeated previous announcements and took a targeted approach to new infrastructure investment. New details on the Canada Infrastructure Bank were very limited and no new funding was announced for public transit. The highlight for the construction industry is the new National Housing Strategy which will pump more money into affordable housing construction and repair. With investment in skills and training, the Government took a broad approach, focusing on transfers to provincial and territorial governments, and general funding for young Canadians, EI beneficiaries and mature students.
Canada Infrastructure Bank

Little was offered in new details on the much anticipated Canada Infrastructure Bank. The Government reiterated its $35 billion commitment to the Canada Infrastructure Bank which was made in the 2016 Fall Economic Statement. It also revealed that less than 10% of this funding (only $2.8 billion) will be spent over the next five years. Legislation to establish the Canada Infrastructure Bank will be coming soon, and the Government plans to identify a CEO and Chairperson. Their goal is for the Bank to be operational in late 2017.
Infrastructure Data Initiative
Budget 2017 included the announcement of a new data initiative associated with the Canada Infrastructure Bank. The federal government plans to work with the provinces, territories, municipalities and Statistics Canada to collect and share data to help direct infrastructure investments. This will include demand and usage data, data assessing the state of infrastructure assets, and data measuring the impact of infrastructure investments. The announcement didn`t provide a timeline or budget for this initiative but indicated that further details will be announced in the coming months.
Public Transit
Budget 2017 included $20.1 billion over 11 years in previously announced funding for public transit. Projects in Ontario that will benefit from this funding include Stage 2 of the Ottawa LRT, Metrolinx's GO Regional Express Rail (RER) program and Toronto's SmartTrack project. Over the next five years, spending on public transit will amount to $3.9 billion (less than 20%). The Government also limited the amount of federal funding for municipal public transit infrastructure in order to encourage more provincial investment. The amount of municipal funding is capped at a maximum of 40% , down from 50% previously. Provincial projects will still be able to get up to 50% federal funding.
Targeted Infrastructure Spending
Beyond public transit and the Canada Infrastructure Bank, the Government took a targeted approach in this budget to funding infrastructure.
Indigenous community infrastructure was a major focus of the 2017 budget. In addition to the $8.4 billion over five years which was announced in the 2016 budget, the federal government is investing an additional $4 billion over the next ten years for indigenous community infrastructure such as housing, water treatment, healthcare facilities.
Budget 2017 provides Natural Resources Canada with just over $100 million over the next five years for green building programs. This includes $67.5 million in new funding to continue existing energy efficiency programs, and $39.8 million to promote the use of wood as a substitute for other materials in infrastructure projects. The Government highlighted mid-rise commercial and industrial buildings as targets for increasing the use of wood materials.
Another area of focus for infrastructure investment is cultural and creative spaces. Over the next ten years, $300 million ($120 million over the next five years) has been allocated to the Canadian Cultural Spaces Fund which focuses on construction and renovation of spaces for the creative economy, artists and cultural entrepreneurs.
Other targeted infrastructure investments include:
$80 million over the next ten years ($20 million over the next five years) for the construction of community educational infrastructure in official language minority communities. This includes facilities such as early childhood centres, community centres and cultural centres.
$77 million over the next ten years ($31 million over the next five years) for the Enabling Accessibility Fund which supports the construction and renovation of public spaces to improve accessibility for Canadians with disabilities.
Smart Cities Challenge
Budget 2017 provided more details on the Smart Cities Challenge Fund which was announced in the 2016 Fall Economic Statement. Canadian cities will be able to compete for funding by proposing innovative approaches to city building and planning. The Government has allocated $300 million over the next 10 years ($125 million over the next five years) for the Smart Cities Challenge.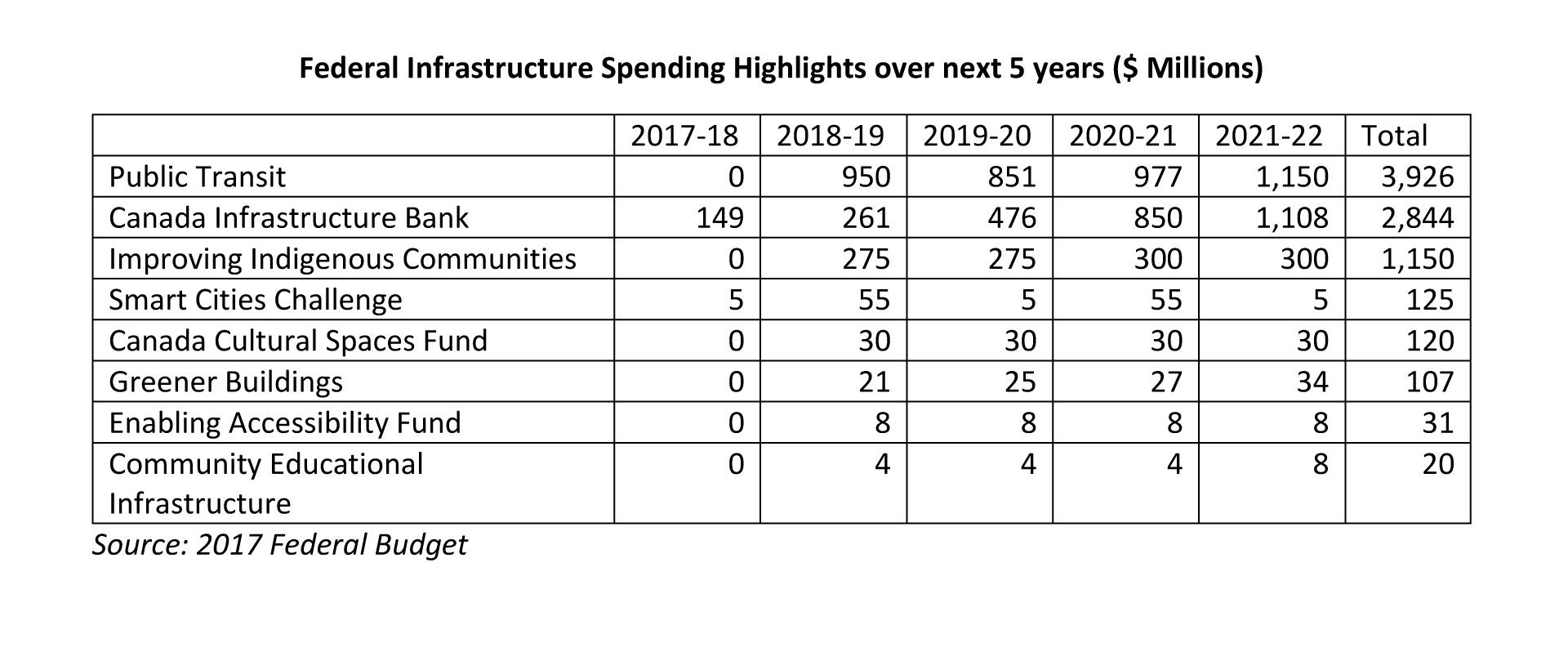 National Housing Strategy
A key feature of the 2017 budget is the National Housing Strategy. The federal government plans to invest $11.2 billion over the next 11 years on initiatives to build, renew and repair affordable housing. The largest housing initiative in terms of total investment is the National Housing Fund which has been budgeted $5 billion over the next 11 years ($1.2 billion over the next five years). The fund will be administered by the CMHC (Canada Mortgage and Housing Corporation) and will allocate financing as well as low-cost loans and co-investment to municipalities and other affordable housing providers for construction and renovation of affordable housing.
The 2017 budget also provides targeted funding for housing including:
Northern Housing: $300 million over 11 years ($120 million over five years) for Northern housing
Housing for Indigenous Peoples Not Living On-Reserve: $225 million over 11 years ($100 million over five years)
Skills Development
The 2017 budget takes a broad approach to skills and training funding rather than focusing on specific skills, jobs, trades or types of training. The Government provides funding to initiatives that support training for Canadians at various stages in their careers. This includes $395.5 million over three years in new funding for the Youth Employment Strategy which creates opportunities for young people. The budget also allocates $454.4 million over four years (starting in 2018-19) to initiatives that support mature students who are studying part-time, supporting a family or returning to school. In order to encourage those receiving EI benefits to seek new training, the budget provides $132.4 million over four years (starting in 2018-19).
Looking at transfers to other organizations and levels of government, the 2017 budget increases funding to provinces and territories through Labour Market Transfer Agreements by $2.7 billion, including $1.8 billion for expanding eligibility for programs and services under the Labour Market Development Agreements. Finally, the budget provides $225 million over four years (starting in 2018-19) to establish a new organization which will work in partnership with provinces, territories, the private sector, educational institutions and not-for-profit organizations. This organization will explore new approaches to skills development, and identify future skills requirements in order to inform future investment in skills development.
_____________________________
FOR MORE INFORMATION, CONTACT:
Katherine Jacobs
Director of Research, or
Ian Worte
Research Analyst,
Ontario Construction Secretariat (OCS)
180 Attwell Drive, Suite 360, Toronto, ON M9W 6A9
P 416.620.5210 ext. 222
F 416.620.5310
kjacobs@iciconstruction.com