---
INFRASTRUCTURE – BUILDING A NEW ONTARIO ECONOMY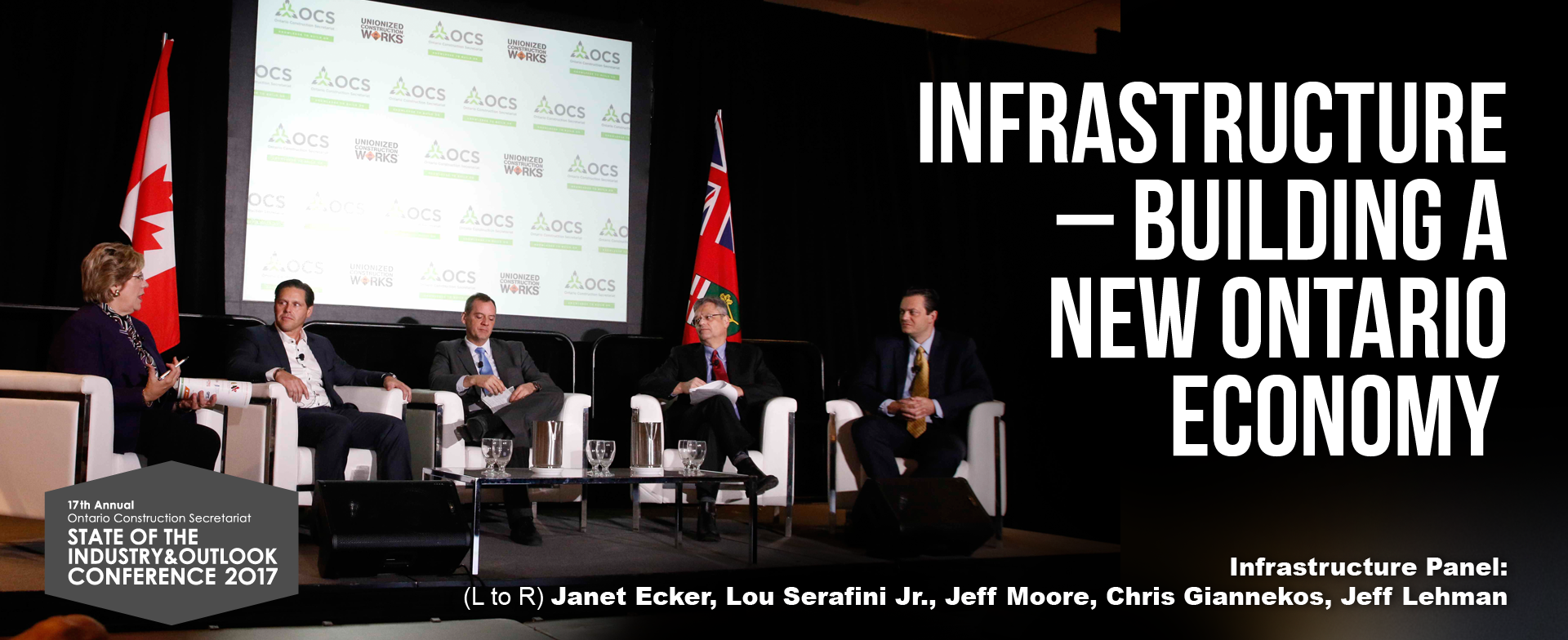 As President and Chief Executive Officer of Toronto Financial Services Alliance, Janet Ecker is ideally suited to facilitate a discussion about infrastructure and transforming Ontario's economy.  With what she describes as an "eco-system" of services including design and engineering firms, construction and financial services, Ecker sees firsthand how people from around the world are wanting to find out how to finance infrastructure.
 "They're beating a path to our door", says Ecker.  "The irony is that in Ontario and in Canada, we're not taking advantage of our strength and ability and doing more". 
Ecker, also a former Ontario Minister of Finance, did an outstanding job of moderating a panel discussion on the theme of "Building Infrastructure Projects that will Transform Ontario's Economy".
The panel featured Jeff Lehman, the Mayor of Barrie and Past Chair of the Large Urban Mayors' Caucus of Ontario , Chris Giannekos, Associate Deputy Minister, Ministry of Infrastructure, Jeff Moore, Assistant Deputy Minister of Infrastructure Canada and Lou Serafini Jr., the President and Chief Financial Officer of Fengate Capital Management Inc..
The panel began by answering a "live polling question" – "Which (of the following) infrastructure projects do you think will have the biggest impact on the economy?"  The options were transit/regional express rail, improved trade access (2nd Windsor/Detroit bridge), fibre/broadband and Ring of Fire.
Barrie Mayor Jeff Lehman says he's a "fibre/broadband guy".
 "I'd (like) to see greater fibre/broadband capacity, province-wide or to a level that allows us to offer competitive advantages over other jurisdictions.  With the shift in the economy, I think that's going to have a more substantive effect on the bottom line of Ontario's GDP than even transportation".
Chris Giannekos pointed to enhancing Ontario's trade access to the United States through a second bridge over the Detroit River as one of the most innovative and strategic thing we can do.  He reminded the audience that the Gordie Howe Bridge is not just a bridge, it is also a Customs plaza, a connection to the Interstate, it incorporates technology relating to clearance and pre-clearance and it handles approximately one-third of our trade into the United States.
Jeff Moore chose the Ring of Fire, suggesting there is much more opportunity – not just around building infrastructure to unlock the value of the region – but also around developing some of the smaller, surrounding First Nations communities.
"I'm going off the grid" said Lou Serafini Jr., who chose the Gardner Expressway in Toronto.
"When do we as a country start to do the next Hoover Dam?  When do we start to do that mega-project that is a game changer for a hundred years?  To me, that's the Gardner.
It wasn't long before the federal government's proposed Infrastructure Bank came up for discussion.
Moore said the intent of the Bank has changed significantly from when the idea was first discussed.  At first, the Bank was really about finding small capital projects.  Today (from a public policy perspective), it's about trying to address the infrastructure deficit.  Moore says it's also not about financing as much as it is funding.
"Essentially, it's going to be one of many tools in our tool kit in addition to the granting mechanism that we have and the agreements we try and negotiate with the Provinces and Territories."
However, Ecker reminded the panel there are those who don't see the Bank as a solution.  For Serafini Jr., it's never been about private capital.
"It's about there not being any opportunities for Canada's pension plans to write those big equity cheques.  The focus should be on who has the expertise in the room – and it's this room…construction companies and engineers and architects."
Moore added it's also about making projects more attractive for the private sector to get involved.  He said we have to ask "what is the market in Canada for these types of projects and what is the market for big pension funds to actually invest in these projects".
Other topics that sparked discussion included innovation in the delivery of infrastructure projects and a follow-up question to all of the panelists – "what do you think is/will be the "uber" moment for the infrastructure industry".
Chris Giannekos suggested digitization of information will lead the construction industry to operate in real time.  Jeff Moore pointed to semi and fully autonomous vehicles and their potential impact on public transit, while Mayor Lehman spoke to Rover – a disruptive technology in the parking world.  Serafini Jr. opted for something more tangible, citing currently unrealized real estate opportunities associated with public sector transit infrastructure.  He pointed to the new GO facility in Burlington as an example and wondered how we can take advantage of these real estate opportunities to create new revenue sources to build additional infrastructure.
Needless to say, the panel discussion was quite engaging – among the panelists and with the audience.  You can watch the entire panel discussion here.

_______________________________________________
FOR MORE INFORMATION, CONTACT:
Fred Lehmann
Communications Coordinator,
fredl@iciconstruction.com
Ontario Construction Secretariat (OCS)
180 Attwell Drive, Suite 360, Toronto, ON M9W 6A9
P 416.620.5210 ext. 222
F 416.620.5310