---
OPPORTUNITIES AND CHALLENGES – THE GENERALS SPEAK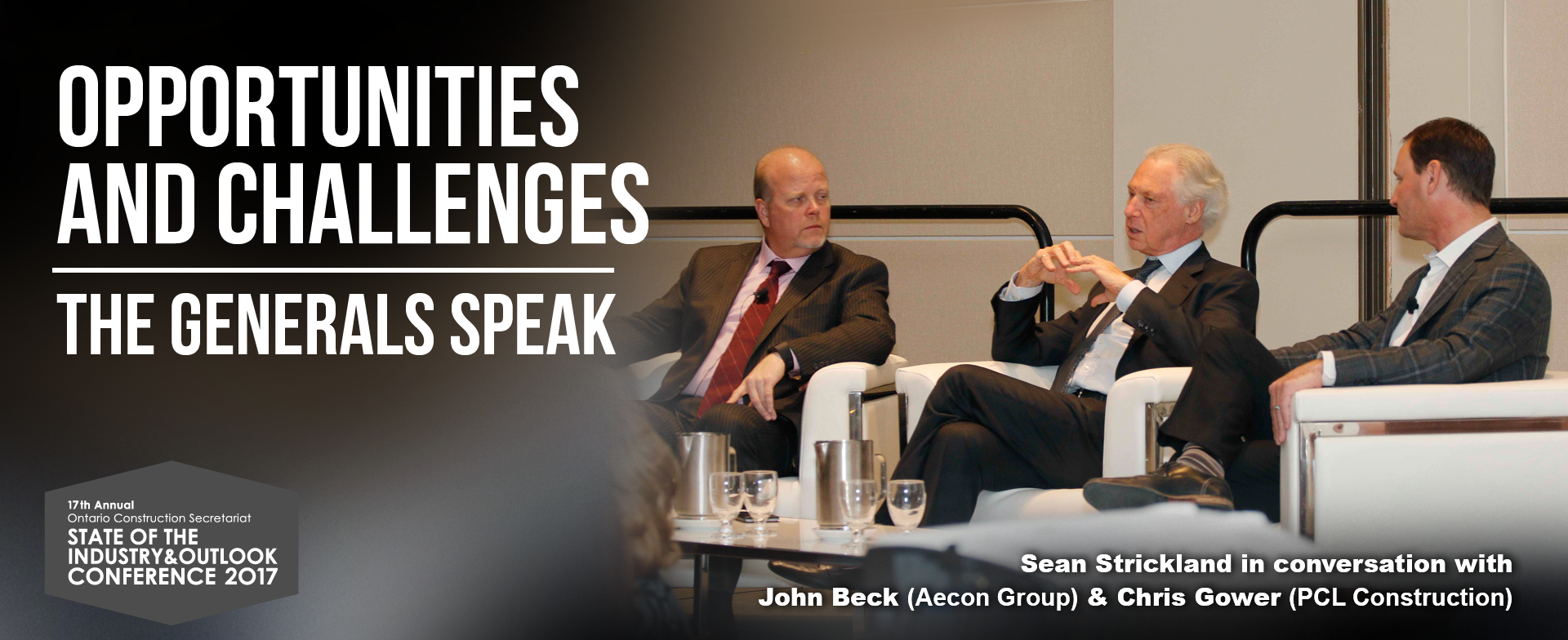 Two of Canada's top construction companies were on the lunch menu as the Ontario Construction Secretariat (OCS) wrapped up a very successful State of the Industry and Outlook Conference for 2017. Joining OCS Chief Executive Officer Sean Strickland on stage was John Beck, President and Chief Executive Officer for the Aecon Group and Chris Gower, Chief Operating Officer, Buildings for PCL Construction.  It was an opportunity for the general contractors to discuss the opportunities and challenges that exist in Ontario's construction industry.
With a trend in the industry towards larger projects, Gower for one, is not a fan of "flooding the marketplace with large projects".  Every time you increase the size of a project says Gower, you increase the complexity for the individuals running it and the consortium that bids it has to be more effective.
Gower expressed his opinion on international contractors.
"I don't think large international contractors add as much value as others might think they do into the Canadian marketplace.  I think their track record speaks for itself.  So keeping it to the size where many contractors can contribute, where trade partners can contribute and work can be divided across a broader group of people, is inherently better.  And I say that because I think it's better for the marketplace."
He also knows this.  The talent in Ontario is spectacular, certainly based on his travels in the U.S. and the rest of Canada.  He says if you look at the bigger projects, the success on those projects done by a Canadian contractor is exceptional for this marketplace.
The Aecon Group sees it a little differently.  John Beck says he believes there is room for both Gower's position and what Aecon believes.
"We have found that with careful selection and getting to know the culture of these (international) players, some are good because they bring the financial resources that we do not have, but they also bring expertise and innovation that they've been able to develop around the world that we have yet to develop.  So that's value added for the client".
The panel also discussed the findings of the Secretariat's annual Construction Confidence Survey.  Gower says we're certainly seeing good times in Ontario now with a marketplace that has been steady and relatively strong for a few years.  However for PCL as a company, Gower says their current economic driver is the U.S. marketplace.  Beck also believes in the encouraging trend shown by the Confidence Survey.
"When you talk to people around the world, they will say Canada is the place in terms of the next 5-10 years of activity in the construction industry in general and in particular, infrastructure.  Of course that's why we attract so many international players".
Both Beck and Gower concluded the panel discussion by sharing some thoughts on community benefit programs and organizations such Helmets To Hardhats and Hammer Heads, which are designed to train and place former military personnel and under-resourced individuals in apprenticeship programs for the construction industry.
Gower says it's a great idea.  But he cautions the construction industry to be careful that community benefits don't go too far.
"There's a system in the U.S. now in which the cost to administer the program, plus hold people accountable, is not creating the value that people would have thought it would.  You can institute something, but how do you measure it and hold people accountable, and if it gets out of hand, it loses its benefits."
Beck says the Aecon Group is very active on the community benefit front.  He says the company is doing that, not because it's expected, but because the industry has talked about shortages at all levels.
"It is important to engage various communities including women, First Nations and ex-military staff into our projects if we're going to have the workforce that we need for the work that is coming".
Both Beck and Gower also discussed innovation – from mandated innovation as they do in the UK – to innovation transfer from AFP to lump sum projects.
View the full luncheon panel discussion, please click here.

_______________________________________________
FOR MORE INFORMATION, CONTACT:
Fred Lehmann
Communications Coordinator,
fredl@iciconstruction.com
Ontario Construction Secretariat (OCS)
180 Attwell Drive, Suite 360, Toronto, ON M9W 6A9
P 416.620.5210 ext. 222
F 416.620.5310