---
OUTLOOK BRIGHTER FOR ONTARIO'S CONSTRUCTION CONTRACTORS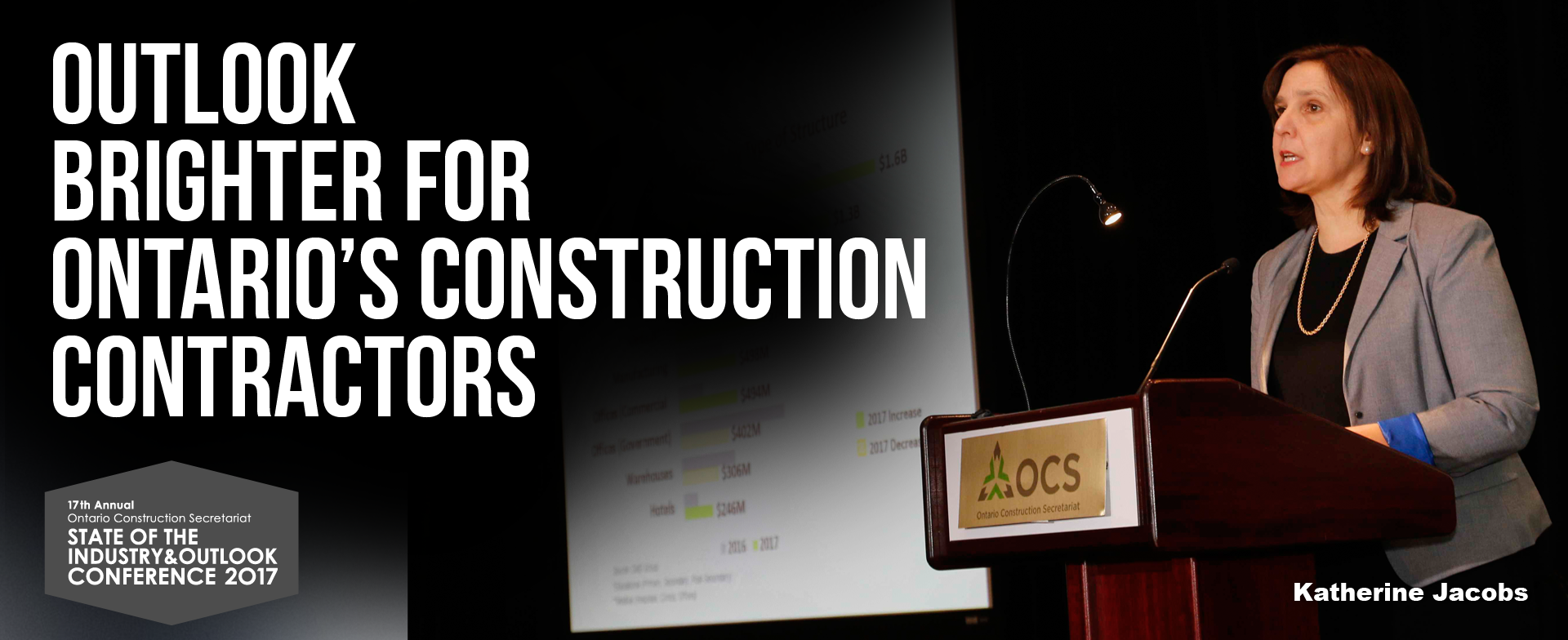 What a difference a year makes.
Ontario's contractors have a brighter outlook for 2017 as shown by the loftier Ontario Construction Secretariat's Construction Confidence Indicator which edged up three points from 57 to 60.  This reverses a downward trend that has persisted since 2010.  A stronger Construction Confidence Indicator means that contractors expect a bigger increase in the amount of business they will do this year than they did for the previous year.  It should be noted that any number greater than 50 represents a positive expectation of more work in the coming year.
The Construction Confidence Survey is an annual fixture of the Ontario Construction Secretariat's State of the Industry and Outlook Conference. The OCS conducted the survey with 500 contractors from across the province to gauge the industry's expectations for the coming months.

"It's nice to see the Indicator trend upwards this year", says Katherine Jacobs, Director of Research for the Ontario Construction Secretariat (OCS).  "It supports what the industry has been hearing from government and economists since late last year".
Regionally, expectations for increased business are highest in Central Ontario [62], followed by the GTA [61], Southwestern Ontario [60] and Eastern Ontario (59).  Confidence is lowest in Northern Ontario with an Indicator of 57.  However, this is a significant increase compared to last year.  In 2016, the confidence score for Northern Ontario was only 49, which meant that contractors were expecting to do less work than the previous year.
"Investment in post-secondary education facilities is likely driving up expectations in the north", says Jacobs.  "This includes major construction projects at Laurentian University, Canadore and Confederation Colleges."
Looking at the various construction sectors, expectations are greatest for high-rise residential construction with 45% of contractors forecasting significant growth. The civil/engineering sector was slightly behind high-rise residential with 43% of contractors forecasting significant growth. Among the ICI sectors, about one-third of contractors are expecting significant growth for both institutional (34%) and commercial (33%). The sector outlook is lowest for industrial construction where only 26% are expecting to see significant growth.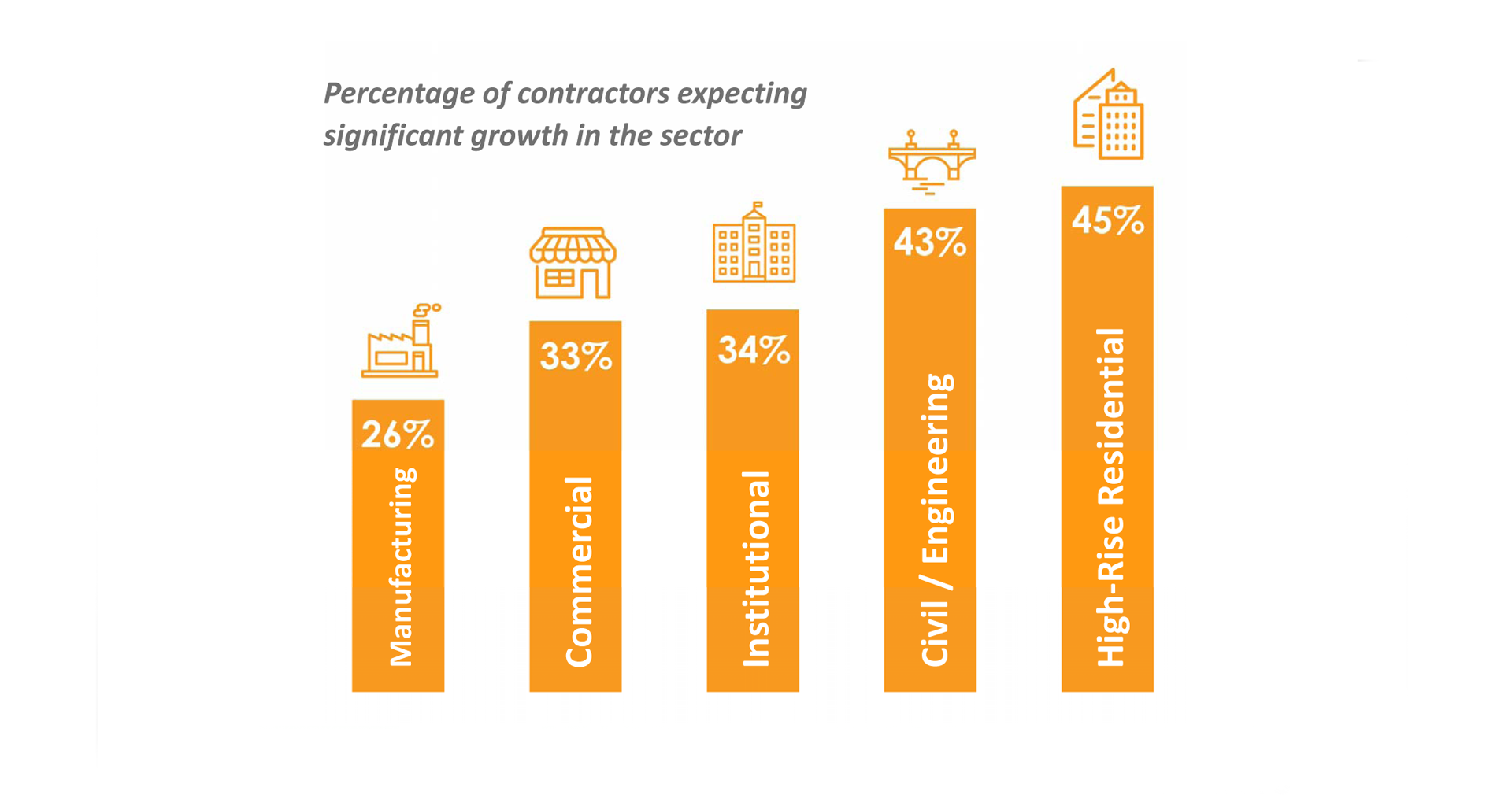 The survey also probed contractors about their work picture and order book for 2017.  Contractors were evenly split on the percentage of work they expect from new construction and maintenance at 47% and 46% respectively.  However, when compared to 2016, close to half of contractors expect to do more maintenance work in 2017.  On the flip side, 42% of contractors expect to do less new construction in 2017 when compared to last year.
The Trump Effect

With Donald Trump recently installed as the President of the United States, it was timely to ask contractors whether his administration would have a positive or negative effect on Ontario's economy.  Provincially, 42% felt the Trump presidency would have a harmful effect.  The sentiment was much higher in the Windsor/Sarnia area where 59% of contractors expect the economy to be harmed.
To round out the outlook for Ontario's construction industry, OCS also looked at data from BuildForce Canada's annual Construction Looking Forward scenario.  According to BuildForce, the Industrial, Commercial and Institutional sector is projected to have modest growth in investment through 2021 with the Industrial sector leading the way.
"Clearly, Ontario is a large and diverse construction market", says Jacobs.  "We're (construction industry) experiencing stable investment with modest growth in the non-residential sector.  The pace of residential activity currently will not continue, but major project activity will be sustained by infrastructure work.  Most importantly however, contractor confidence is on the upswing and positive across the province."
For Katherine's full slide presentation, please click here.

_______________________________________________
FOR MORE INFORMATION, CONTACT:
Fred Lehmann
Communications Coordinator,
fredl@iciconstruction.com
Ontario Construction Secretariat (OCS)
180 Attwell Drive, Suite 360, Toronto, ON M9W 6A9
P 416.620.5210 ext. 222
F 416.620.5310