---
DAY OF MOURNING: NEVER FORGET, ALWAYS REMEMBER AND BE FOREVER SAFE


Each year on April 28, co-workers, family and friends gather in municipalities across Canada to pay their respects to, and remember, those who have been killed, injured or suffered illness as a result of work-related incidents.  It is our National Day of Mourning.
Ontario Labour Minister Kevin Flynn says every worker has the right to return home safe and sound at the end of each work day.
"It's the worst thing that can happen" he says, "when I get a phone call telling me someone has been killed on the job."
According to the Ontario Ministry of Labour, there were 45 reported workplace fatalities in 2016.  That compares with 53 in 2015.  Currently, the Ministry is investigating 11 fatalities relating to accidents through the January-to-March period of this year.
Clearly, the numbers are trending in a positive direction, although even one death is too many.
Anne Wyllie of Kitchener knows all too well the unbearable grief of losing a loved one in a workplace accident.
"People are human", she says. "People make mistakes, but hopefully there will be fewer (accidents and fatalities)."
Wyllie lost her son in a workplace accident in August 2015 in Guelph.  26-year-old James Wyllie was working on an elevated platform when he was pinned between his basket and the ceiling.  It was his last day on the job before he was set to return to trade school and complete his training to become a licenced electrician.
For Wyllie, the Day of Mourning remains a day for remembrance and healing.
"For me, it happened.  There's nobody to blame.  It's the loss… how it impacts myself, my family, his little girl.  It's huge how it continues every day of our lives".
For his friend however, Day of Mourning is a reflection – of friends and family lost or injured in the workplace – but also remembering to work safe every day.  Eric Hunter, also an electrician and member of IBEW Local 804 in Kitchener says James' death has to be a learning experience.
"When I'm on a machine, I think about why I need to be careful.  You see the what-if scenarios all around you, and you watch people you work with and you worry about them as well".
The College of Carpenters and Allied Trades (CCAT) are taking safety in the workplace one step further.  They are promoting a "culture of health and safety", calling it a "top priority".
The CCAT says it is committed to ensuring that every pre-apprentice, apprentice, and member that walks through its doors, receives the best possible training with respect to health and safety knowledge and best practices.
This focus on health and safety is paramount to Ontario's unionized construction industry and is evidenced in the Ontario Construction Secretariat's (OCS) ground-breaking research that provided proof of a "union safety effect" in Ontario's ICI construction industry.
The report suggests the union safety effect is indicative of the effective safety procedures and practices implemented by the unionized construction industry that ensure that all workers are thoroughly trained to think and act with a "safety-first" mindset.  This culture starts right from the start with mandatory training for union apprentices and upgrade and safety training opportunities for union journeypersons.
On the Day of Mourning, remember those we have lost or been injured on the job.  However, let's also remember those who work relentlessly to ensure everyone returns home safe and healthy.
Below are photographs from this year's Day of Mourning ceremonies throughout central Ontario.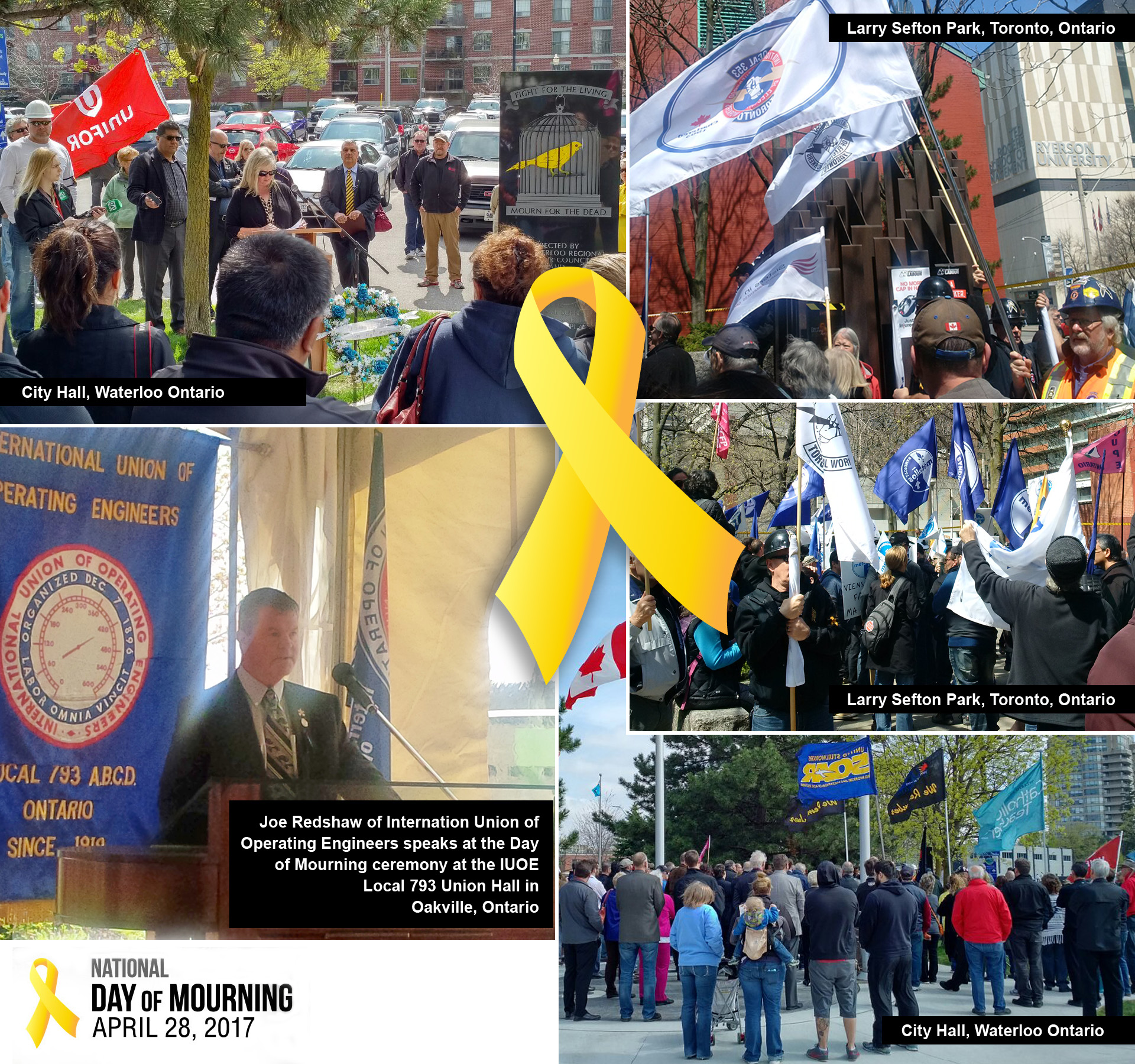 _______________________________________________
FOR MORE INFORMATION, CONTACT:
Fred Lehmann
Communications Coordinator,
fredl@iciconstruction.com
Ontario Construction Secretariat (OCS)
180 Attwell Drive, Suite 360, Toronto, ON M9W 6A9
P 416.620.5210 ext. 222
F 416.620.5310