---
FUTURE BUILDING SCORES IN OTTAWA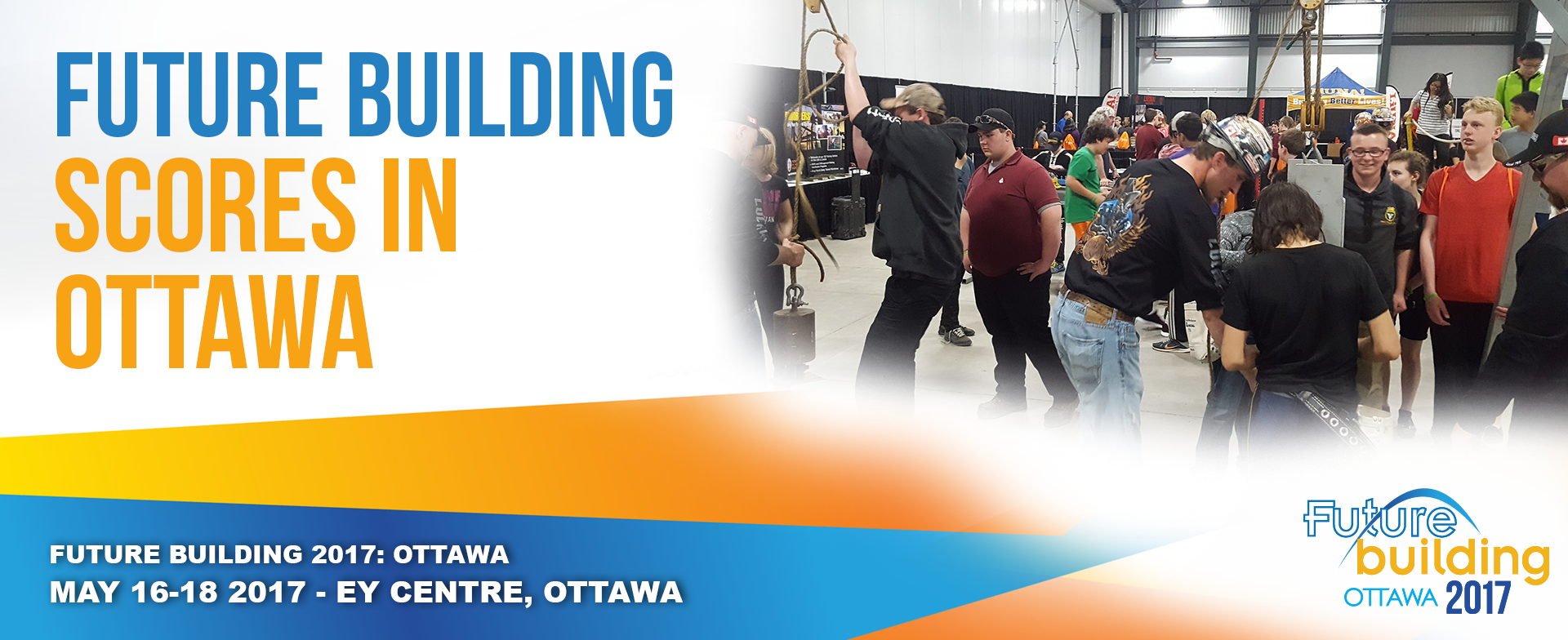 Future Building 2017 was a great success.
A total of 6,102 students from 117 schools attended this year's three-day hands-on construction trade exposition in the nation's capital with 61% of students surveyed acknowledging they are now more likely to pursue a construction trade as a career choice having attended Future Building.
That's what it's all about.  Since 2001, the Ontario Construction Secretariat (OCS) has been bringing Future Building to students in grades 7 through 12, aboriginal youth, youth at risk and adults in career transition throughout Ontario.  The aim is to have attendees experience – albeit briefly – working with tools of the trades.  Skilled trade professionals, current apprentices and training coordinators are able to speak directly with Future Building attendees about the apprenticeship program, pre-requisites and aptitudes, the importance of safety as well as career and salary expectations.  This first-hand knowledge goes a long way to dispelling myths and creating excitement about careers in construction.
Stacy Simmons brought her 15-year-old son to the Wednesday evening session.  Simmons described the exhibits as "fantastic", adding the people were friendly and talking directly to her son.
"He loved the hands-on activities and he left the show very impressed and actually thanked me for 'making' him go".
It's not uncommon each year at Future Building to have students and educators surprised to learn how much fun and rewarding working in the trades can be.  Speaking at the opening ceremonies, Joe Keyes, the President of the OCS Board of Directors reminded show exhibitors the construction industry has much to offer, which he adds many people outside of the industry do not realize.
"We offer not only careers in the skilled trades, but also a host of careers ranging from estimators to site foremen to union business representatives.  In this industry, many have not only learned a trade, but also have learned how to run a business.  The future is limitless."
This is a message that seems to resonate with all of the attendees.  More than 80% of the students and teachers surveyed at Future Building said they have a better understanding of both construction trades and apprenticeship opportunities, which is important given the aging workforce.
BuildForce Canada projects that over 86,000 tradespeople in Ontario will retire over the next 10 years, including 11,200 in eastern Ontario.
Richard Hayter, the Director of Community Relations for the Eastern Ontario and Western Quebec Building Trades Council, spoke to the ongoing demand for skilled trade workers given the "staggering" amount of planned construction projects for the Eastern Ontario and Western Quebec regions.
"We estimate that over the next 20 to 25 years, there will be over $38 billion dollars of new ICI projects and $760 million dollars of maintenance work.  That breaks down to 360 million hours of work or 180,000 man years of work."
Needless to say there are plenty of career opportunities on the construction horizon for today's students and Future Building plays an important role in sharing that message.  Four out of five teachers who attended Future Building indicated they are now better able to guide students who want to pursue a career in the construction trades.
Simmons says the 3-day trade exposition showed her a lot as an educator.
"I learned a lot and will bring this back to my classrooms.  The trades are such an important and integral part of our future."
Future Building is also a great opportunity for the training community to connect with students and teachers.  This year over 30 exhibitors interacted with Future Building attendees.  Whether providing insight and experiences with the trades, discussing safety or speaking about the apprenticeship program, the exhibitors are at the heart and soul of Future Building.  One exhibitor was quoted as saying "this was my first Future Building and I wouldn't hesitate to return."
This is great news for the Secretariat's Jim Wright.
"Seeing the enthusiasm at Future Building – from the students, educators and the exhibitors – it proves the OCS is making a positive difference."
Future Building 2018 will be held next April in Toronto.  Check futurebuilding.ca in the coming weeks for confirmation of the location and dates.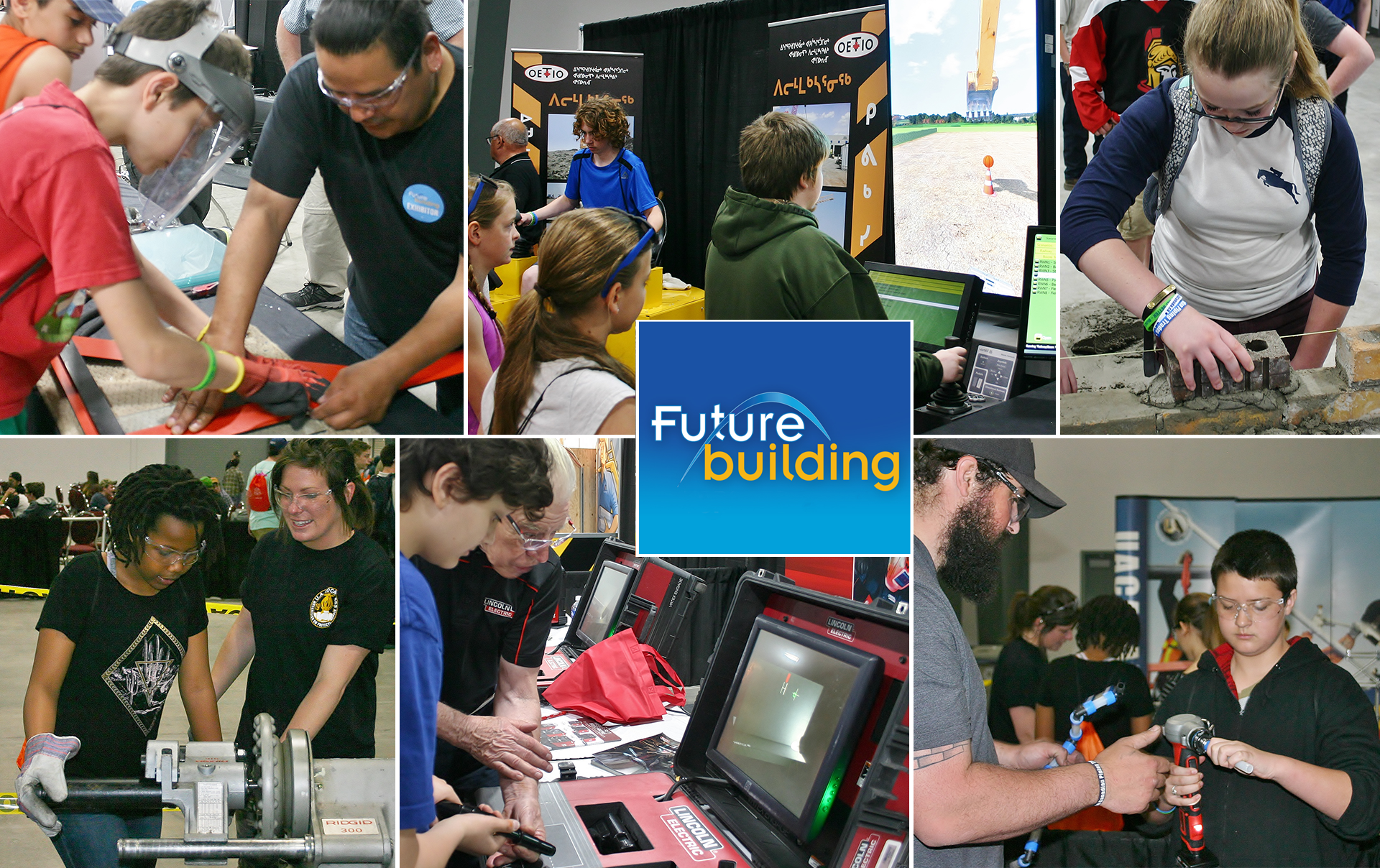 _____________________________
FOR MORE INFORMATION, CONTACT:
Fred Lehmann
Communications Coordinator,
fredl@iciconstruction.com
Ontario Construction Secretariat (OCS)
180 Attwell Drive, Suite 360, Toronto, ON M9W 6A9
P 416.620.5210 ext. 222
F 416.620.5310