---
STAKEHOLDER PROFILE: BRICK AND ALLIED CRAFT UNION OF CANADA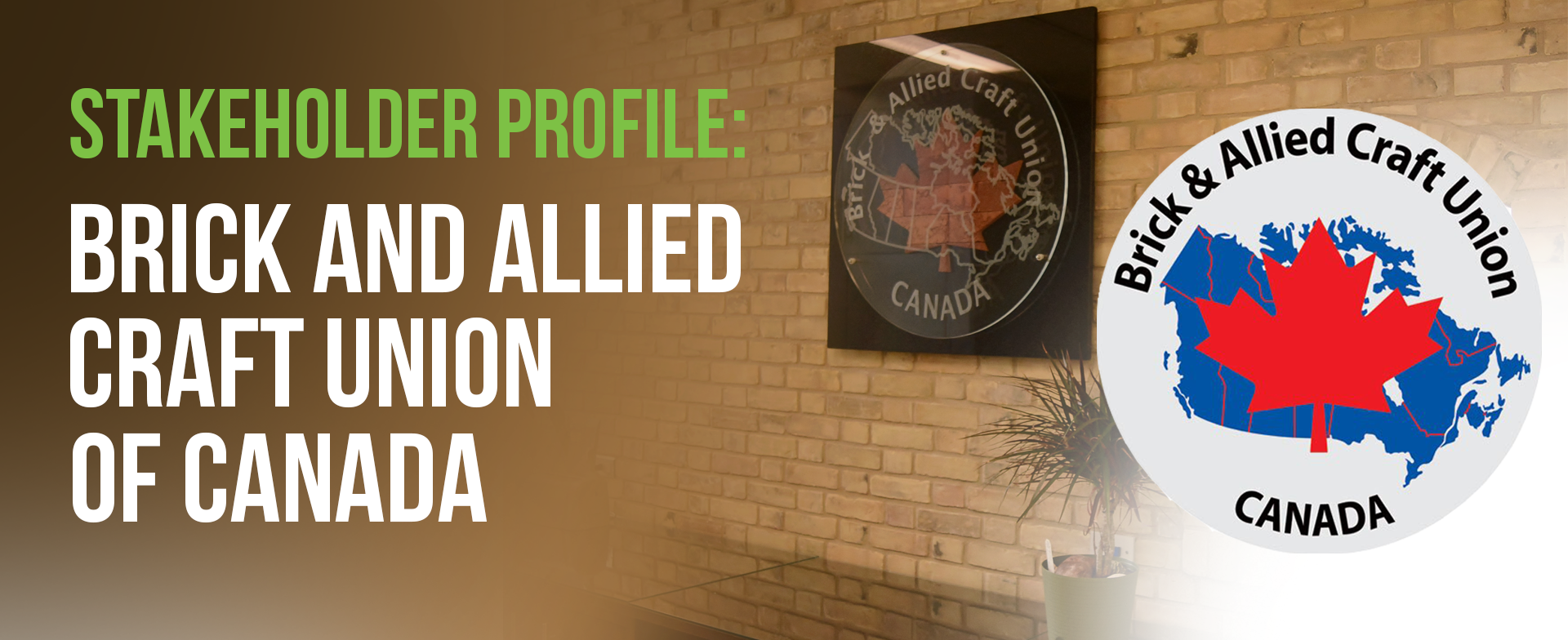 The Brick and Allied Craft Union of Canada (BACU) is the oldest trade in Ontario – receiving its charter in Hamilton on June 26, 1881.  That's why it is Local 1.  Toronto received its charter the next day.  It's Local 2.
As such, the union has learned a few things over the years.  Perhaps one of the most important is the ability to adapt to changing market forces.  Former BACU President Kerry Wilson says you have to keep with the times.
"We are sort of creatures of habit.  We have a way of doing things and it's harder to change.  But the world is changing."
Case in point is structural masonry.  One hundred years ago, Wilson says it was the only kind of structural work that was done.  Today he says, wood and steel are both used on the job, adding there are so many ways to build the same project.  As a result he says, in one respect the union is much smaller today.  However, the work being done by BACU's tile setters is growing because of market demand.
Wilson recently retired as the Union's President effective July 1st after serving in that capacity for the past 12 years.
Looking back, Wilson says 12 years is a long time to come up with a short answer to some of the successes the union has enjoyed.
"I think we've started to get a handle on organizing, which hasn't had a lot of attention paid to it over the years.  Also more recently, we've made some formal relationships with other unions in the construction industry (Carpenters and Operative Plasterers) that are allowing us to pool our resources such as legal and training resources and gives us all a stronger place to be."
One of the "efficiencies" this partnership hopes to bring is better coordination amongst the trades.  Wilson says by getting together with the other trades and signatory general contractors, it will increase their ability to bid on projects and as a result, make their union signatory generals more competitive.
Wilson is divided however when asked if it's easier to create partnerships today as opposed to 12 years ago.  He says the membership gets it.
"When we went around to sell the idea, we went through a big process, notifying every member and giving everyone the chance to attend meetings.  We held two votes and the results were unanimous.  I think the members see the advantage automatically.  It's the leadership that sometimes gets in the way."
But it's a trend the construction industry needs to follow.  Wilson points out it gives the smaller locals more strength and unions can share resources and real estate instead of reinventing the wheel.
Looking ahead, new President Tony DiMaria, the former Business Manager for Local 1, plans to build on Wilson's leadership.  He points to the newly signed All Construction Trades (ACT) Council with the Carpenters and Operative Plasterers that will help gain access to the residential market.  He's also hopeful there will be additional work as the federal and provincial governments continue to invest in infrastructure work, as well as continue with the renewed emphasis on organizing.
"We have to take it one day at a time.  It's always, constantly looking ahead and see what tomorrow brings. 
Whatever the future brings, the union is prepared.
Its apprenticeship program is strong with new members taking their terms at Fanshawe College in London, Conestoga College in Kitchener or the Ontario Masonry Training Centre in Mississauga.  An apprenticeship is 5,400 hours.
DiMaria says new members are initially placed on a job site before heading to class.
"We send them out on the job for about a year at first to get used to the atmosphere and the language.  We want to see if they like the job and they usually do.  Then we send them to school".
Then it's back on the job and then back to school a couple of additional times.  DiMaria says they always have enough students to fill the classes.
Despite industry concerns about a shrinking workforce due to retirements over the next 10 years, DiMaria says the union is in "good shape".  The average age within the union is about 45 years of age.  He says right now – and Wilson agrees – it's all about keeping the union relevant and competitive.

_______________________________________________
FOR MORE INFORMATION, CONTACT:
Fred Lehmann
Communications Coordinator,
fredl@iciconstruction.com
Ontario Construction Secretariat (OCS)
180 Attwell Drive, Suite 360, Toronto, ON M9W 6A9
P 416.620.5210 ext. 222
F 416.620.5310