---
THE CLASS OF 2017 – COLLEGE OF CARPENTERS AND ALLIED TRADES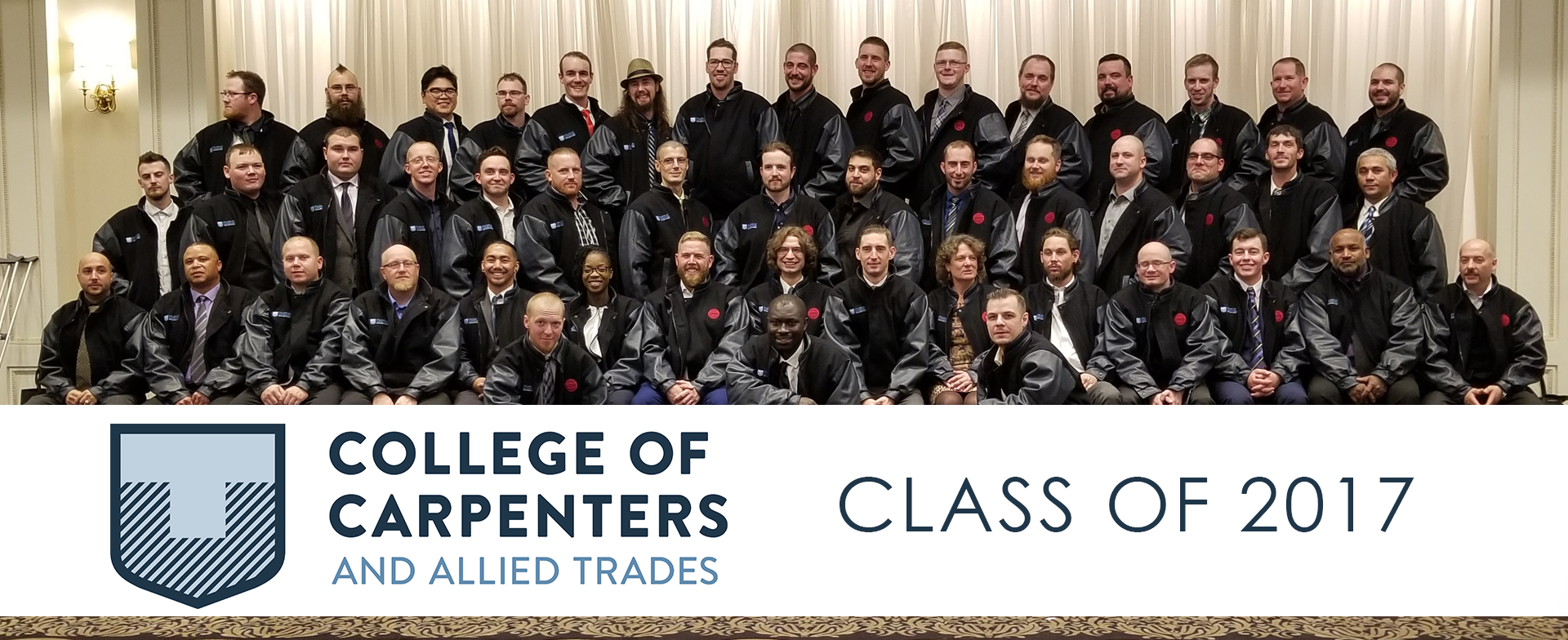 In front of a proud audience of family, friends and industry representatives, more than 80 apprentices received their certificates of graduation at the College of Carpenters and Allied Trades (CCAT) 2017 Apprenticeship Graduation Ceremony held north of Toronto earlier this month (November).
For more than 30 years, the CCAT – a construction skills school – has been serving the recruitment, training and educational needs of Carpenters Local 27 and their employers who operate the college.  College Executive Director Cristina Selva says the College is always busy with many enrolled in a variety of carpentry and floor covering trade-related pre-apprenticeship and apprenticeship programs, health and safety and continuing education courses.
"We put through an estimated four to five-hundred apprentices every year through the apprenticeship program and between 4,000 to 4,500 union members in health and safety and continuing education programs."
For the grads however, Selva says it's not just about learning skills.  She says hopefully they've learned or refined their professionalism and learned what is expected of them on the jobsite.
"We can have the most skilled carpenters in the world – with their hands and their minds.  But if they don't have the right attitude, the right work ethic, the right willingness to continue to learn and advance, they are of little value to the employer".
One of the graduates on this night was Jonathan Studt of Oshawa.
"I'm feeling pretty good – feeling good with my accomplishment. I'm glad to know that my career is really just beginning and it's a step in the right direction."
Interestingly, Studt is a third generation carpenter, following in his grandfather's footsteps who immigrated to Canada in 1951 to make a new life for he and his family as a carpenter, and his father, who also happens to be an instructor at the College.
Robert Studt says naturally he's extremely proud of his son.  He adds it's quite an accomplishment to see his son, not just follow in the footsteps of his grandfather, but himself and to see how he's changed over the years and how he's grown.
"I've spent a lot of time telling my son straight up what it takes to win.  A good attitude and work ethic is something my father passed down to me and now that's what I've shared with my son, and really all the students I've taught over the years."
The College is an official TDA (Training Delivery Agency) of the Ministry of Advanced Education and Skills Development (MAESD) for Carpentry and Floor Covering apprenticeship programs, and the largest in the province.  It is governed by a Board of Directors comprised of labour representatives from the Carpenters Local 27 union and employer representatives from the General Contractors' Section Toronto.
Partnerships – with the industry and education – are also very important to the College.  Selva says relationships with contractors and the union allow the College to "turn on a dime" especially where changing technology is concerned.
In addition, Carpenters Local 27 President Mike Yorke says community outreach to all of the school boards in the GTA and several not-for-profit organizations is more than just ensuring there are enough carpenters to meet industry demand in the future – it's about "investment in the next generation".
"We want to be able to tell any developer, city builder and/or investor that we're doing our part to make sure the next generation have an opportunity to have a better life and learn a skill, learn a trade and learn a profession – trying to open doors for all young people."
To that end, students from two pre-apprenticeship programs for at-risk youth also graduated alongside the apprentices.  The CRAFT (Creating Real Apprenticeships in Toronto) Pre-Apprenticeship Program is funded by MAESD and offered in partnership with The Daniels Corporation, Toronto Employment and Social Services (TESS), the YMCA of Greater Toronto, and the Toronto Community Housing Corporation (TCHC).  The TIRF (Toronto Inner-City Rugby Foundation) program was also funded by MAESD and offered in partnership with TIRF, Brook Restoration Ltd.  – a contractor in the GTA, and the Restoration Workers Union Local 598.
Asked what he considered to be one of the most important lessons learned during his five years at the College, the younger Studt says "always be ready to adapt".
"There's always going to be a learning curve and a different situation.  Don't think you've got it figured out because the trades are always going to throw you a curveball".
The future for Studt and his fellow graduates looks bright.  The construction industry in Ontario is projected to remain strong over the next decade.  However, Selva says these new journeymen and those that follow will be challenged by working with and training significantly greater number of apprentices.
Selva says the "perfect balance" for the carpenters would be approximately 25% apprentices and 75% journeypersons.  However, the demographic realities mean that the Union's membership may approach a 50/50 split in the coming years.  This she says, means a younger, less experienced workforce that will require even more training, upgrading and supervision by the journey persons with whom they are working.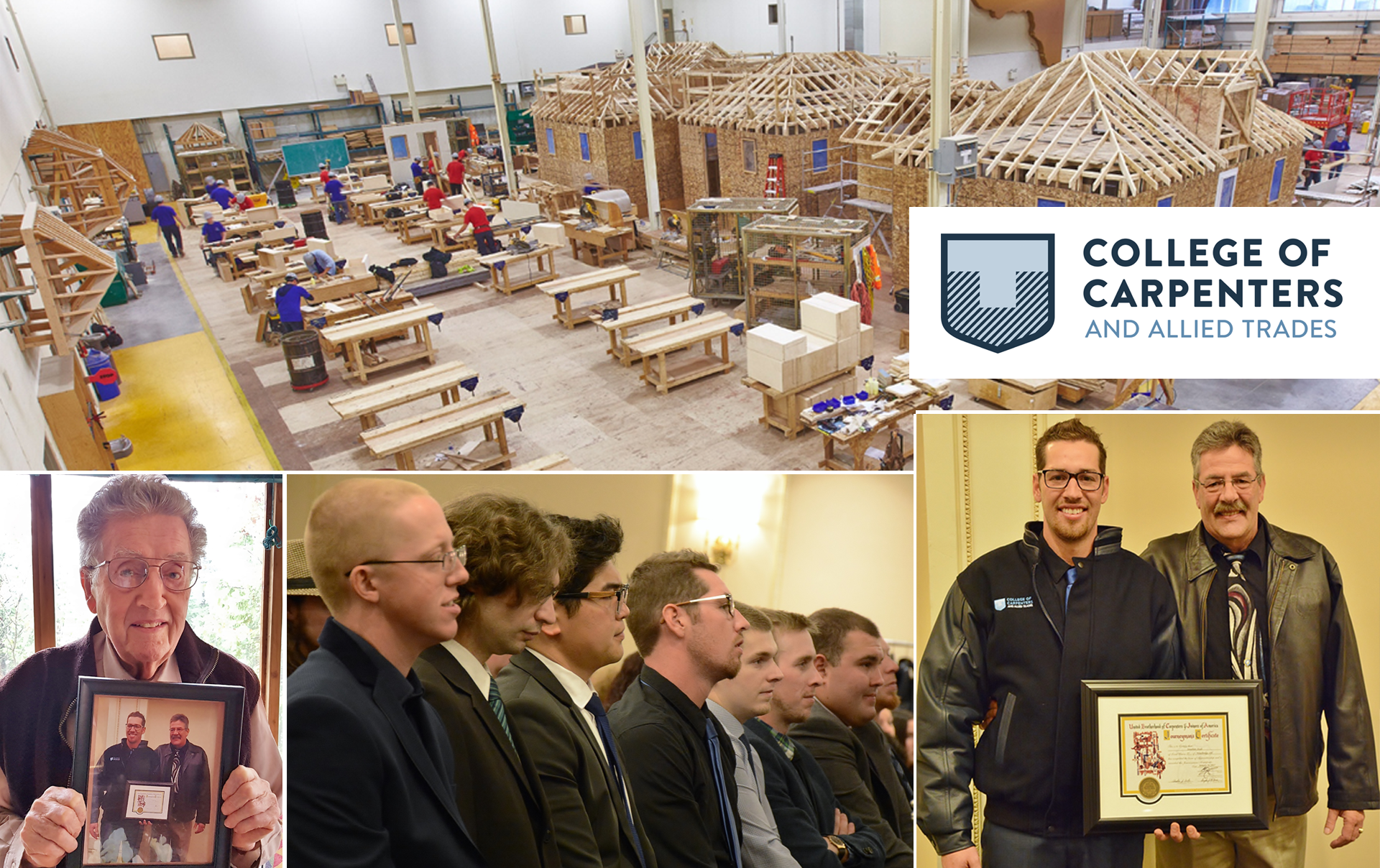 Inset: (Clockwise from top left): College of Carpenters and Allied Trades Training Centre,   Graduate Jonathan Studt and father Robert Studt, CCAT graduates, Grandfather of Jonathan Studt.  Article Header Banner Photo: CCAT 2017 graduates, courtesy of CCAT.

_______________________________________________
FOR MORE INFORMATION, CONTACT:
Fred Lehmann
Communications Coordinator,
fredl@iciconstruction.com
Ontario Construction Secretariat (OCS)
180 Attwell Drive, Suite 360, Toronto, ON M9W 6A9
P 416.620.5210 ext. 222
F 416.620.5310