---
STAKEHOLDER PROFILE – THE MECHANICAL CONTRACTORS ASSOCIATION OF ONTARIO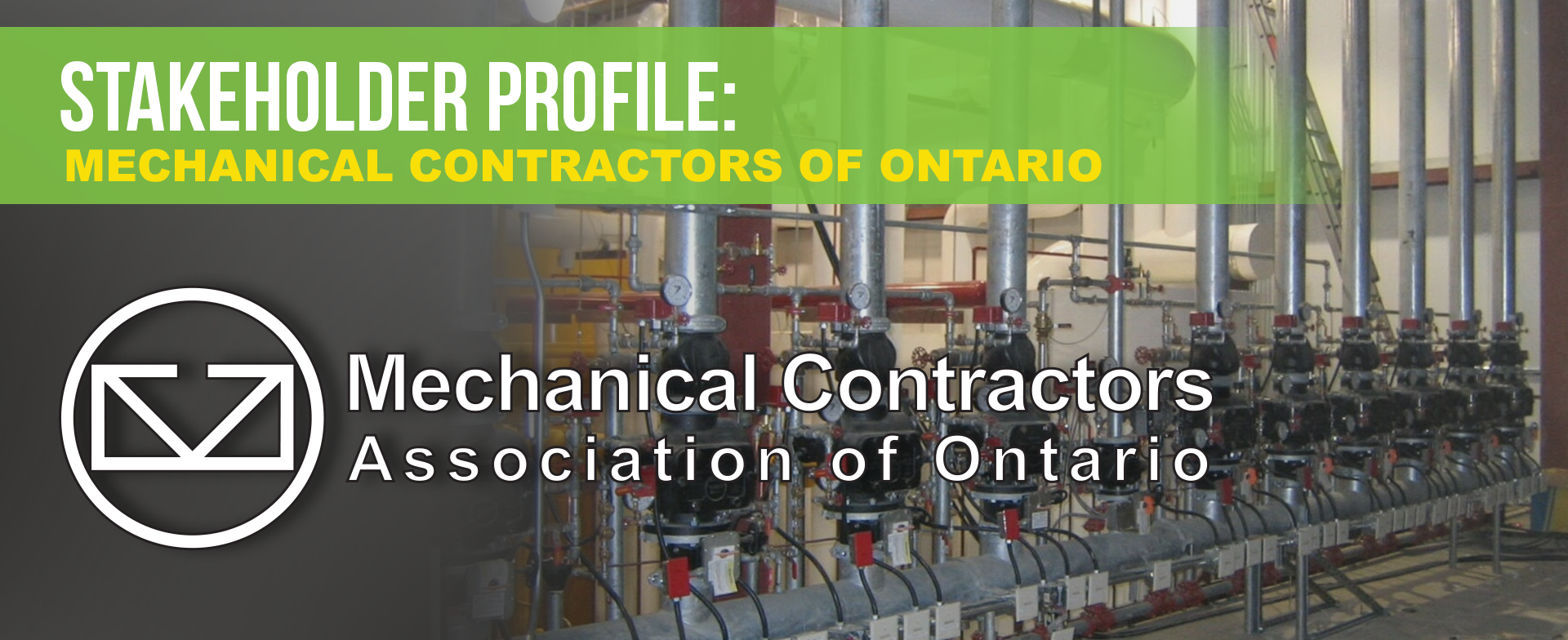 When construction begins on the Gordie Howe International Bridge in Windsor, mechanical contractors will have their fair share of work.  It has been estimated at $30 million over at least the next three years, featuring the construction of support and maintenance buildings as well as a duty-free and customs building.
Already, Windsor-area mechanical contractors have been busy this year as total ICI building permit values in the Windsor Region have increased 45% year-over-year during the first six months.  Institutional permit values more than doubled, up nearly 150%, and Paul Greff, Senior Project Manager of Construction for Vollmer Inc. in Windsor says he doesn't expect that type of work to slow down anytime soon.
"We did a lot of work this year for our school boards and we anticipate the same amount of work next year.  In fact, we expect the next few years to be busy if government spending on schools, hospitals and infrastructure stay the course."
However Charles Webb, the President of the Mechanical Contractors Association of Ontario (MCAO) is not as optimistic especially when it comes to work in the water/wastewater market.
"Work in the water/wastewater market is particularly tough to crack", says Charles Webb.  We're still bidding the work, but it's a tough go for our members when they're up against non-union contractors.  We're just not able to compete and have lost significant work in that sector."
The MCAO represents more than 350 members of varying sizes in trades such as plumbing, HVAC, steam fitting and gas piping systems, sheet metal installations, welding, fire protection and refrigeration systems, primarily in the industrial, commercial and institutional (ICI) construction sector.
The Association's Brandon Pageau was appointed to the position of Executive Vice President earlier this year.  However, Pageau started with the MCAO in the fall of 2015 as the Assistant Executive Vice President.  Prior to joining the MCAO, Pageau spent three years with the Toronto Transit Commission as an Employee Relations Consultant.  He says the opportunity to continue working in the area of labour relations was something he couldn't pass up.
"As a youngster, I watched my grandfather manage a construction association.  I saw what he accomplished and decided I wanted to follow in his footsteps".
While still relatively new to the position, Pageau says he plans to continue much of the work of his predecessor Steve Coleman, who retired earlier this year.
"Amongst other matters, we're keeping an eye on two important issues, namely prompt payment and the Federal government's plans for the Small Business Tax.  We're working with Prompt Payment Ontario and our National Association, the Mechanical Contractors Association of Canada (MCAC), to ensure the proposed legislation protects and benefits our members."
Earlier this fall, the Federal Government lowered the small business tax to 9% from the current 10.5%, which it says will help small businesses (contractors) save an average of $7,500 per year.  The provincial government also announced a lower corporate tax in November and Bill 142 – the Construction Lien Amendment Act – which includes prompt payment legislation, passed second reading in October.
While the MCAO is pleased with the progress of these initiatives, the focus is still on identifying and securing work for its members.  Looking to the future, Webb says he'd like unionized mechanical contractors to capture more work such as schools, condos, small or large malls, colleges and commercial buildings.  He acknowledges the challenge is not as great in the GTA, but in areas such as Southwestern and Eastern Ontario, smaller market size and competition from non-union contractors is proving to be a "tough go."

_______________________________________________
FOR MORE INFORMATION, CONTACT:
Fred Lehmann
Communications Coordinator,
fredl@iciconstruction.com
Ontario Construction Secretariat (OCS)
180 Attwell Drive, Suite 360, Toronto, ON M9W 6A9
P 416.620.5210 ext. 222
F 416.620.5310