---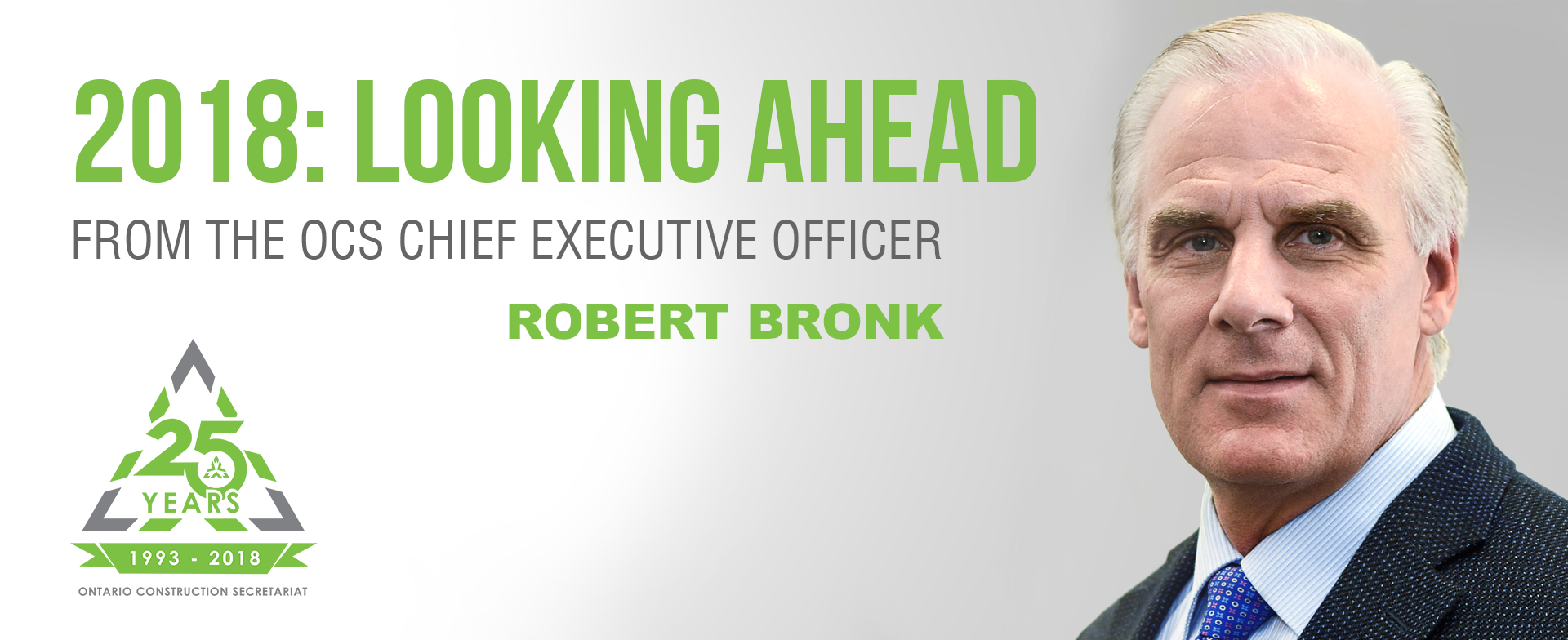 WISHES FOR PROSPERITY AND THE NEXT 25 YEARS
The beginning of a new year always brings with it a sense of hope and anticipation as we think about the possibilities that lie ahead – both in our business and personal lives.  It's a time for resolutions with an aim to improving on the year gone by.
As the new Chief Executive Officer of the Ontario Construction Secretariat (OCS), I have been quite busy since assuming my responsibilities last October, learning about the important work our organization carries out in promoting and strengthening the industrial, commercial and institutional unionized construction (ICI) industry in Ontario.  And I see many opportunities to further our work.
This past fall at our Annual General Meeting, the OCS Board of Directors welcomed two new representatives to the Board.  On the Management side, Brandon Pageau joined the Board.  Brandon is the Executive Vice President of the Mechanical Contractors Association of Ontario.  Also joining the Board and representing the government side, is Mary Incognito from the Ministry of Labour.  Please join me in welcoming them both to the Board of Directors.
I am excited about being a part of, and growing our two signature events in the coming months: the State of the Industry and Outlook Conference, which will be held March 8 at the Metro Toronto Convention Centre, and Future Building, which will be held at The International Centre from April 10th through the 12th.  Our team is busy planning both events and we hope to share exciting news on both fronts in the weeks and months ahead.
In 2018, the OCS will also celebrate its 25th anniversary.  Established in 1993, the organization continues to represent the collective interests of the unionized construction industry in the ICI sector in Ontario through the development of relationships, facilitation of dialogue and providing value-added research.
We are excited to share with you reflections on our past through our monthly eNewsletters and all of our social media channels. Stay tuned and follow our story at #OCS25Years!
2018 will also be important to our government stakeholders as two elections will take place.  A general provincial election is scheduled for June 7th while municipal elections will take place October 22nd.  We look forward to continuing our strong relationship with our government stakeholders and advising government on issues relevant to Ontario's unionized ICI construction industry.
As 2018 draws to a close, the OCS will be available to support our labour and management partners as they begin to enter the 2019 round of collective bargaining.
All the best for 2018.
Sincerely,
Robert Bronk
Chief Executive Officer,
rbronk@iciconstruction.com

_______________________________________________
FOR MORE INFORMATION, CONTACT:
Fred Lehmann
Communications Coordinator,
fredl@iciconstruction.com
Ontario Construction Secretariat (OCS)
180 Attwell Drive, Suite 360, Toronto, ON M9W 6A9
P 416.620.5210 ext. 222
F 416.620.5310