---

2018 STATE OF THE INDUSTRY & OUTLOOK CONFERENCE RECAP: KEEPING STAKEHOLDERS INFORMED AND ENGAGED
With keynote speakers such as Peter Hall, Vice-President and Chief Economist for Export Development Canada and John Ibbitson, author and senior political writer for The Globe and Mail, the OCS Annual State of the Industry and Outlook Conference hit a new high with Ontario's construction industry stakeholders.
Approximately 250 construction industry stakeholders attended the half-day conference to hear what is in store for the economy and the construction industry. Peter Hall's energetic discussion focussed on current economic conditions and the potential outcome of the NAFTA negotiations. Peter is a firm believer that the US needs NAFTA and will not dismantle it. In terms of an economic outlook, the US is booming and Canada (and Ontario) stand to benefit from that growth.  Peter is particularly bullish about opportunities in the industrial sector.
"Right now, your bread and butter may be the domestic stuff that is happening in the commercial side of things … but I believe there is going to be a change that occurs …  I believe there will be increased growth on the industrial side."
Katherine Jacobs, the OCS Director of Research, noted that Peter Hall's projection of increased growth in the industrial sector is welcome news for our industry as we have witnessed extremely low levels of industrial activity for over a decade. As it turns out, Peter's optimism for the industrial sector is greater than that of contractors. Only 27% of contractors are expecting increased activity in the industrial sector in 2018.  For more results of the Contractor Survey, please click here.
The conference narrative shifted to technology and innovation following the networking break. Dr. Carl Haas, the Interim Chair of the University of Waterloo's Civil and Environmental Engineering Department and Canada Research Chair, highlighted a number of new technologies that are emerging in the construction industry – ranging from Robotics to Artificial Intelligence to Business Process Automation.
Dr. Haas noted that technology can be used to help improve productivity and worker safety. He highlighted findings from his recent biomechanical study of stone masons ranging from novice to 3rd year apprentices to experts, and found that injuries peak for 3rd year apprentices.
"How can experienced masons be really productive and also load their bodies less while third year apprentices would seem to be under so much pressure that they're doing the work dangerously in the way they move their bodies?"
This information can be used to help train new workers to properly move and lift without placing strain on their joints and muscles.
Carl joined the technology and innovation panel moderated by Jim Lyons, Executive Director of the Windsor Construction Association and member of the OCS Board of Directors.  Other panelist included:  Brandon Bird, Chief Executive Officer of Bird Mechanical, Walter Koppelaar, Chief Executive Officer and Chairman of Walters Inc., and Marty Smith, Vice-President and General Manager of M. Sullivan and Son.
The panel discussed integration of new technology in their respective businesses. Comments ranged from fully embracing new technology to a wait and see approach.  There are a lot of options out there and sometimes it can be hard to know which technology to adopt. Some of the panelist thought technology was an opportunity to advance their competitiveness by improving productivity and safety on the jobsite. However, those contractors who actively adopt new technology noted that technology has not replaced workers rather it allows workers to be more productive and safe.
John Ibbitson, senior political correspondent for The Globe and Mail, provided a thought-provoking and entertaining keynote address during lunch.  He spoke about the American Presidency, NAFTA, federal and provincial politics and his belief that urbanization will lead to declining global population.
The OCS Annual State of the Industry and Outlook Conference is geared to highlight emerging issues and trends and to provide insight from industry thought-leaders. We hope you will join us next year for our 19th conference on March 7, 2019.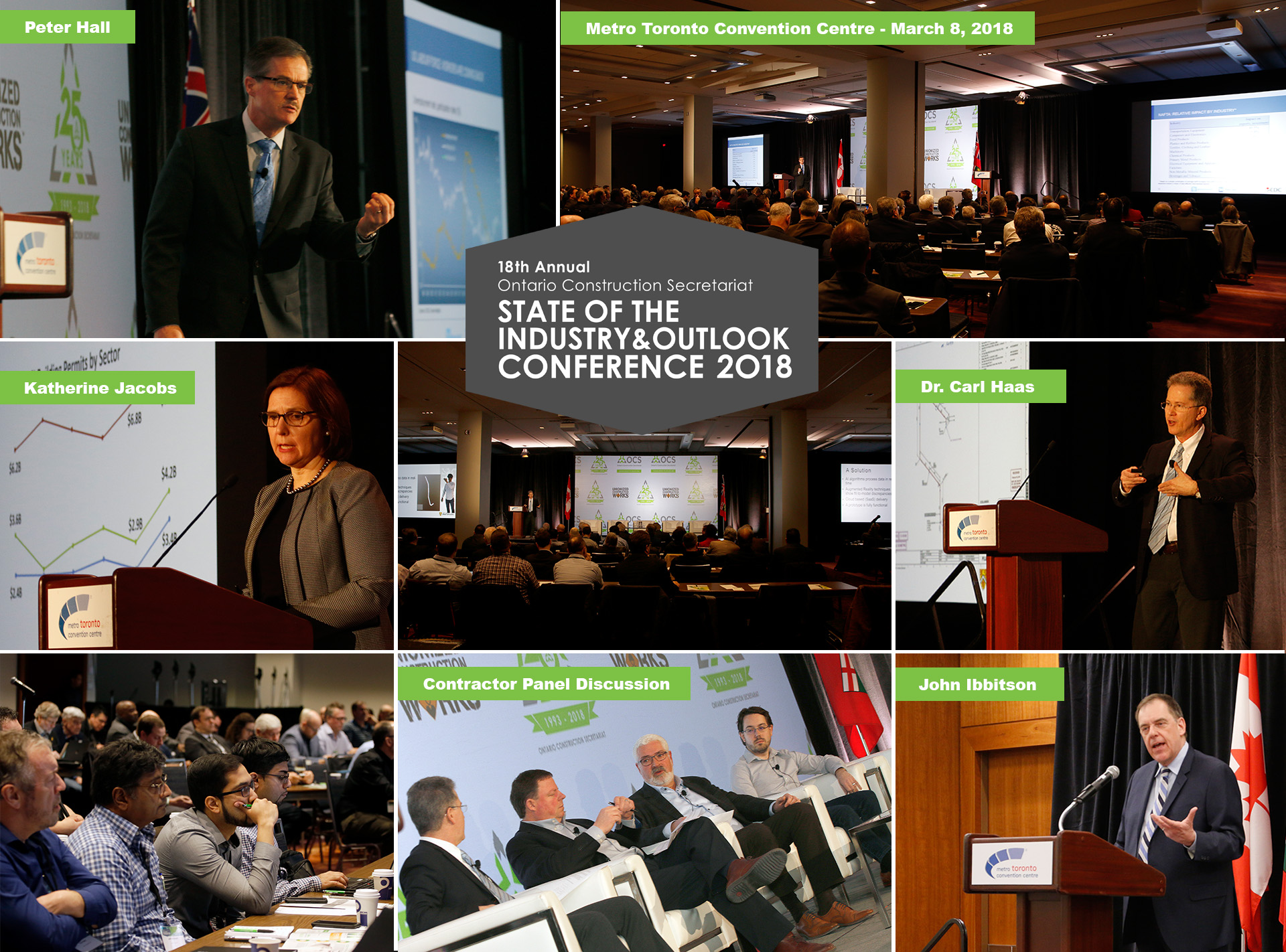 _______________________________________________
FOR MORE INFORMATION, CONTACT:
Fred Lehmann
Communications Coordinator,
fredl@iciconstruction.com
Ontario Construction Secretariat (OCS)
180 Attwell Drive, Suite 360, Toronto, ON M9W 6A9
P 416.620.5210 ext. 222
F 416.620.5310