---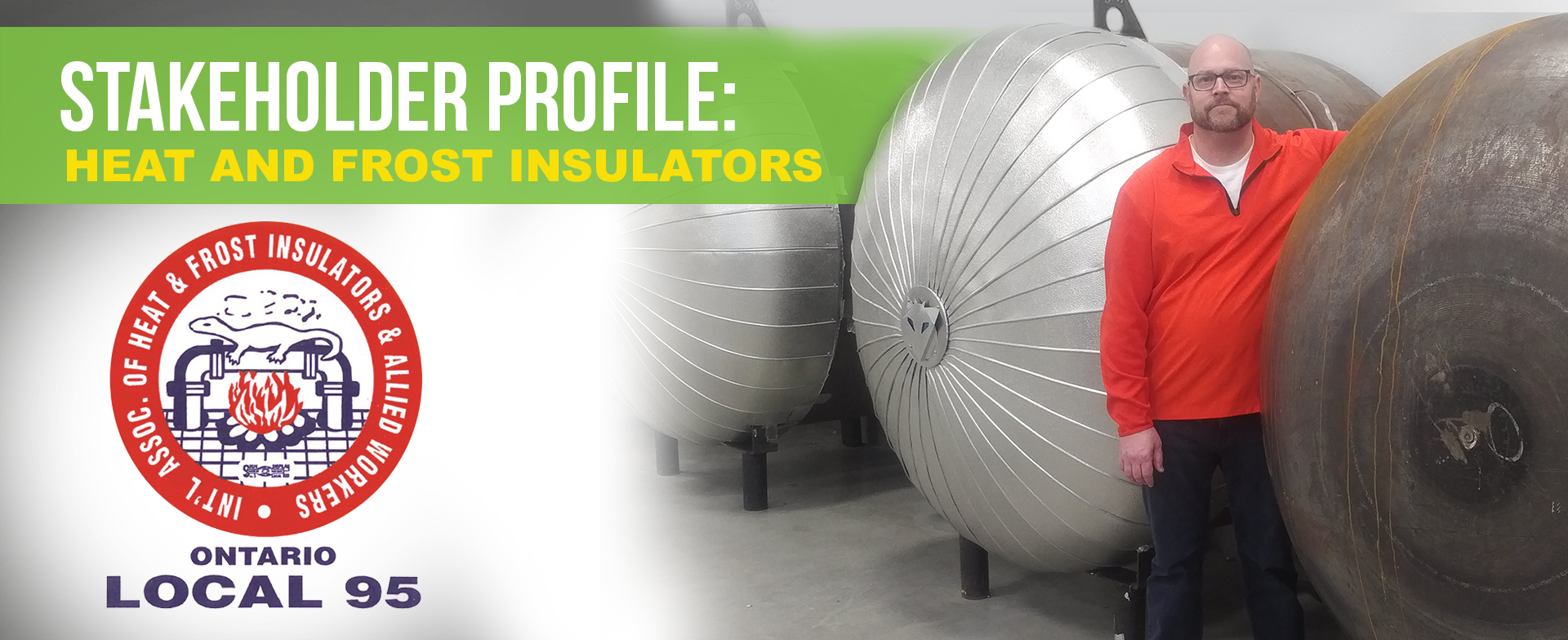 Photo: (Inset) Local 95 Business Agent Trevor Weir
HEAT AND FROST INSULATORS: BEING GREEN BEFORE GREEN WAS COOL
Did you know that mechanical insulation has been used and installed since the early 1900's, many decades before the environmental movement?  As mechanical systems evolved, the insulation industry grew to meet industry's demands to help control condensation, prevent freezing and injuries and to ultimately save energy and cut costs.  While the insulating materials have changed dramatically over the years, the purpose remains the same.
A necessary and functional application, insulation is experiencing a renaissance as energy efficiency and conservation continues to take on a more main-stream role and business owners and individuals are looking to reduce their carbon footprints.  Local 95 Business Agent Adam Melnick says clients better understand the economic value to having mechanical and thermal insulation installed correctly.
"They understand there is a huge reward as properly installed insulation can lower operating costs and prolong the efficiency of buildings."
Not so long ago he says, clients who were upgrading in certain areas of a project such as flooring, would look to cut costs in other areas and typically, mechanical insulation "would be up there".  Now, they understand that Heat and Frost Insulators provide an operational value that delivers a function.
The increasing emphasis on green construction is also seen by the International Association of Heat and Frost Insulators and Allied Workers as a great opportunity to draw more people into the trade.  Melnick says the Union believes that branding the trade as Energy Conservation Specialists is a great way to tap into a market that wants to make a difference.
 "How great would it be that you could work with your hands, perform a skilled trade, get paid really well and be contributing to reducing the environmental impact of construction"?
To help promote the trade and attract workers, the International has created a series of YouTube videos that showcase "a day in the life" of a Heat and Frost Insulator.  These industry profiles give applicants a realistic perspective of the opportunities and challenges in the trade which helps sent them up for success in their apprenticeship program.
Currently, Local 95 trains an estimated 100 to 150 apprentices each year.  While this meets the Local's needs to provide a steady workforce for the industry, Melnick believes Local 95 has the capacity to train even more workers, especially as their new training centre located just north of Toronto has twice as much space as their former facility.
"It's easy to rush the concept of identifying a whole bunch of apprentices and funnelling them through the system, but we want to make sure we're ready and we've got the right type of people to be insulators and in doing so, we want to ensure they have the best opportunities available to succeed in the industry". 
The International Association of Heat and Frost Insulators has developed a training system and curriculum that is shared with all Locals both north and south of the border.  Melnick says this allows every local union to tweak, add and adjust a curriculum to suit the needs of the area it serves.
In Ontario, Local 95 has just finished the process to join the federal Red Seal Program and is adding a fourth level of schooling as well as adjusting the weeks for training to ensure that apprentices have the required technical and hands-on training necessary to complete any insulating project.
As any trade will attest to, there is a cost associated with training.  Local 95 has developed partnerships with contractors and insulation suppliers and manufacturers who donate materials and products so apprentices can learn how to properly use and install their products. Some manufacturers even provide specialists who come to the training centre to give students one-on-one sessions or seminars on new materials or application methods.
Melnick says it's the partnerships that have become more important.  Through our partnerships, we have had people come up from Boston, Pittsburgh and Texas and take our students through all kinds of neat things on application techniques that even we as instructors haven't yet come across.  Not only is that hands-on training, but they're actually telling our students why and what value can be added to the job.  That's so important.
"As much as the donations help with the economics and efficiencies of the school", says Melnick, "I think what really helps us is that it shows manufacturers, suppliers and contractors working together with the union – working as one big team to help make the industry better by advancing it and ensuring its success".

Photo: (Inset) Local 95 Business Agent Trevor Weir instructing apprentices at the state-of-the-art training facility

_______________________________________________
FOR MORE INFORMATION, CONTACT:
Fred Lehmann
Communications Coordinator,
fredl@iciconstruction.com
Ontario Construction Secretariat (OCS)
180 Attwell Drive, Suite 360, Toronto, ON M9W 6A9
P 416.620.5210 ext. 222
F 416.620.5310