---

FUTURE BUILDNG 2018 RECAP: THE FUTURE IS NOW FOR BUILDING A CAREER IN CONSTRUCTION
There has never been a better time to explore career opportunities in the skilled trades. With an aging workforce and record levels of investment in infrastructure and non-residential construction, the construction industry offers today's youth a vibrant, creative and high-tech career that emphasizes continuous learning, collaborative teamwork as well as individual initiative. Future Building provides students attending the 3-day construction trade exposition a glimpse into the world of construction as they try their hands at a variety of tools and learn about apprenticeship and the skilled trades as a future career path.
More than 7,000 students attended Future Building 2018, recently held in Mississauga.  Grade 7 and 8 teacher Marc Jeanveau says his students truly enjoyed the activities and information available at Future Building.
"Their faces literally lit up when they realized how much they could do and the possibilities that lie ahead of them in [the] trades.  I was so proud and happy to see my students weld piping, hammer out copper roses, carve into wood, operate heavy machinery, brick laying, utilize state-of-the-art simulators such as airbrushing, painting, soldering and the list goes on.  They can see for themselves the bright future ahead of them with such a wide range and variety of skills."
Since 2001, the aim of Future Building has been to bridge the gap between youth and the construction trades, fostering mentorship and providing pathways for students to talk with industry professionals one-on-one about career choices, education and training requirements as well as job availability and job satisfaction.
"As a teacher, I firmly believe that these types of events are not only important, they are essential for students who may be using certain tools for the first time and see what it really feels like", says Jeanveau.  "Videos online and manuals can only teach them so much and these do no give them a great sense of accomplishment."
Asked to complete a survey before leaving Future Building, the vast majority of student and teachers said they learned more about the opportunities in the construction industry and better understood apprenticeship as a post-secondary path.  When asked what they liked about the construction trades, student spoke about the ability to "use your creativity" and "constantly doing something new".
The exhibitors also recognized the energy and effectiveness of Future Building. Greg Bobier, Business Manager of the Waterloo Wellington, Dufferin and Grey, Building and Construction Trades Council has been a longtime participant at Future Building and helps coordinate the United Association of Plumbers, Steamfitters and Welders exhibit.
"Future Building is a great opportunity for young people to try their hand at a trade in a safe and controlled environment.  It gives them a good perspective of what the different trades do and how they do it. Future Building also highlights the role the unionized construction industry plays in delivering apprenticeship and safety training to the next generation of workers.  I highly recommend anyone to bring their class, community group or to even come on their own to this event.  It is well worth the investment of time to understand the great potential to working in the unionized construction trades."
Christoff Kyere, founder of flightunit – an organization dedicated to increasing student success and access to opportunities through education – called Future Building 2018 "phenomenal from top to bottom".
"Thank you for allowing flightunit to be part of your magical event.  We had an awesome time speaking with administrators, different organizations but most importantly, engaging with the students."
Short video clips showcasing apprentices, training centres and skilled tradespeople were developed to engage students, parents, teachers and industry partners on social media. Our traditional and social media exposure created 8.7 million impressions including media coverage from notable outlets such as CBC News, Global Toronto, 680 News, Metro Morning, Newstalk 1010 and TVO. These videos have been downloaded over 130,000 times and will have an ongoing presence on the OCS social media channels.
OCS is looking forward to next year when Future Building will return to the EY Centre in Ottawa on May 14-16, 2019.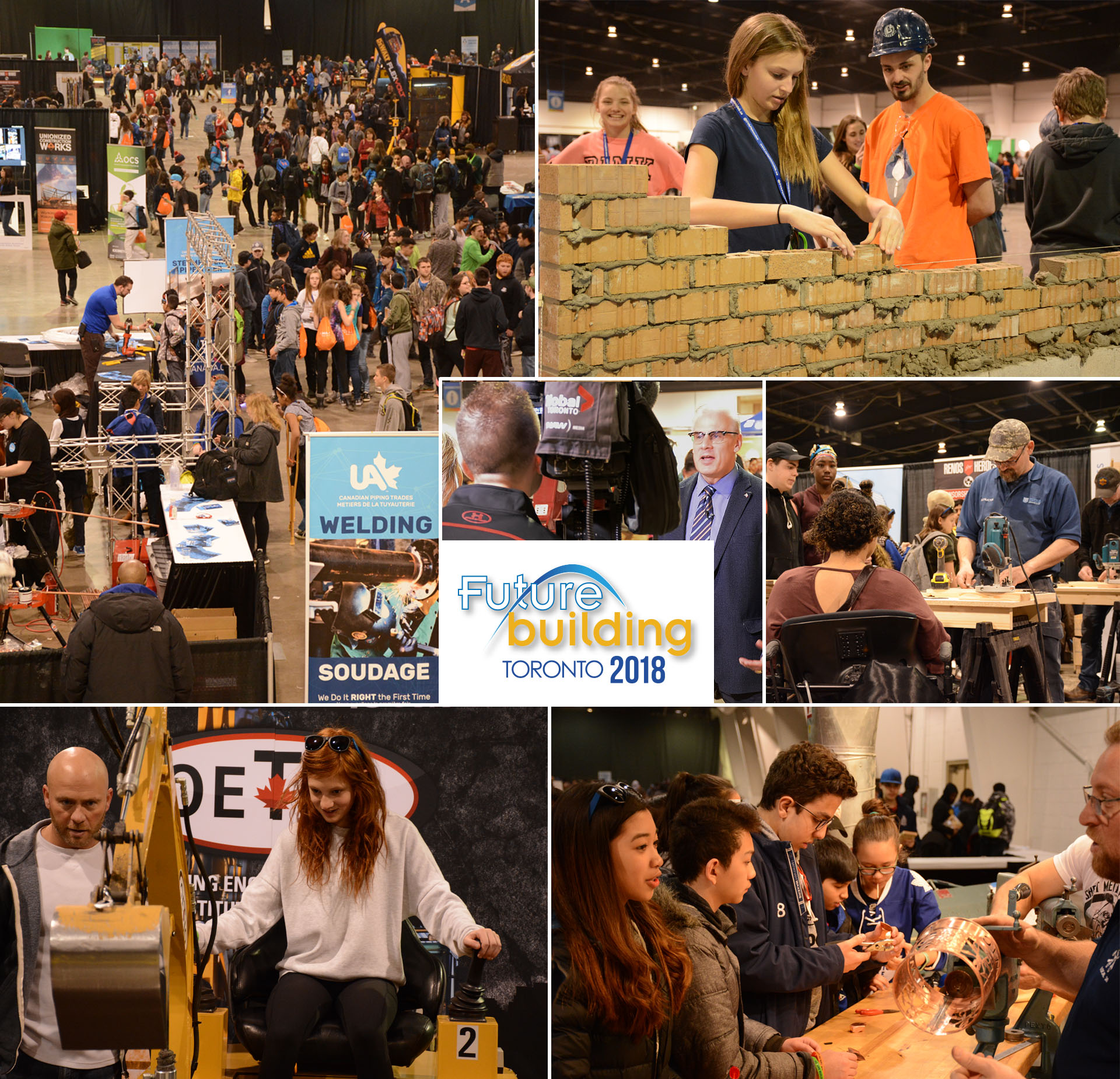 _______________________________________________
FOR MORE INFORMATION, CONTACT:
Fred Lehmann
Communications Coordinator,
fredl@iciconstruction.com
Ontario Construction Secretariat (OCS)
180 Attwell Drive, Suite 360, Toronto, ON M9W 6A9
P 416.620.5210 ext. 222
F 416.620.5310