---
STRENGTHENING THE BUILDING AND CONSTRUCTION TRADE EXPERIENCE THROUGH DIVERSITY AND INCLUSION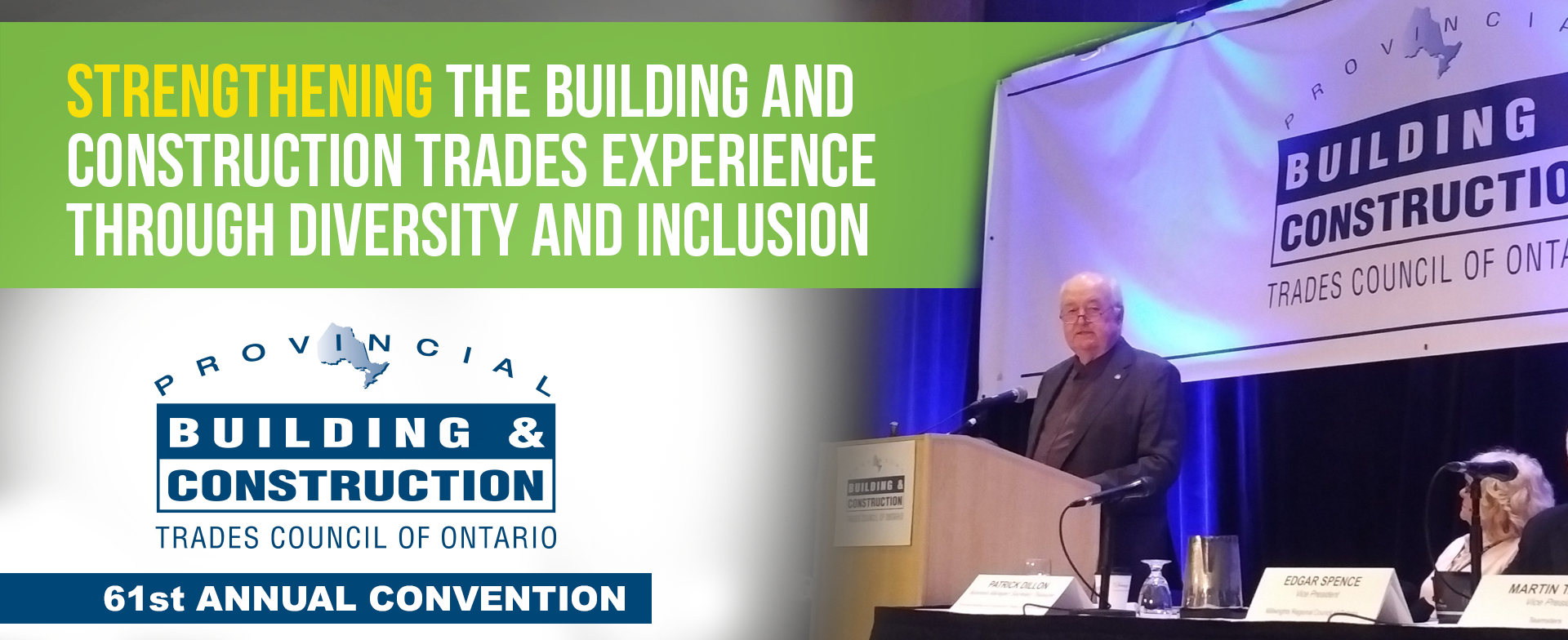 Over a period of two days, delegates to the 61st Annual Convention of the Provincial Building and Construction Trades Council of Ontario heard from a variety of speakers and organizations including: DeNovo, Ontario Construction Secretariat (OCS), Ontario College of Trades, Ontario's Chief Prevention Officer and other key stakeholders from the labour movement. OCS was pleased to be a sponsor at the conference and to provide a construction and labour market outlook and an update on OCS initiatives.
Annemarie Shrouder, an international speaker, facilitator and consultant on diversity and inclusion, opened the conference and encouraged the construction industry to look inward and examine their recruitment practices and assess how welcoming the construction industry is to diverse populations. As baby boomers continue to retire over the next decade, the construction industry will need to attract over 100,000 new workers. Increasingly those workers will come from diverse populations and it is important that they feel welcomed, valued and heard. Annemarie offered to work with the industry to move from awareness to action. For more information or to subscribe to Annemarie's newsletter visit annemarieshrouder.com.
Representatives from Bruce Power and Ontario Power Generation spoke about their current and upcoming nuclear refurbishment projects and touched on a couple of diversity and inclusion initiatives. Earlier this year Bruce Power signed the Canadian Electricity Industry Leadership Accord on Gender Diversity. This accord complements Bruce Power's Diversity Strategy and ensures they will have new potential, diverse thinking, increased safety, and better overall performance. OPG is also taking a proactive approach to meeting the demand for new workers. Their Indigenous Opportunities in Nuclear (ION) program recruits and places skilled members from Indigenous communities in jobs within the fast-growing nuclear industry.
Over the next year, OCS will be looking into demographics, diversity and inclusion in the construction industry. Stay tuned for more insights.

_____________________________
FOR MORE INFORMATION, CONTACT:
Fred Lehmann
Communications Coordinator,
fredl@iciconstruction.com
Ontario Construction Secretariat (OCS)
180 Attwell Drive, Suite 360, Toronto, ON M9W 6A9
P 416.620.5210 ext. 222
F 416.620.5310