Demographics & Diversity Report
Ontario's unionized construction industry is integral to meeting the province's construction requirements and plays a central role in the recruitment and training of the province's skilled workforce.
Understanding the demographic and skills characteristics of the unionized workforce is relevant to long-term workforce planning for both the unionized sector, as well as the broader construction industry.
The objective of this report is to establish a demographic profile of the unionized construction sector workforce to serve as a foundation for supply-side forecasting and workforce planning.
This report provides a demographic profile of Ontario's construction workforce, distinguishing between unionized and non-unionized workers, as well as highlighting key regional and trade-specific demographic trends within the industry.
Please see more information, grant guidelines and forms below, if you have additional questions please email us at info@iciconstruction.com or call our office at 416-620-5210
_____________________________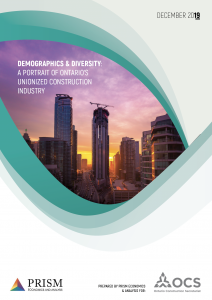 Demographics & Diversity Report
Click Above to Download the PDF
File of the Demographics & Diversity Report
_____________________________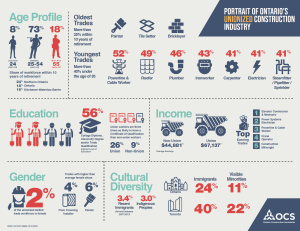 Demographics & Diversity Infographic
Click Above to Download the PDF
File of the Demographics & Diversity Infographic