---
July 13, 2021
ICI Investment in Ontario Increases for Eighth Consecutive Month
Statistics Canada released the latest Investment in Building Construction data today, showing that in May, investment in ICI construction in Ontario surpassed $2 billion in a single month for the first time in nearly a year (since June 2020). ICI investment in Ontario has been remarkably stable considering the economic disruptions caused by the pandemic. Investment in ICI construction has not decreased month-over-month since last summer. In every month since September 2020, investment in the sector either held at the same level or increased. Overall, between September 2020 and May 2021, ICI investment in Ontario increased by 8.4%. Compared to April, May's ICI investment total in Ontario saw a rise of 0.6%.

In May, commercial investment in Ontario also reached an eleven-month high, and rose month-over-month for the eighth consecutive month (since September 2020). Institutional investment in Ontario increased in every month since December 2020, and in May reached its highest point since August 2020. Between April and May, investment in both commercial and institutional construction in Ontario rose by about 1%, while industrial investment fell by almost 2%.
YTD Investment Up in Commercial Sector, Down in Industrial and Institutional Sectors
Looking at the year so far (January-May), investment in ICI construction in Ontario is up by 7.2% compared to the same point in 2020. Commercial investment in Ontario is up by 15.4% over the January-May period last year. It should be noted though that commercial investment suffered a substantial drop-off in April 2020, which partly explains the size of this year's increase.  Statistics Canada also cited LiUNA's Vaughan office building project, Canadian Tire's Brampton distribution centre, and multiple Amazon fulfillment centres as drivers of increased commercial investment in Ontario. Year-to-date investment is down by 4.4% in Ontario's industrial sector, while institutional investment has declined by 2.9%.

ICI Investment Up in Seven Metro Areas This Year
So far this year (January-May), ICI investment is up compared to 2020 in seven of Ontario's sixteen metro areas. ICI investment is more than double 2020 levels in Ottawa. The drivers of increased investment in Ottawa have been discussed in previous bulletins. The other six metro areas have seen modest increases in ICI investment: Guelph (+11.3%), St. Catharines-Niagara (+9.8%), Greater Sudbury (+9.7%), Kingston (+6.9%), Brantford (+5.5%), and Toronto (+3.4%). In Ontario's remaining nine metro areas, investment in ICI construction is down year-to-date compared to last year: Hamilton (-4.8%), Kitchener-Cambridge-Waterloo (-7.1%), London (-11.6%), Windsor (-14.6%), Oshawa (-17.4%), Barrie (-27.9%), Peterborough (-28.5%), Belleville (-28.8%), Thunder Bay (-46.0%).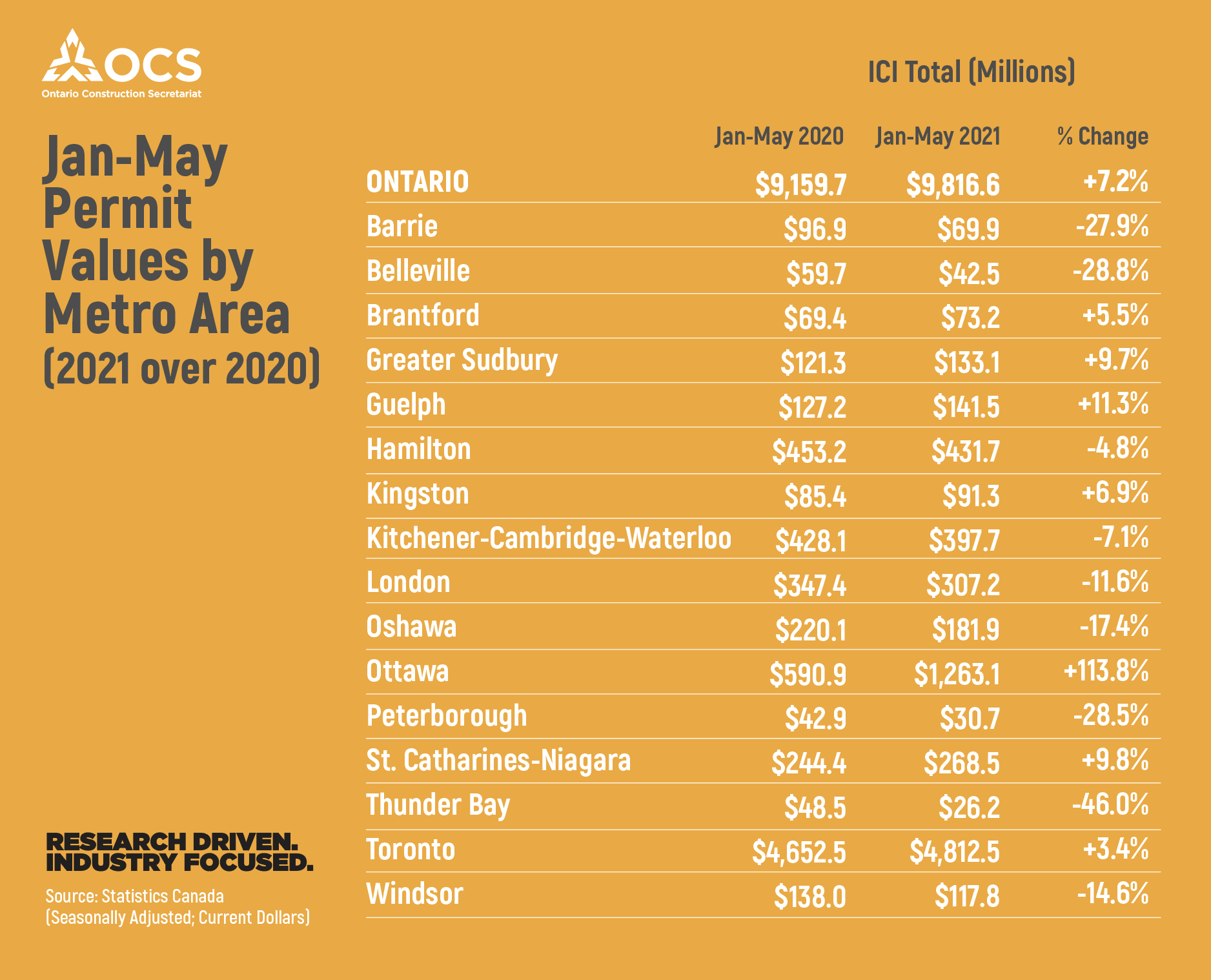 Construction Employment Increases Marginally in June
New labour force data from Statistics Canada shows that Ontario had 4,000 more construction jobs in June compared to May, an increase of less than a percent. This increase comes after two consecutive months of decline in April and May. While the numbers are positive, June's construction employment total was at its second lowest point since October 2020 (the lowest being May). Ontario's stay-at-home order was lifted on June 2nd, so June's numbers should have captured the initial effect. A summary of how construction was impacted by Ontario's stay-at-home order can be found here.
Ontario's general unemployment rate fell by nearly a percentage point to 8.4% in June. This was the lowest unemployment rate since March, and the second lowest since the beginning of the pandemic.

_____________________________
FOR MORE INFORMATION, CONTACT:
Katherine Jacobs
Director of Research
Ontario Construction Secretariat (OCS)
180 Attwell Drive, Suite 360, Toronto, ON M9W 6A9
P 416.620.5210 ext. 222
F 416.620.5310
kjacobs@iciconstruction.com