---
August 10, 2021
The latest labour force data from Statistics Canada shows that in July, construction industry employment in Ontario fell to its lowest level in the past nine months. There were 7,100 fewer construction jobs in Ontario in July compared to June, a decline of 1.3%.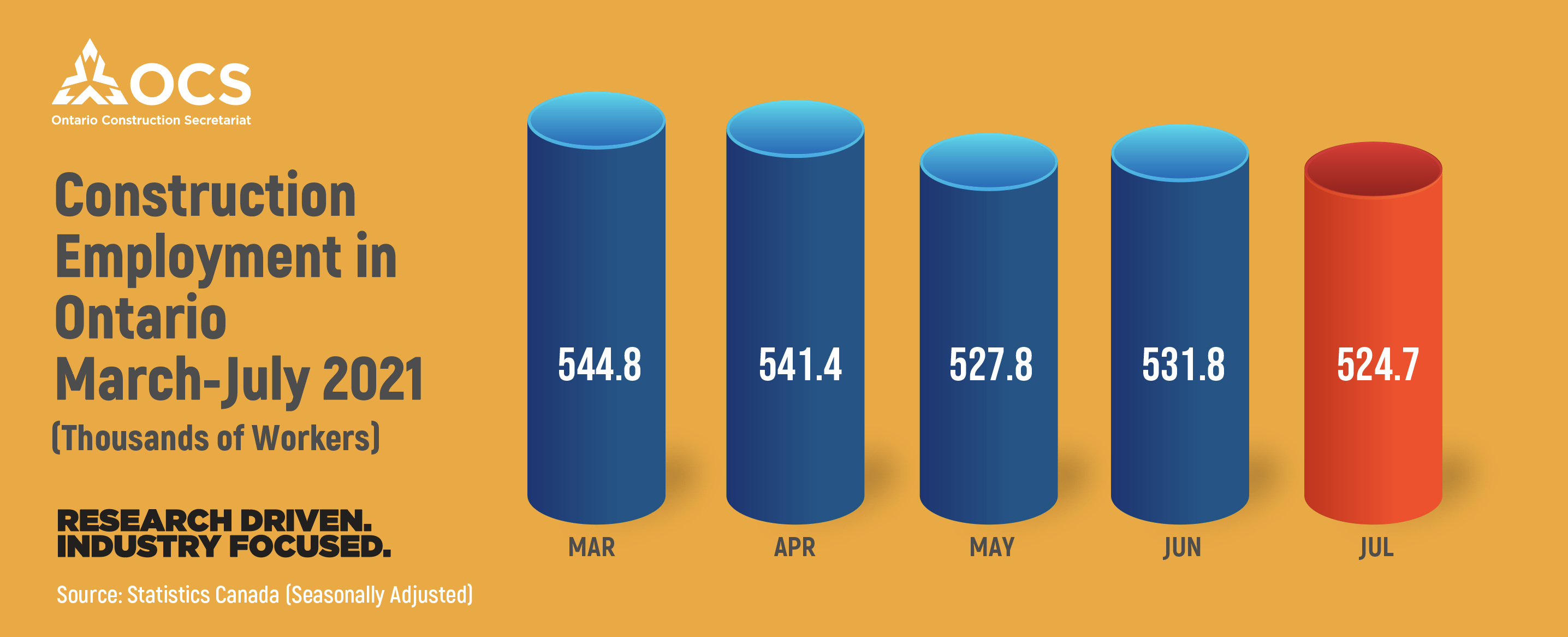 Looking at the labour force in all industries, Ontario's unemployment rate was 8.0% in July, down from 8.4% in June. This was the lowest unemployment rate observed in Ontario since March.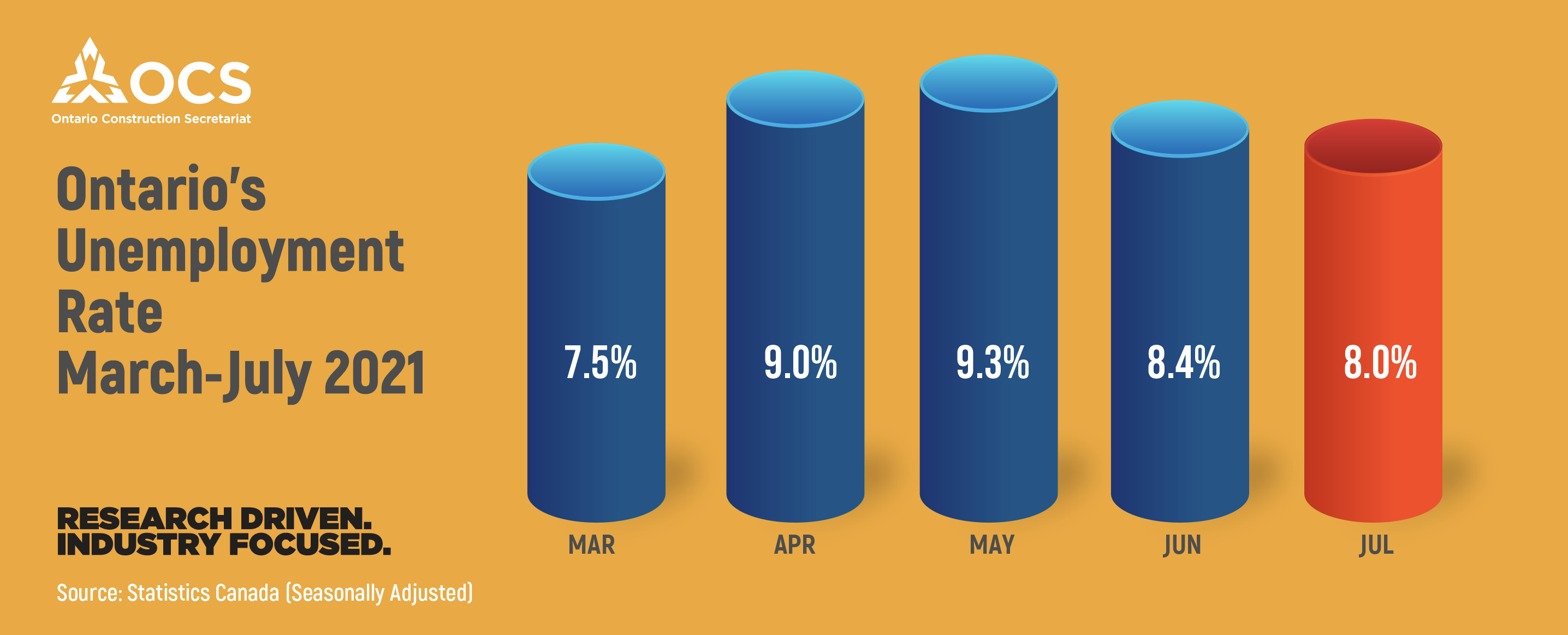 Statistics Canada also recently released its building construction price index data for the second quarter of 2021. This index, which we reported on last quarter, looks at changes over time in the prices charged by contractors to construct a range of buildings in two of Ontario's metro areas: Toronto and Ottawa.
Based on Statistics Canada's index, both Toronto and Ottawa saw the biggest year-over-year increases in ICI construction prices in any quarter since 2008. The case was the same in all three ICI sectors in both Toronto and Ottawa.
In general, Ottawa's construction price increases were greater than Toronto's. In Ottawa, ICI construction prices were up by 10.1% in the second quarter compared to Q2 2020. Toronto's ICI construction prices increased by 7.7% in Q2 2021 over Q2 2020.
At the sector level, Ottawa's commercial construction prices increased by 10.3% in Q2 year-over-year, compared to a 7.6% increase in Toronto. Industrial construction prices in Q2 were up by 11.5% in Ottawa compared to an 8.9% increase in Toronto. Ottawa's institutional construction prices rose by 8.9% in Q2 year-over-year, while Toronto's increased by 6.6%.
Statistics Canada reports that increased ICI construction prices are "mostly attributable to office buildings, warehouses and shopping centres." A surge in the prices of lumber is also reported by Statistics Canada, which is due to a combination of increased demand and supply chain constraints including "operational delays at sawmills as well as transportation difficulties."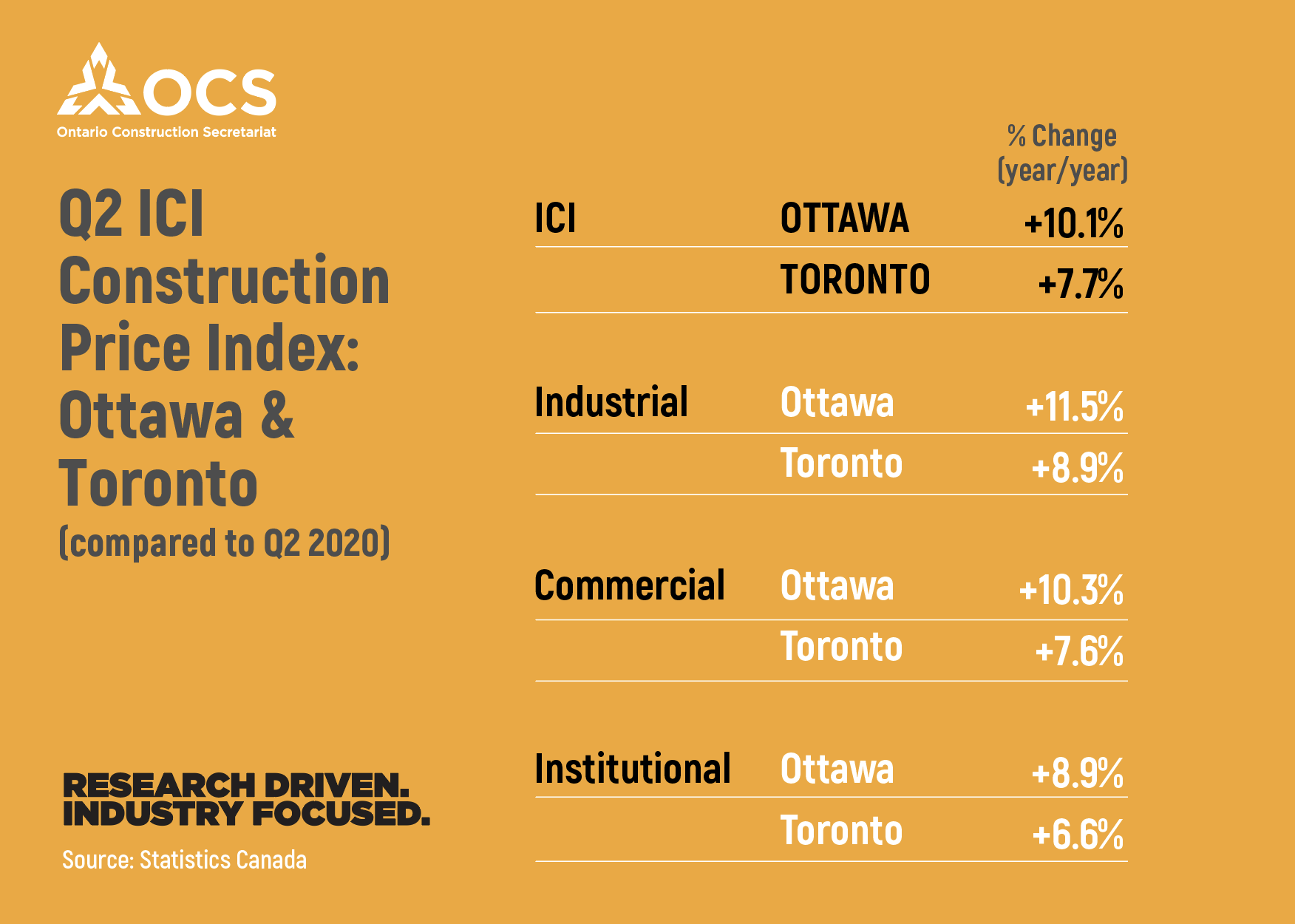 The latest commodity price data (published August 3, 2021) from Export Development Canada shows a year-over-year increase in the prices of Lumber Composite, although not to the same extent as reported in May. Lumber Composite is up by 10.6% year-over-year, far from the 333.2% increase observed in May. Month-over-month, Lumber Composite is down by 13.2%. Steel Scrap prices are up by 82.1% year-over-year, but down by 6.1% month-over-month. The prices for copper are up by 48.8% year-over-year, and up by 3.1% month-over-month.

_____________________________
FOR MORE INFORMATION, CONTACT:
Katherine Jacobs
Director of Research
Ontario Construction Secretariat (OCS)
180 Attwell Drive, Suite 360, Toronto, ON M9W 6A9
P 416.620.5210 ext. 222
F 416.620.5310
kjacobs@iciconstruction.com