---
November 8, 2022
Summary: Building Permit values decreased in all sectors from August to September, with total ICI permit value down 51.8%. Year-to-Date permit values, however, were still higher compared to this time last year.
Permit Values
In contrast to the historic high reached in August, total ICI permit values decreased by 51.8% ($2.24-$1.08 billion); commercial permit values decreased by 48.8% ($1.1 billion – $565.6 million), industrial permit values went down 38.2% ($533.6 – $329.6 million), and institutional permit values decreased the most at 69.3% ($606.7 – $186.3 million).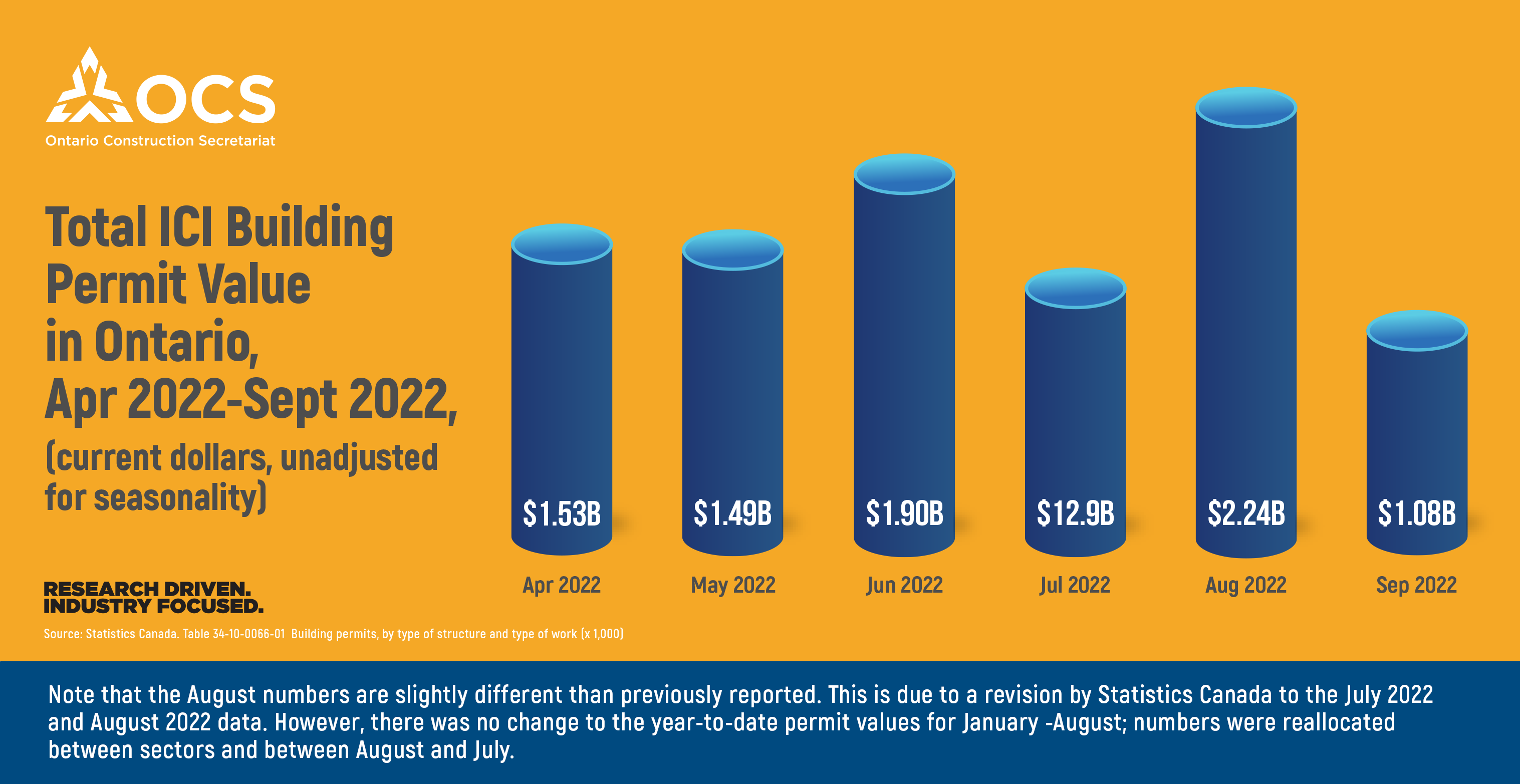 Quarterly (Q3 2022)
Total ICI permit value was also down compared to the previous quarter, by 6.1% ($4.92 – $4.62 billion). This was led by a drop in industrial permit values, which were down 20% ($1.41 – $1.13 billion). However, looking at quarterly permit values compared to 2021, we observe an increase to total ICI permit value, up 3.9%. Industrial permit values increased 12.2% ($1.01 – $1.13 billion) and institutional values were up 30.9% ($739 – $966 million). The commercial sector however, decreased slightly by 6.5% ($2.70 – $2.52 billion).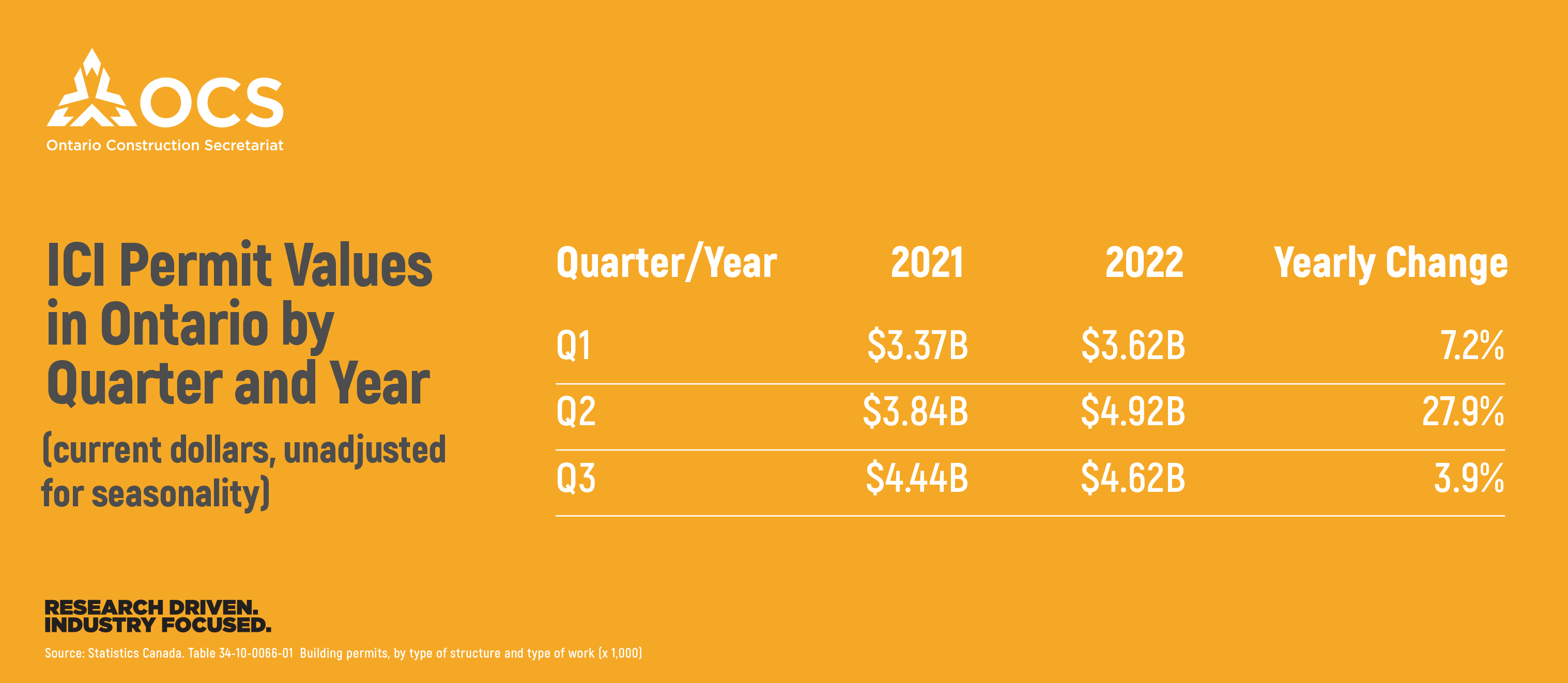 Year-to-Date
Permit values were still elevated compared to the same time (Jan-Sept) in 2021. Total YTD values were up 12.8%, with the industrial sector experience the largest increase (50.1%)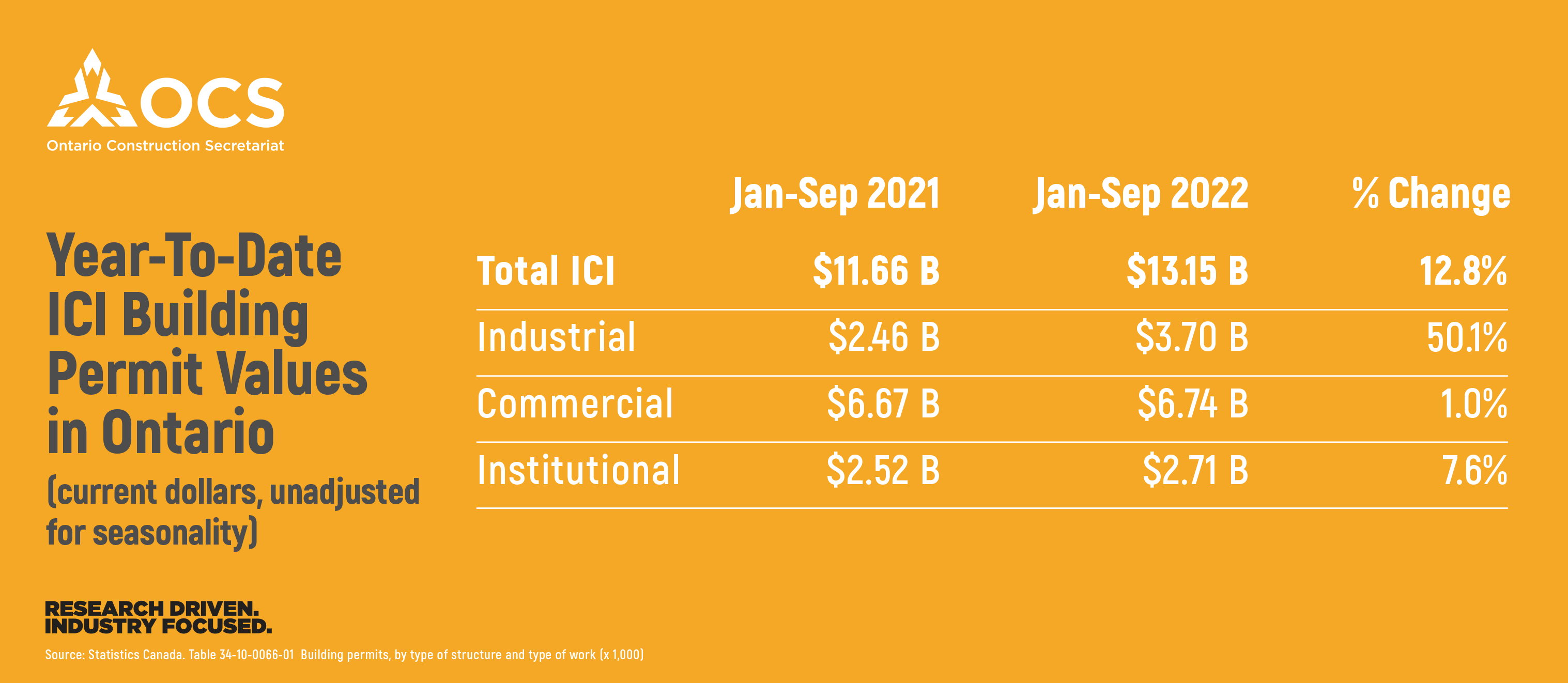 Overall, permit activity cooled significantly compared to August. Quarterly changes were less dramatic, with total ICI permit value decreasing slightly compared to Q2 2022. Year-to-date values were still up, with the industrial sector leading the way. While recent permitting activity has slowed down, the year-to-date numbers indicate that there is more upcoming construction relative to the same time last year.
_____________________________
FOR MORE INFORMATION, CONTACT:
Katherine Jacobs
Director of Research
Ontario Construction Secretariat (OCS)
180 Attwell Drive, Suite 360, Toronto, ON M9W 6A9
P 416.620.5210 ext. 222
F 416.620.5310
kjacobs@iciconstruction.com