---
'TIS THE TOOL-TIDE SEASON: OUR 12 DAYS OF CONSTRUCTION GIFT GIVING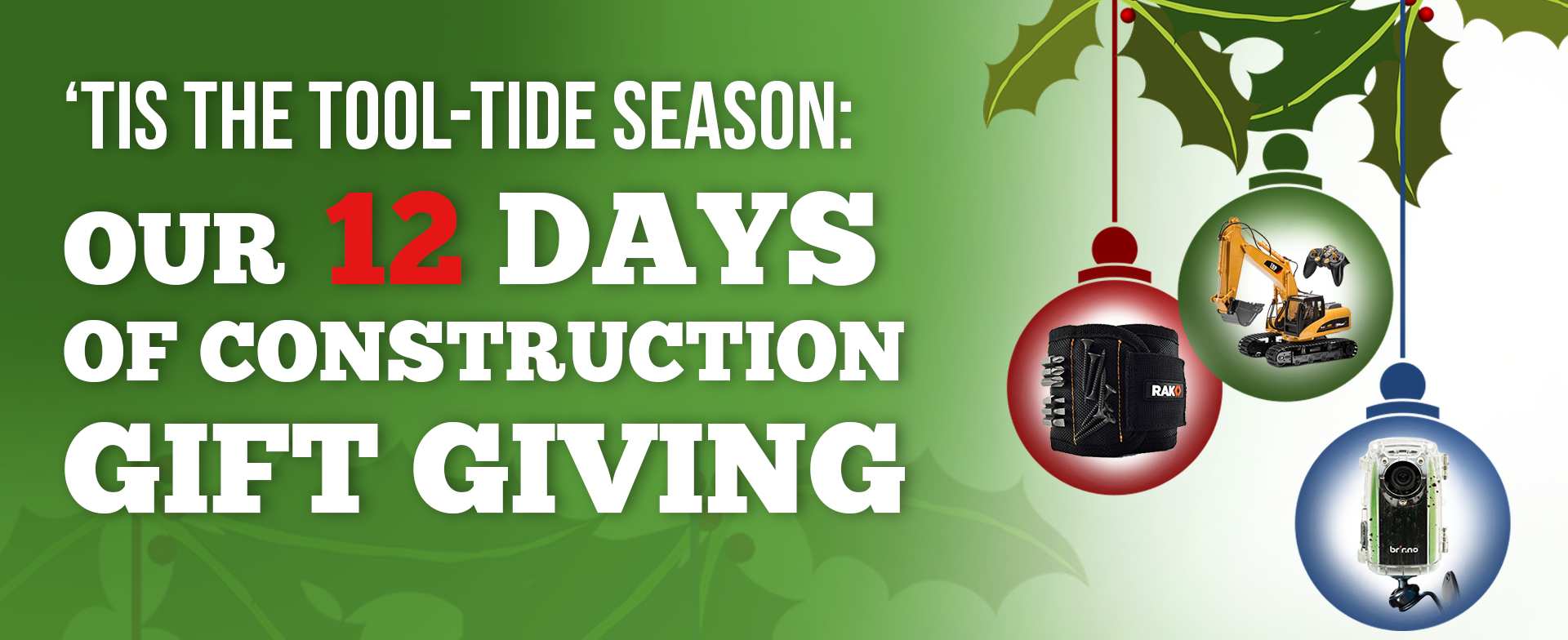 As the holidays near, OCS staff scoured the internet to come up with our "12 Days of Construction Gift Giving".  These gifts are perfect for anyone working in the construction industry – whether an apprentice, tradesperson, estimator, project manager or contractor.  There's even something for the "future construction worker".

For the contractor, this gift keep projects running smoothly by helping to facilitate communication on the job and with customers.  A bonus is that once the job is completed, it is able to provide a nice memory of the project for the client.

For the kid in you…or more likely, for your children or grandchildren.  With the speed of technological change and passing trends, any toy that is remote controlled may stand the test of time.  Make sure to load up on batteries.

For the construction worker who doesn't have enough pockets.  This is an extremely handy gift to help keep you organized and keep your work area free of potential tripping hazards.  Be careful however, especially if you or the recipient is an ironworker.

This cozy and comfortable piece of safety equipment is lightweight, wind and waterproof with a safety harness access point through the back.  With 3M reflector material, the jacket also is quilt lined with a fleece lined collar.  There's no reason you can't be safe and comfortable at the same time.

A device that plugs into your phone, a thermal imager can save you money by finding potential failures, increase productivity by troubleshooting issues in seconds and reduces the chance of unplanned downtime.

Make eating a "constructive" experience for the next generation of construction industry professionals.

With heat alerts becoming more common, you should have this insulated hydration bottle handy when you're on a job site. Heat exhaustion can be dangerous and can develop quickly. Stay safe…stay hydrated.

Maybe you don't need to "measure twice and cut once".  This laser measures up to 65 feet and is accurate to 1/8 of an inch, features real time measurement and is backlit for those early morning or evening jobs.

For the construction worker who requires and uses a tablet on the job, this backpack fits a 10" tablet.  It features separate compartments with a padded pouch that protects the tablet from your tools.  It also carries tools and accessories ranging from long-handled screwdrivers to cables and adapters and safety glasses.

A little more than 3.5" square, this 10 lb. bluetooth-enabled speaker allows you to answer your phone hands-free. A 10-hour battery life, the speaker comes with a charging cord and has a connectivity range in excess of 30-feet.  It also features a powerful rear magnet so that the speaker can be attached to metal surfaces such as duct work.

Compact yet versatile.  Not only is it adjustable, it is multi-purpose with a design that can be used as a saw guide, bevel or protractor.  Rugged too as it features heavy aluminum construction for durability.

What better way to be reminded to work safe than with a pair of fun novelty socks with a construction-theme.  For him or for her, these socks are warm, fashionable and trendy.

_______________________________________________
FOR MORE INFORMATION, CONTACT:
Fred Lehmann
Communications Coordinator,
fredl@iciconstruction.com
Ontario Construction Secretariat (OCS)
180 Attwell Drive, Suite 360, Toronto, ON M9W 6A9
P 416.620.5210 ext. 222
F 416.620.5310