---
WELCOME ROBERT BRONK!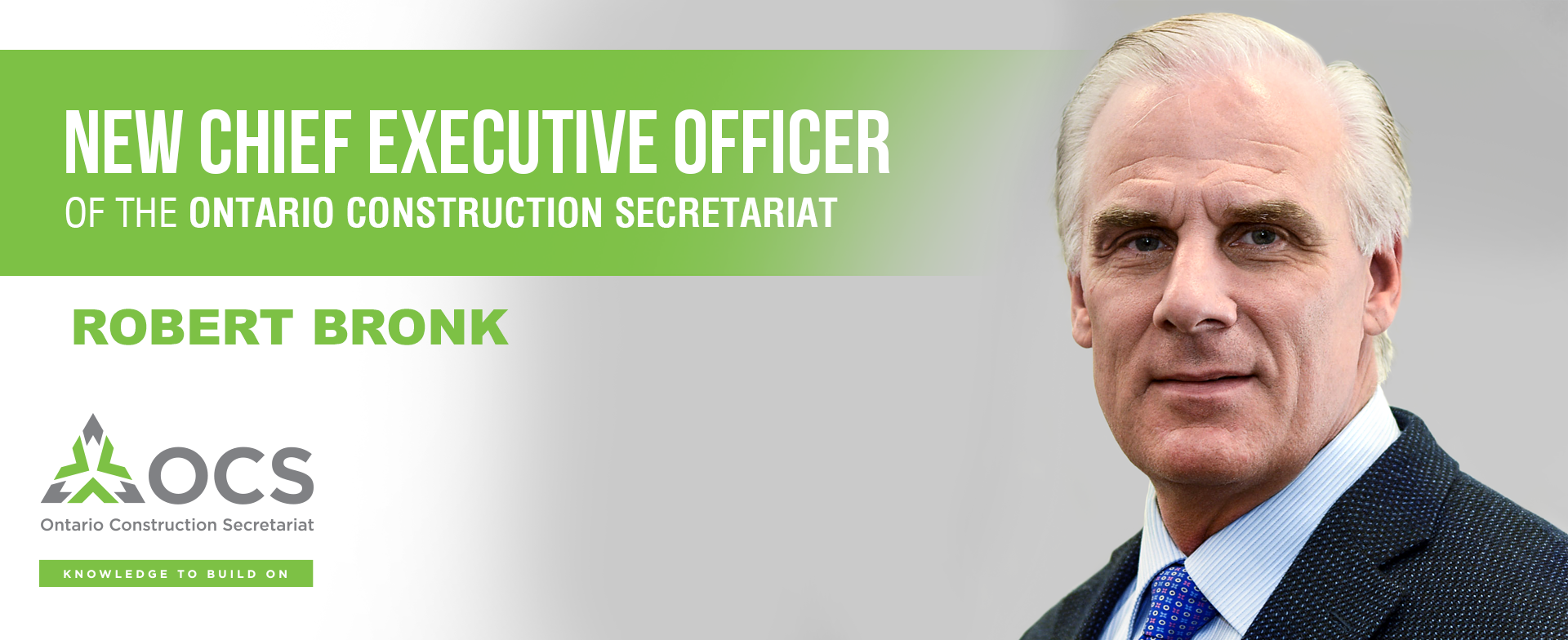 The Ontario Construction Secretariat (OCS) has a new Chief Executive Officer.
Following an executive search, the OCS Board of Directors is pleased to announce the appointment of Robert Bronk as CEO.  Robert joined the OCS on October 2, 2017.
About joining the OCS, Bronk says he excited.
"As a former stakeholder with the OCS, I am aware of the tremendous reputation this organization has built within the unionized construction industry, in addition to its valuable contribution of research, industry knowledge and information and promotion.  I look forward to engaging all of our stakeholders and partners in exploring opportunities to strengthen our industry." 
Bronk joins the OCS from the Ontario Industrial and Finishing Skills Centre (OIFSC) where he served as Executive Director, responsible for managing the delivery of health and safety training for IUPAT DC 46 members and the training of architectural glass and metal technicians, and commercial and industrial painter apprentices at three training centres in Ontario.
Prior to this, Robert had a successful career in the Canadian Football League (CFL) as a running back with the Toronto Argonauts, winning a Grey Cup in 1983.  Robert has a Civil Engineering degree from Queen's University in Kingston and a Masters of Business Administration from the University of Toronto.
As CEO, Bronk will oversee a dynamic, not-for-profit organization created in 1993 to enhance Ontario's unionized industrial, commercial and institutional (ICI) construction industry.  The mandate of the OCS is to develop relationships, facilitate dialogue, provide value-added research, disseminate information and promote the value of unionized ICI construction.  Research is the foundation of the OCS and underpins each of its strategic objectives.
Bronk becomes the Secretariat's third Chief Executive Officer since the organization's formation in 1993.

_______________________________________________
FOR MORE INFORMATION, CONTACT:
Fred Lehmann
Communications Coordinator,
fredl@iciconstruction.com
Ontario Construction Secretariat (OCS)
180 Attwell Drive, Suite 360, Toronto, ON M9W 6A9
P 416.620.5210 ext. 222
F 416.620.5310