"WEEDING" THROUGH THE ISSUE OF MARIJUANA IN THE WORKPLACE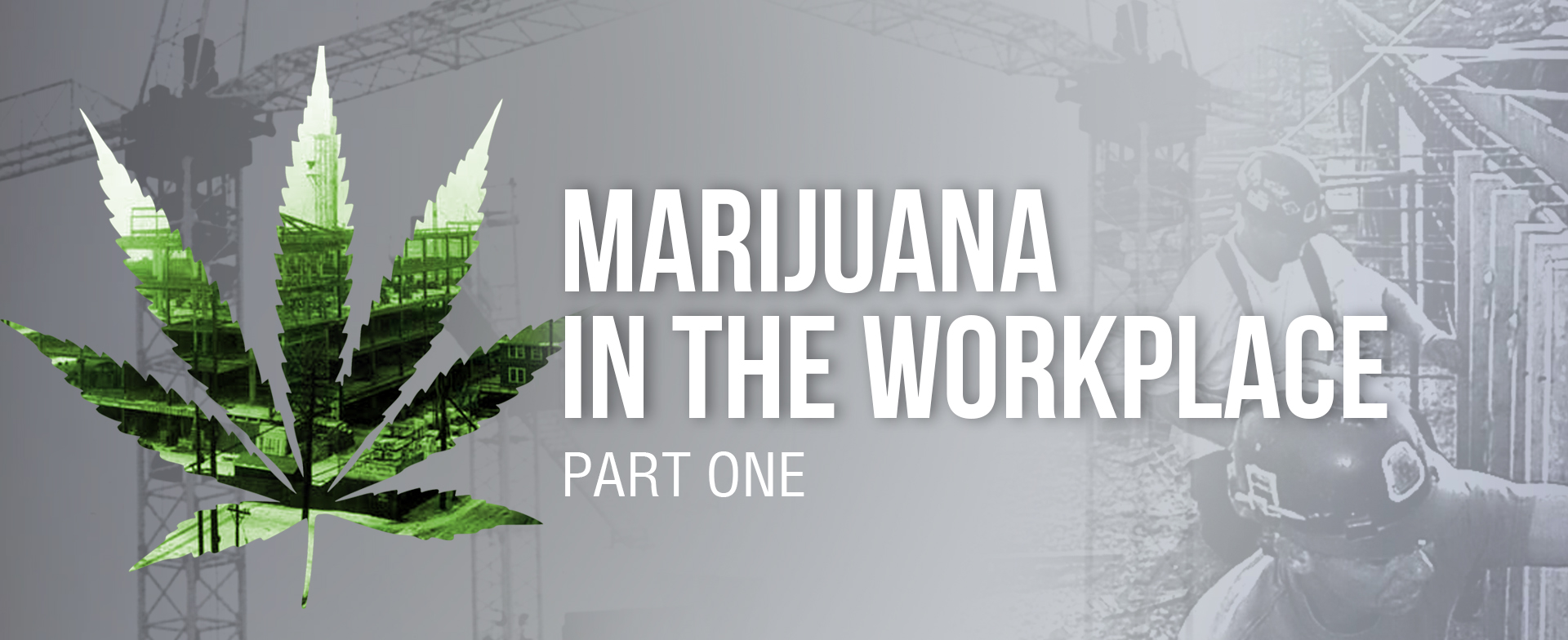 Next summer, the federal government intends to legalize marijuana, leaving the provinces to decide how they intend to regulate the drug.  In Ontario, the province will prohibit the use of recreational cannabis in public areas and workplaces.  It has also proposed that individuals will have to be at least 19 years of age to purchase or possess recreational cannabis and the LCBO will oversee the legal retail of cannabis throughout the province.
Missing from the government's plan is what many employers agree are the "tools" required to keep their workplaces and employees safe once the legislation is passed.  The Ministry of the Attorney General says the province "will be developing resources to guide employers, labour groups and others as they manage workplace safety issues related to impairment at work through education and awareness initiatives".
However, Canada's Building Trades Unions (CBTU) says there is a significant information gap among its membership and within its stakeholder groups.  Deputy Director Arlene Dunn notes there has been very little dialogue on the issue and the organization recognizes that our members have a lot of questions.
"If we don't talk about it, the government(s) will proceed with the legislation and regulations and the result will not be satisfactory to our stakeholders."
In order to get a better understanding of where its affiliates stand on the issue, Dunn and Micah Field, legal counsel at Blakely and Dushenski in Edmonton are engaging in a cross-Canada consultation and review process.
"What we're hoping for", says Dunn, "is some honest and open discussion about concerns and expectations to see if we can find some commonality.  We'll meet first with our stakeholders and then follow that up with similar discussions with owners and contractors with the aim of using the information to formulate a national position". 
While the industry has many questions, a senior manager with CannAmm Occupational Testing Services in North Bay says the answer doesn't need to be complicated.  Dan Demers says it comes down to risk management, clear communication and a strong understanding that "cannabis and safety on the job do not mix, regardless of medical authorization or legal status".
"They [employers] can be confident that the right to safety supersedes other protected grounds under human rights legislation, as the counter argument would fly in the face of reason."
One of the questions the construction industry is struggling with is the difference between impairment and intoxication.  In the absence of solid testing, it is clear that there needs to be discussion on how best to manage both.  Regardless, Demers says employers need to have a plan, be flexible and collaborate with their labour partners.  He believes such a plan include some type of testing because "everyone will want to give it a shot" once the federal and provincial legislation is enacted.
Testing however does require that employers have a reason to implement it.  Demers says it can be as simple as an anonymous survey that asks employees if they know of or suspect any fellow worker is using the drug.
In a CannAmm publication, Demers writes employers must focus on "unified goals of getting everyone home safe, removing risk and doing everything reasonable to keep the individual employed.  This means never automatically terminating an employee, but also never allowing a risk to go unmanaged.  It is important to be transparent, but standing firm about not allowing accommodation to compromise safety".
This article represents the first of what is planned to be a series of articles on this issue.  In upcoming issues of our eNewsletter, we will endeavour to explore questions such as the pressure of meeting the July 1, 2018 deadline, legal questions, and the impact on benefit plans.

_______________________________________________
FOR MORE INFORMATION, CONTACT:
Fred Lehmann
Communications Coordinator,
fredl@iciconstruction.com
Ontario Construction Secretariat (OCS)
180 Attwell Drive, Suite 360, Toronto, ON M9W 6A9
P 416.620.5210 ext. 222
F 416.620.5310[/vc_column_text][/vc_column][/vc_row]