August 25, 2020
ICI Investment Reaches All-Time High in Ontario in June
Statistics Canada's recently-released Investment in Building Construction numbers showed the highest monthly investment in ICI construction on record. Over $2.2 billion was invested in Ontario's ICI sector in June, 15% more than any previous month this year. Looking at the year so far (January-June), ICI investment in Ontario is nearly 5% greater than the same period in 2019. All three sectors are up compared to the first half of last year as well.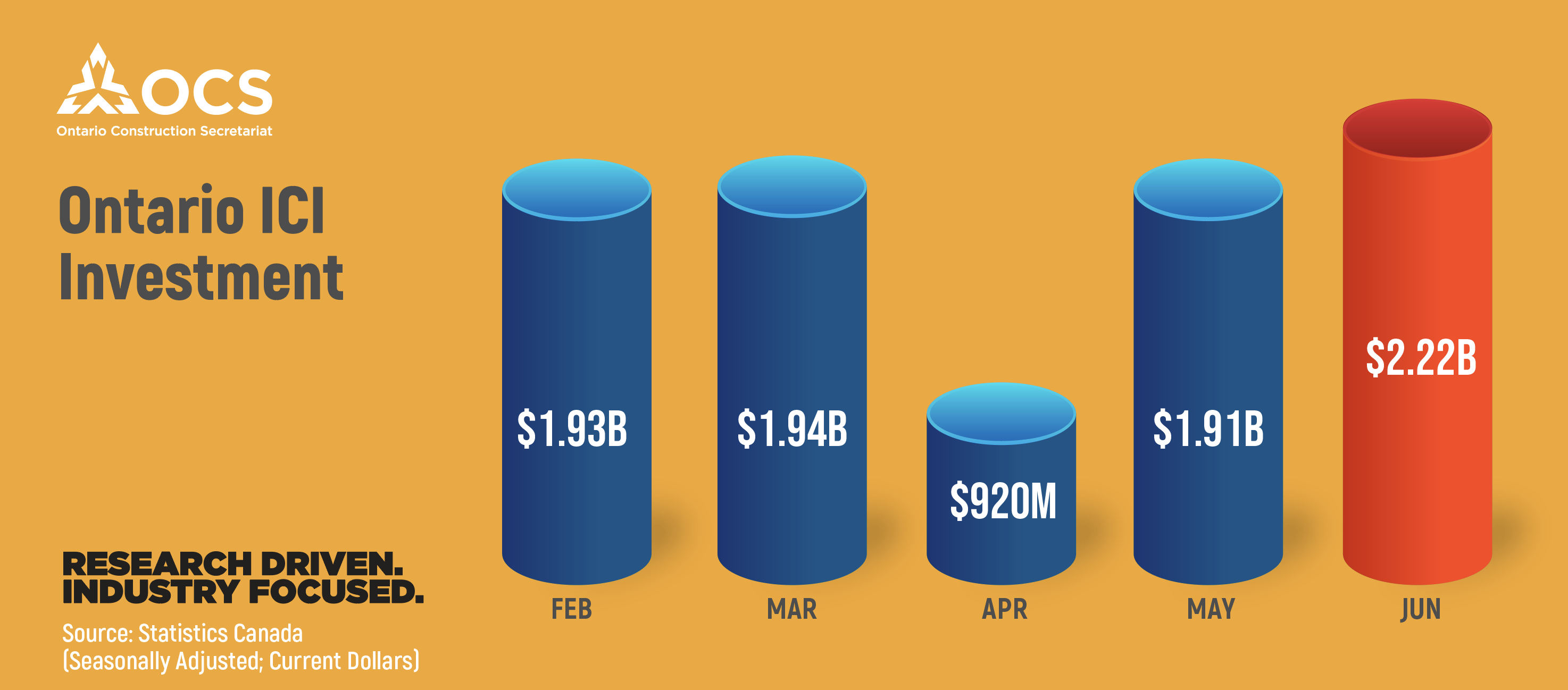 2020 ICI Investment Rises in Almost Every Metro Area
Again, looking at the first half of this year, ICI investment is above 2019 numbers in thirteen of Ontario's sixteen metropolitan areas. In London, ICI investment is up by half (51%), while Peterborough's investment value is 39% greater than the first half of 2019. There have also been double-digit increases in Guelph (29%), Windsor (24%), Thunder Bay (22%), Belleville (19%), Oshawa (17%), and Brantford (12%). ICI investment has grown by single-digits in the first half of 2020 in St. Catharines-Niagara (9%), Ottawa (7%), Kitchener-Cambridge-Waterloo (6%), Hamilton (4%), and Toronto (3%). The three metro areas with year-over-year drop-offs in investment are Barrie (-39%), Kingston (-17%), and Greater Sudbury (-8%).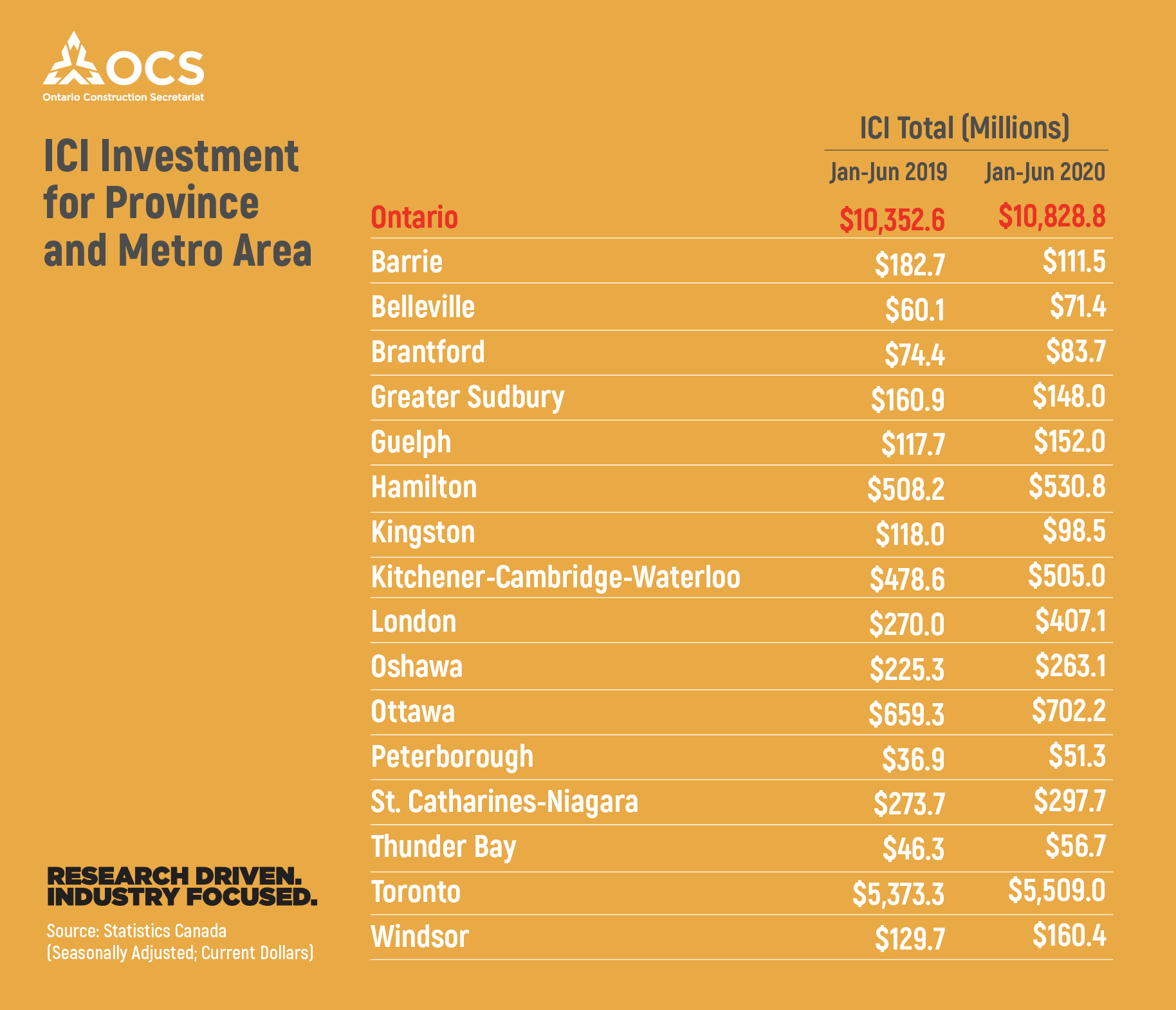 New BuildForce Forecast Anticipates Renewed Growth in Ontario in 2021
BuildForce recently released an update of its construction and maintenance investment forecast for 2020-2022. The report forecasts that investment in non-residential construction and maintenance in Ontario will decline 2.9% this year compared to last, to about the same level as 2018. Ontario's commercial sector is expected to have the biggest overall hit in 2020 with a decline of almost 13%. In 2021, investment is expected to recover, increasing by 5.9% compared to this year (2.8% greater than in 2019).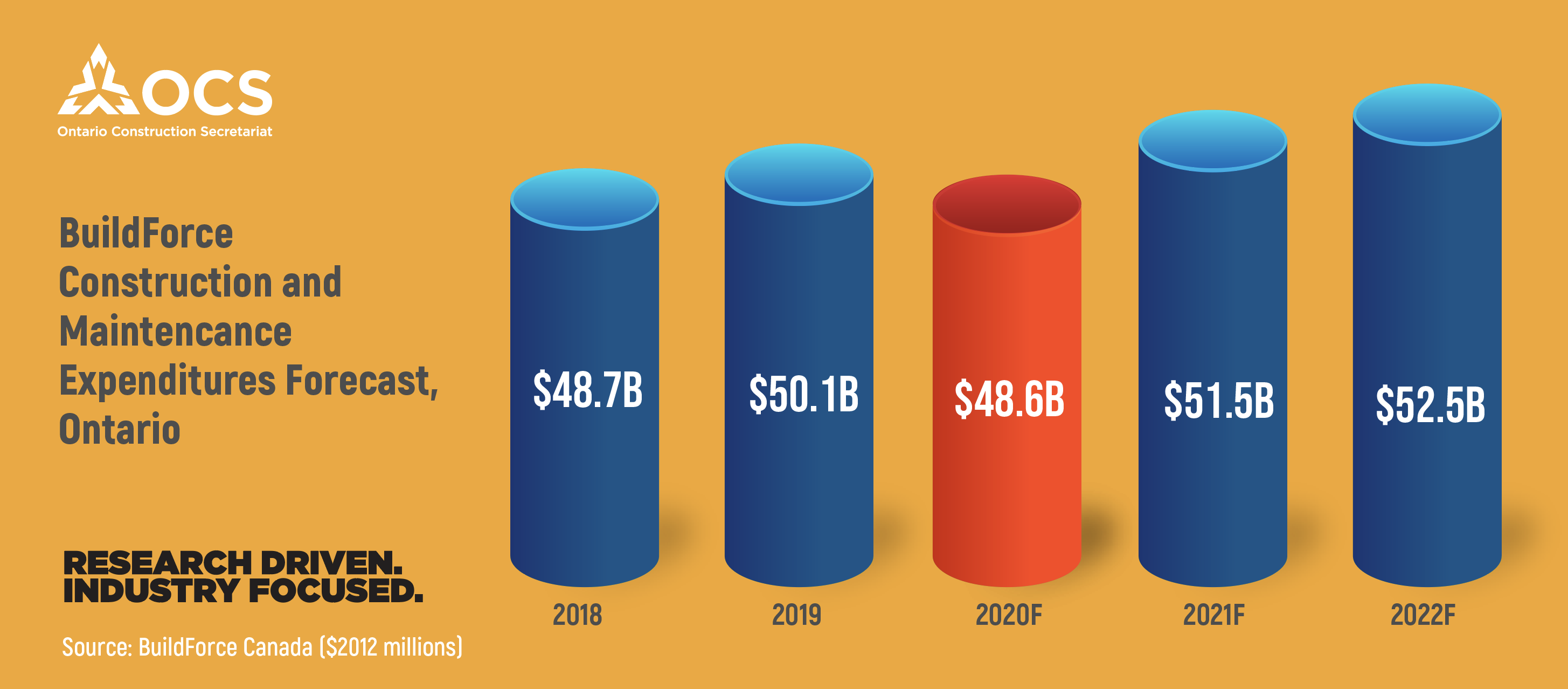 At the regional level, BuildForce also provides an overview of major projects that will highlight the non-residential sector going forward:
Central Ontario: an increase in non-residential investment in 2021, but modest project demand in general.
Eastern Ontario: Phase two of the Ottawa LRT, the redevelopment of Parliament Hill's Centre Block and other federal buildings, and a new hospital project.
GTA: LRT projects, ongoing work on the OPG Darlington nuclear refurbishment, and planned subway and health-sector projects.
Northern Ontario: Mineral-processing and large-scale transmission infrastructure investments, while some proposed mining projects may be delayed.
Southwestern Ontario: refurbishment work at the Bruce Power nuclear plant, acceleration in demands related to the Gordie Howe International Bridge, and the Nova Chemicals plant.
The full report by BuildForce can be found here.
FOR MORE INFORMATION, CONTACT US.