November 2, 2020
Increase in Commercial Permit Activity Keeps ICI Industry on Pace With Last Year
Ontario's ICI permit values have amounted to $11.1 billion in the first three quarters of this year. Despite the pandemic-related disruptions to the industry, this is only 3.7% lower than at the same point last year. The industrial sector has seen the most significant drop off, down 28.4% YTD, with institutional permit values down 6.7%. The ICI industry's permit activity has been buoyed by the commercial sector, which has actually seen an increase in permit values of 8.1%.
Commercial permit activity was particularly strong in September, reaching nearly $1.2 billion in the month, a 47% increase over September 2019. Major projects contributing to commercial growth included permitting for Ottawa's Project Python and Kitchener's Breithaupt Block office building. Industrial and institutional permit values increased slightly over last September, up 1.5% and 5.2% respectively. Permits for senior citizen homes and nursing homes contributed to Ontario's institutional permit activity.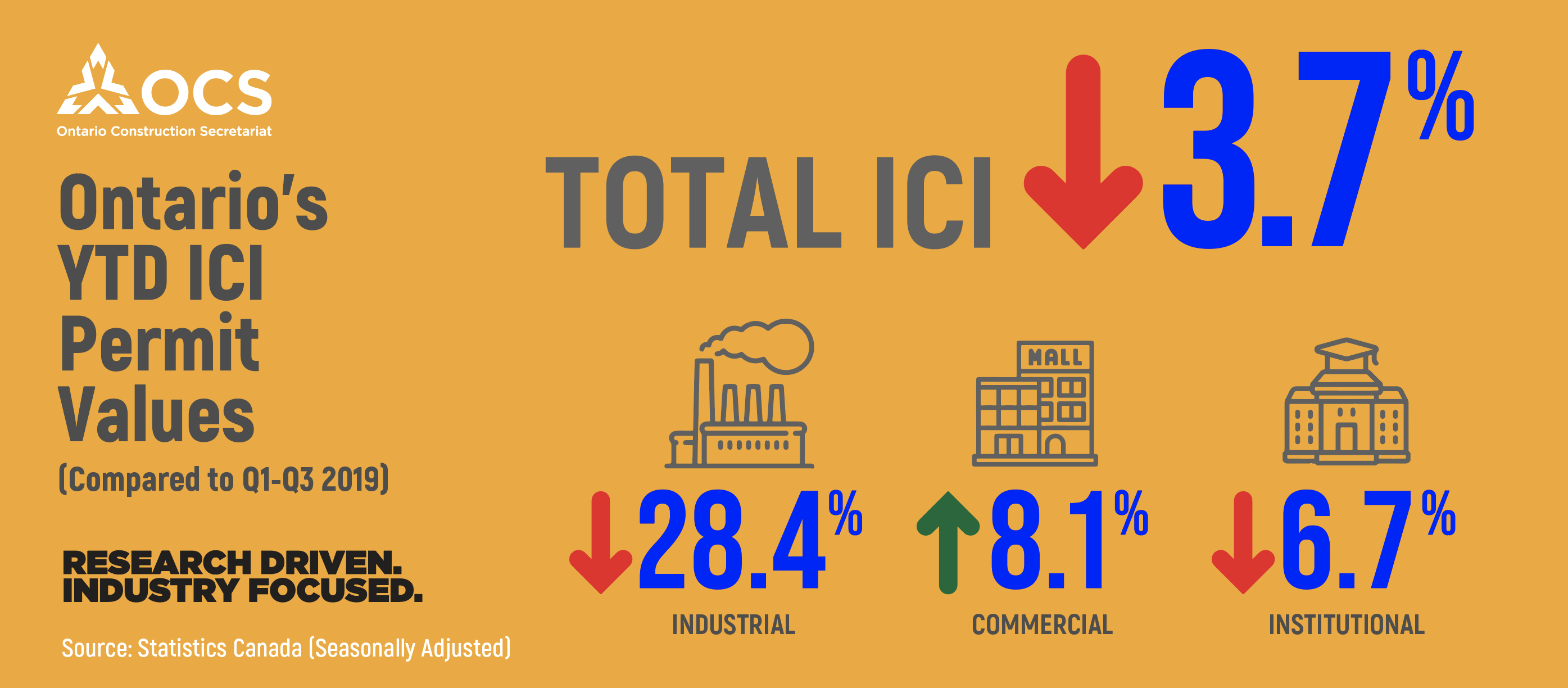 Year-to-date ICI permit values have increased in four of Ontario's sixteen census metropolitan areas: Barrie, Brantford, Ottawa, St. Catharines-Niagara. Toronto's ICI permit values have had the smallest decline in the first three quarters compared to last year, down 8%. The remaining metro areas have seen greater declines. In September, ICI permit values were up relative to September 2019 in seven metro areas: Barrie, Guelph, Kitchener-Cambridge-Waterloo, Ottawa, St. Catharines-Niagara, Toronto and Windsor. Permit values declined in September in the remaining nine metro areas.
Statistics Canada has reported that "with COVID-19 cases rising in many regions in September, some municipalities reported that builders have begun to submit applications earlier as a precaution against potential shutdowns". Some of the divergences in permit values between metro areas may also be due to changes in municipal permit processing capacity. As discussed in previous bulletins, permit values may still be impacted by the processing capacity of some municipalities. McMillan LLP had been tracking these processing disruptions in Ontario, but its most recent update was released in late July.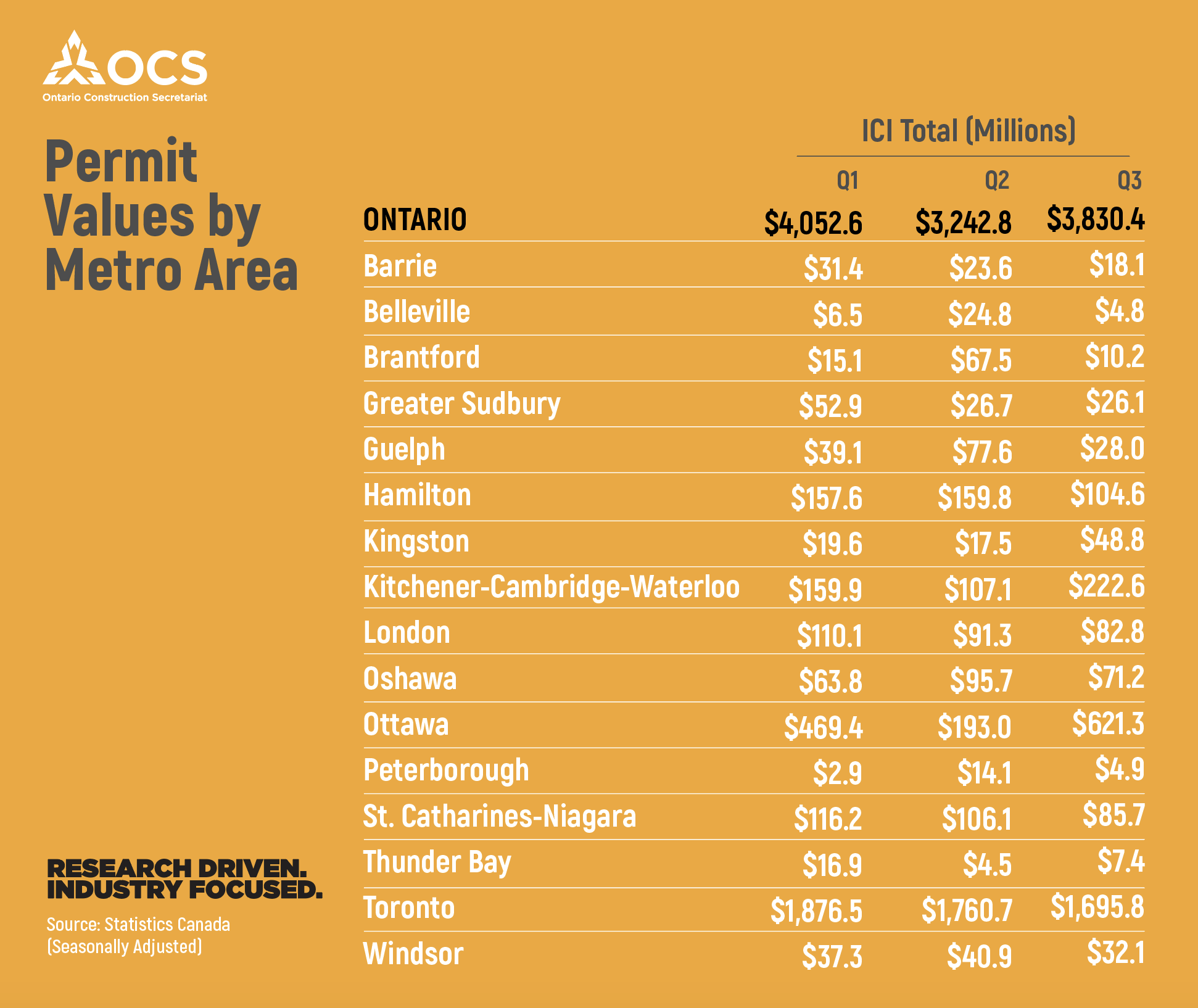 Employment Levels Stabilizing in Ontario's Construction Industry
Construction employment stabilized over the summer in Ontario. After hitting lows of 464,000 and 468,000 in April and May respectively, construction employment ranged between 500,000 and 515,000 through the summer months (June-September), settling at 510,000 in September. While employment in the industry has steadied, it is still 10% less than pre-pandemic 2020 high in February.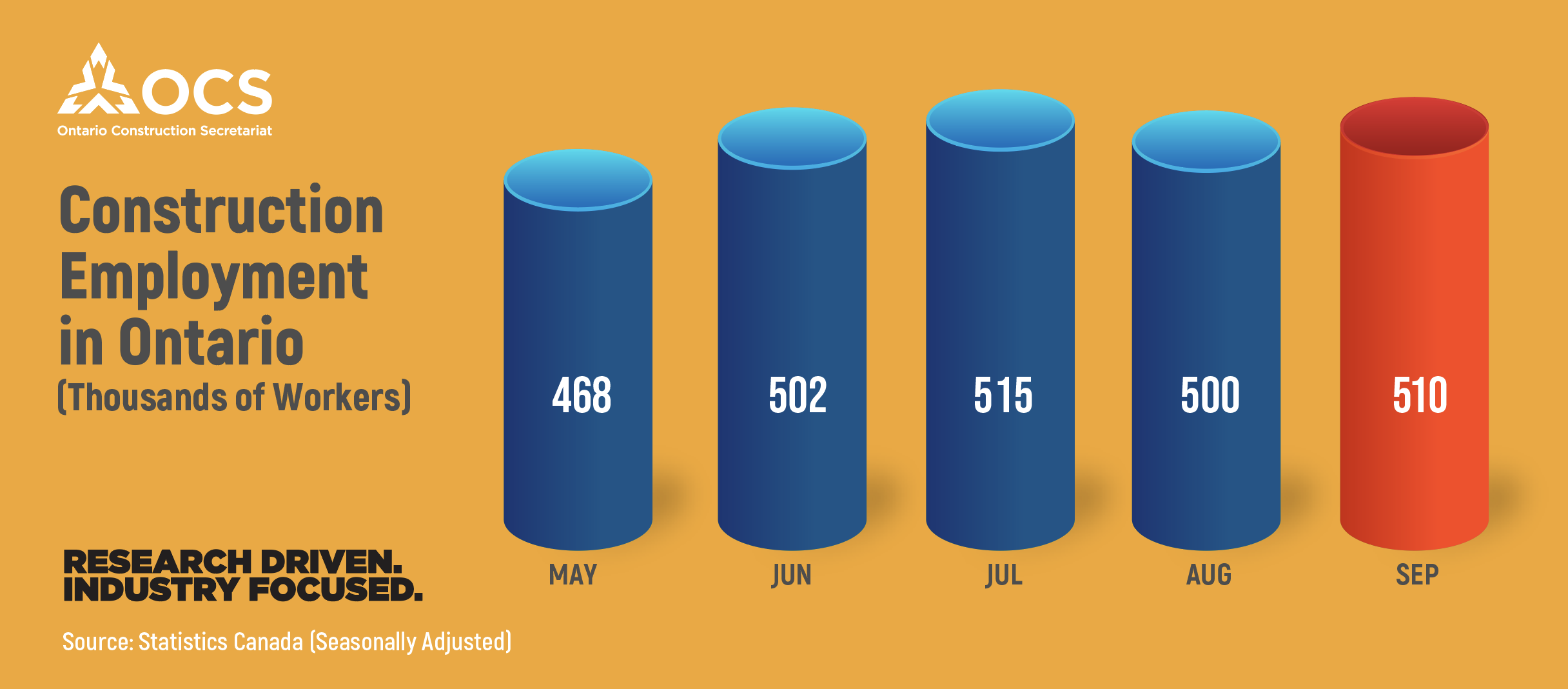 Unemployment Rate Continues to Fall
In September, Ontario's unemployment rate fell for the fourth consecutive month to 9.5%. This is the lowest unemployment rate since March, but still significantly higher than the 2020 low of 5.2% recorded in January.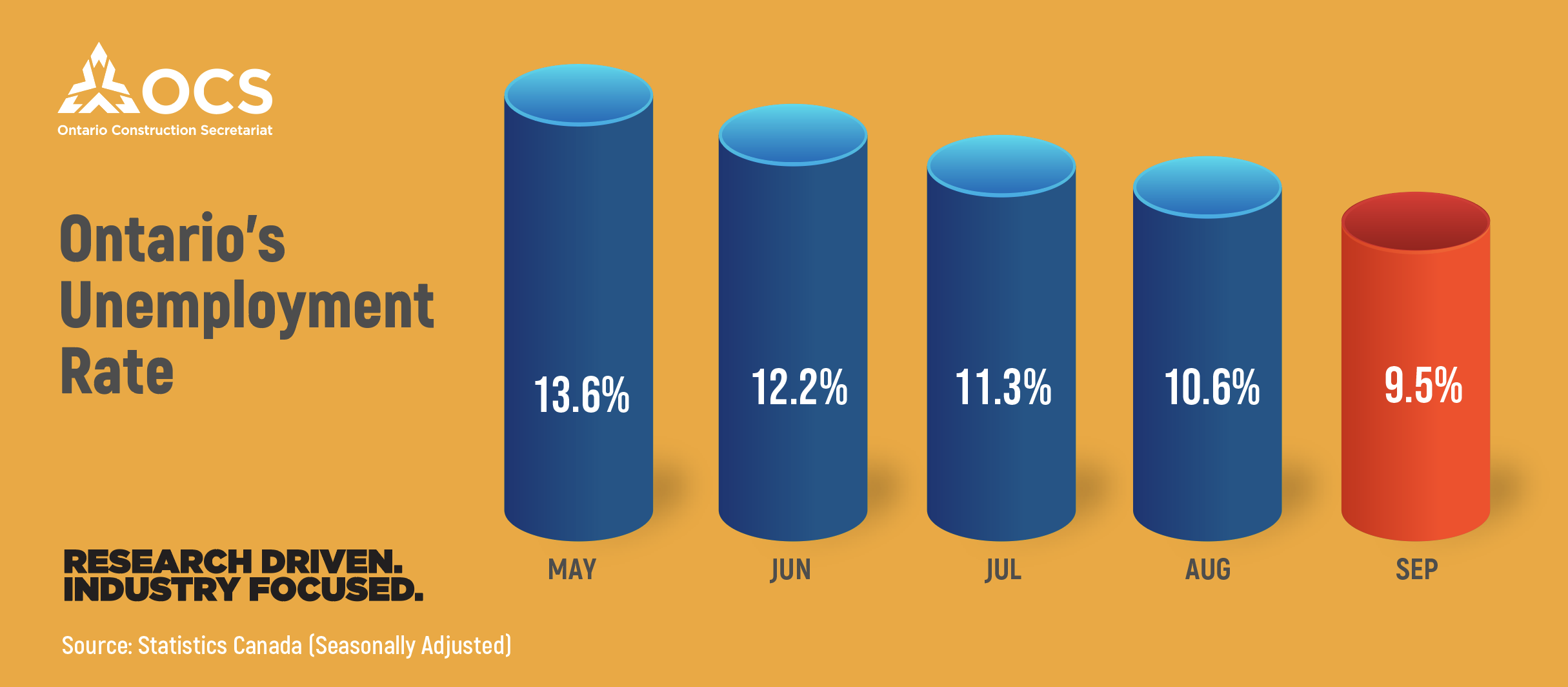 Q2 GDP Fell by about 12% for Both Ontario and Canada
The Ontario Ministry of Finance reported recently that the province's GDP fell by 12.4% in the second quarter of this year. This is slightly greater than the 11.5% drop in the country as a whole reported by Statistics Canada. Ontario's and Canada's GDPs fell by 1.8% and 2.1% respectively in the first quarter of 2020.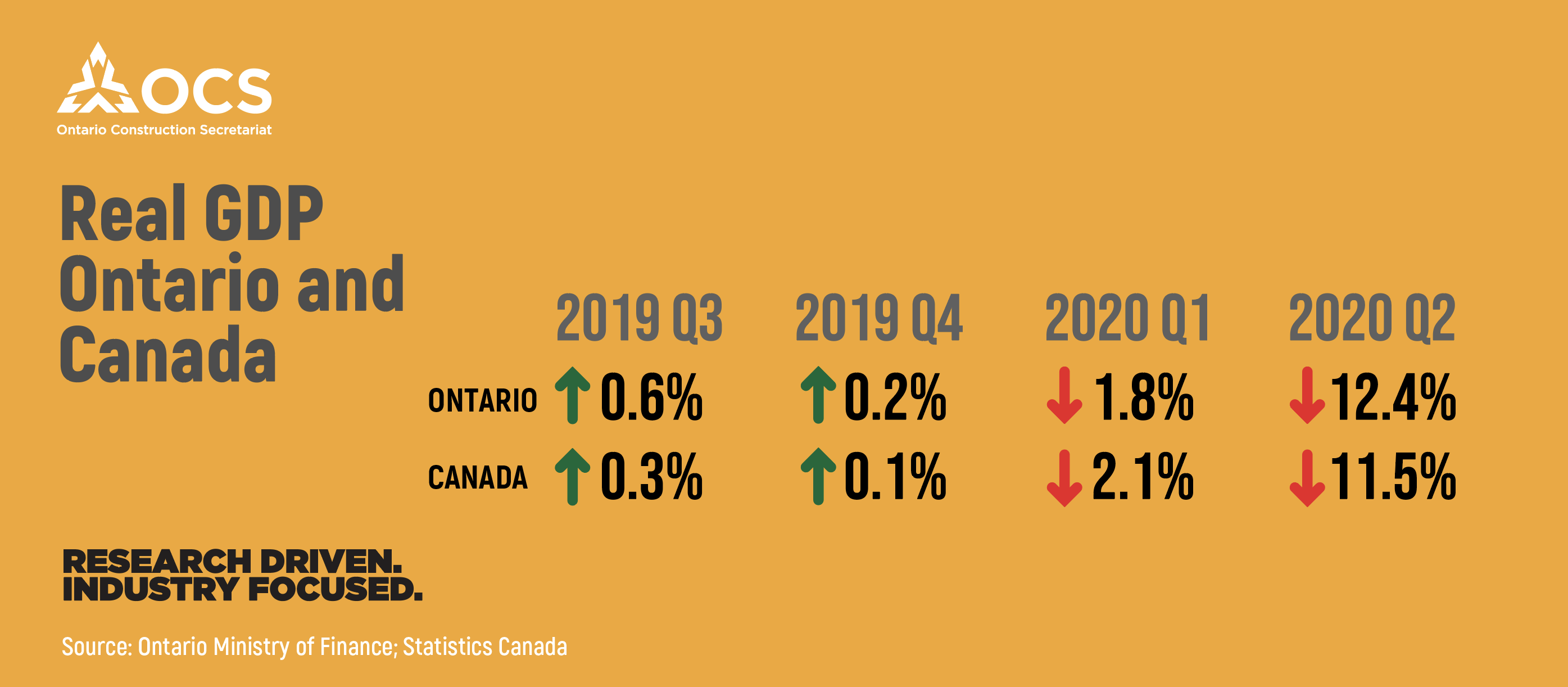 FOR MORE INFORMATION, CONTACT US.