---
April 15, 2021
Two sets of information released last week have helped to create a clearer picture of the ICI construction investment outlook in Ontario.
Statistics Canada has released new Investment in Building Construction data, which shows that ICI investment in Ontario increased for the fourth consecutive month in February. ICI investment in the province amounted to $1.89 billion in February, up slightly from $1.87 billion in January.
Investment has consistently increased month-over-month in both the commercial and industrial sectors in every month since October 2020. Over the same period, institutional investment has fallen slightly in every month.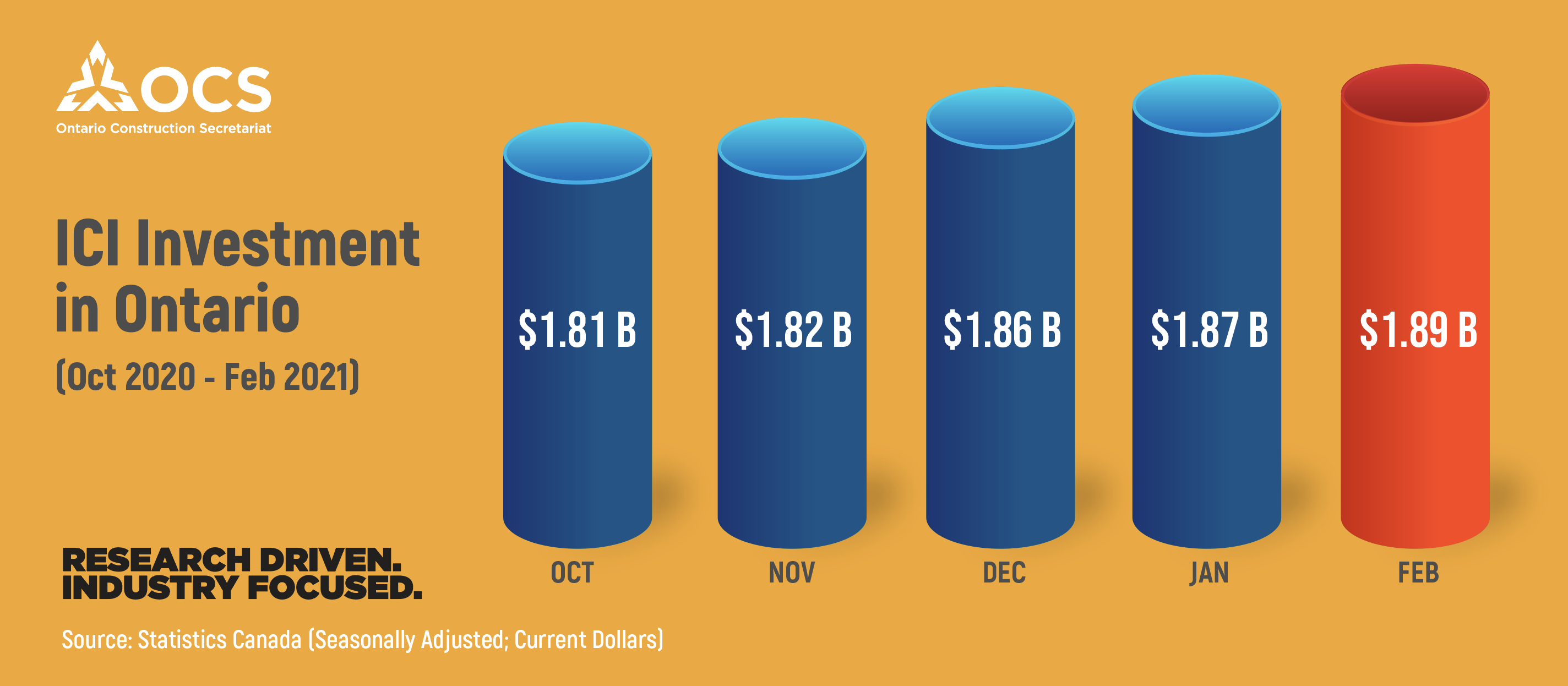 Looking at year-to-date investment, ICI investment in the January-February period 2021 is down by less than 2% compared to the first two months of last year. In January-February 2020 ICI investment amounted to $3.83 billion, while it totalled $3.76 billion over the same period this year. Investment is down by 11.8% in the industrial sector so far this year, and institutional sector investment has declined by 5.3%. In the commercial sector, investment in the January-February period has increased by 2.8%. While commercial investment is up so far this year, commercial permit values are down as reported earlier this month.

Also last week, Infrastructure Ontario released its April 2021 Market Update, the agency's quarterly report detailing the status of its project pipeline. Currently, IO's pipeline consists of 14 projects in active procurement, 27 in pre-procurement, and 12 in the planning stage. The most significant updates to the project pipeline are a series of healthcare projects added to the pre-procurement and planning stages.
Three projects have been added to the pipeline in the pre-procurement stage:
Collingwood General and Marine Hospital Redevelopment
Hotel-Dieu Grace Healthcare Mental Health Inpatient Bed Expansion
Children's Hospital of Eastern Ontario Integrated Treatment Centre (1Door4Care)
A further three projects have been added in the planning stage:
Children's Treatment Centre of Chatham-Kent
London Health Sciences Centre – Stem Cell Transplant Expansion
South Bruce Grey Health Centre – Kincardine Site Phase 1 Redevelopment Project
The following healthcare and transit projects are scheduled to issue RFQ in 2021:
Niagara Health – New South Niagara Hospital Project (RFQ Issued February 2021)
Kingston Health Sciences Centre – Kingston General Hospital Redevelopment (Fall 2021)
Trillium Health Partners Broader Redevelopment – Queensway Health Centre (Fall 2021)
Centre for Addiction and Mental Health – Phase 1D Redevelopment (Fall 2021)
Scarborough Subway Extension – Stations, Railway, Systems (Spring/Summer 2021)
Yonge North Subway Extension (Fall 2021)
IO indicated that two of its three Ontario Line contracts and two of three subway extension projects will go into the market next quarter. Tunneling projects for the Scarborough Subway Extension and Eglinton Crosstown West Extension are expected to be finalized this spring.
Further details can be found in the project pipeline document and Infrastructure Ontario's announcement letter.
_____________________________
FOR MORE INFORMATION, CONTACT:
Katherine Jacobs
Director of Research
Ontario Construction Secretariat (OCS)
180 Attwell Drive, Suite 360, Toronto, ON M9W 6A9
P 416.620.5210 ext. 222
F 416.620.5310
kjacobs@iciconstruction.com