---
June 10, 2021
ICI Investment Reaches 10-Month High in April
Today, Statistics Canada published new Investment in Building Construction data, showing that in April ICI investment in Ontario surpassed $2 billion in a single month for only the second time. This is a striking contrast to April 2020 when Ontario's ICI investment fell to its lowest monthly total since 2016. ICI investment in Ontario increased by 2% in April over March, and ICI investment has also increased in every month since September.
Year to date, ICI investment in Ontario is up by 7.8% compared to the same period in 2020, although this is largely due to increased commercial investment in Ottawa. Overall, in Ontario, commercial investment was up by 16.8% in the January-April period, while industrial investment was down by 4.5% and institutional down by 3.0%.

As discussed in last month's investment update, Ottawa has seen significantly increased ICI investment in the past few quarters. This continued into April, with ICI investment amounting to about a quarter of a billion dollars in Ottawa for the fifth consecutive month. Overall in the January-April period, Ottawa's ICI investment more than doubled over the same period last year (+124.9%). ICI investment was up in the January-April period in six other metro areas: Guelph (+15.9%), St. Catharines-Niagara (+14.6%), Brantford (+7.3%), Greater Sudbury (+7.0%), Kingston (+4.6%) and Toronto (+4.0%). In the remaining nine metro areas, ICI investment was down in January-April year-over-year: Hamilton (-5.5%), Kitchener-Cambridge-Waterloo (-8.0%), London (-13.5%), Windsor (-15.0%), Oshawa (-17.3%), Peterborough (-27.7%), Barrie (-30.5%), Belleville (-32.6%), Thunder Bay (-47.8%).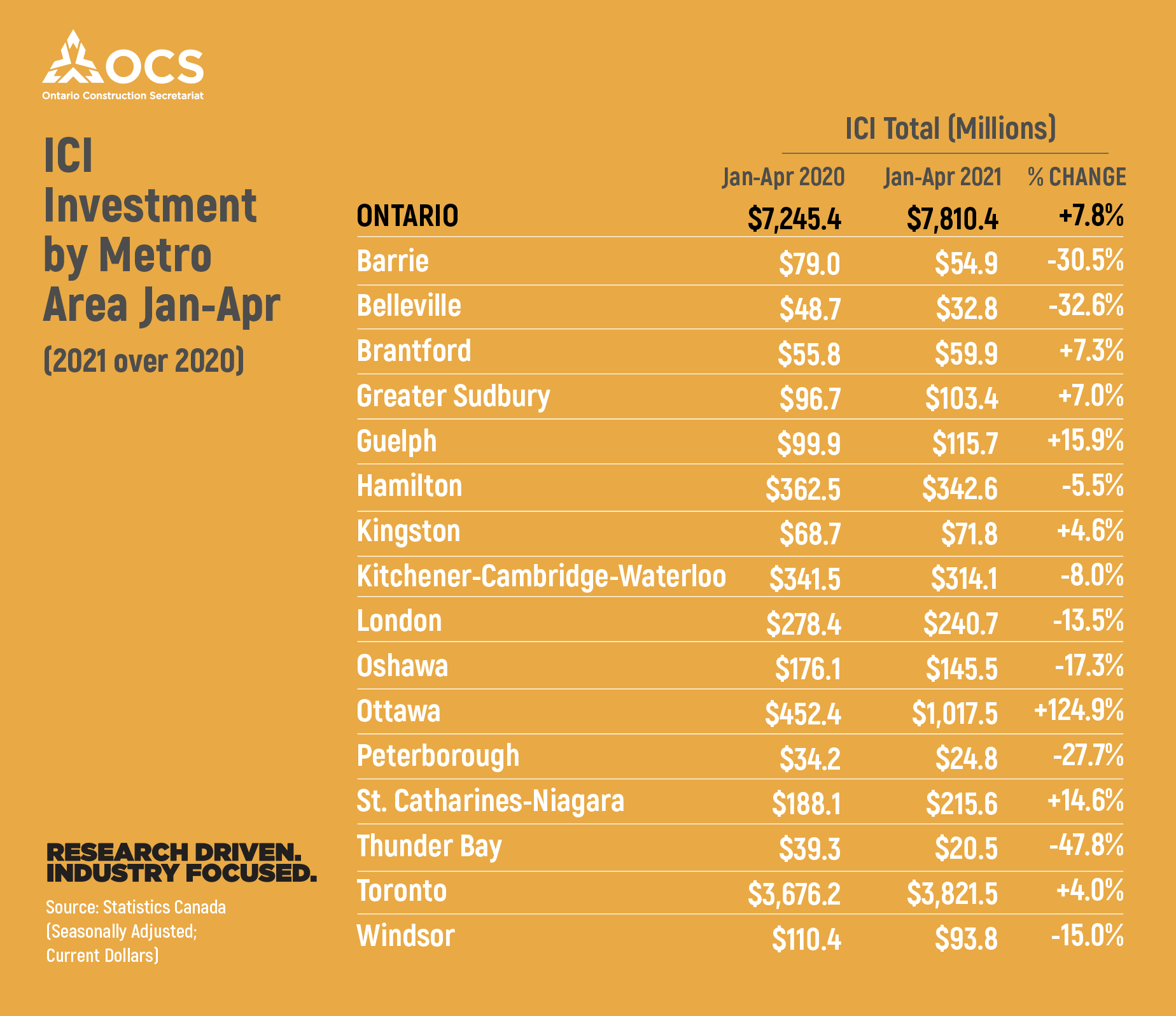 No New Projects in IO Market Update, but Hamilton LRT Placed on Projects in Planning List
Infrastructure Ontario released its latest Market Update today, showing some new information on the procurement process for several projects. The Hamilton LRT project has been added to IO's list of Projects in Planning, which means that it is early in the planning process and "details including delivery model, timing and scope are still being determined." Infrastructure Ontario did not announce any new projects in the Market Update.
Construction Employment Fell in May After Government Implemented New Restrictions
Statistics Canada's latest employment numbers show that there were 13,600 fewer construction jobs in Ontario in May compared to April, a decline of 2.5%. With 527,800 employed in the construction industry, May's employment level was the lowest in the province in seven months, although only 1% off the next lowest month, February. This drop-off in construction employment has been attributed to the strengthening of public health restrictions that went into effect in Ontario on April 17. As reported last month, these restrictions would not likely been captured by April's employment data, hence the drop-off appearing in May's data.
Ontario's general unemployment rate rose to 9.3% in May. This is the highest unemployment rate since January (10.2%), although only slightly higher than February (9.2%) and April (9.0%). The lowest unemployment rate so far in 2021 was in March (7.5%).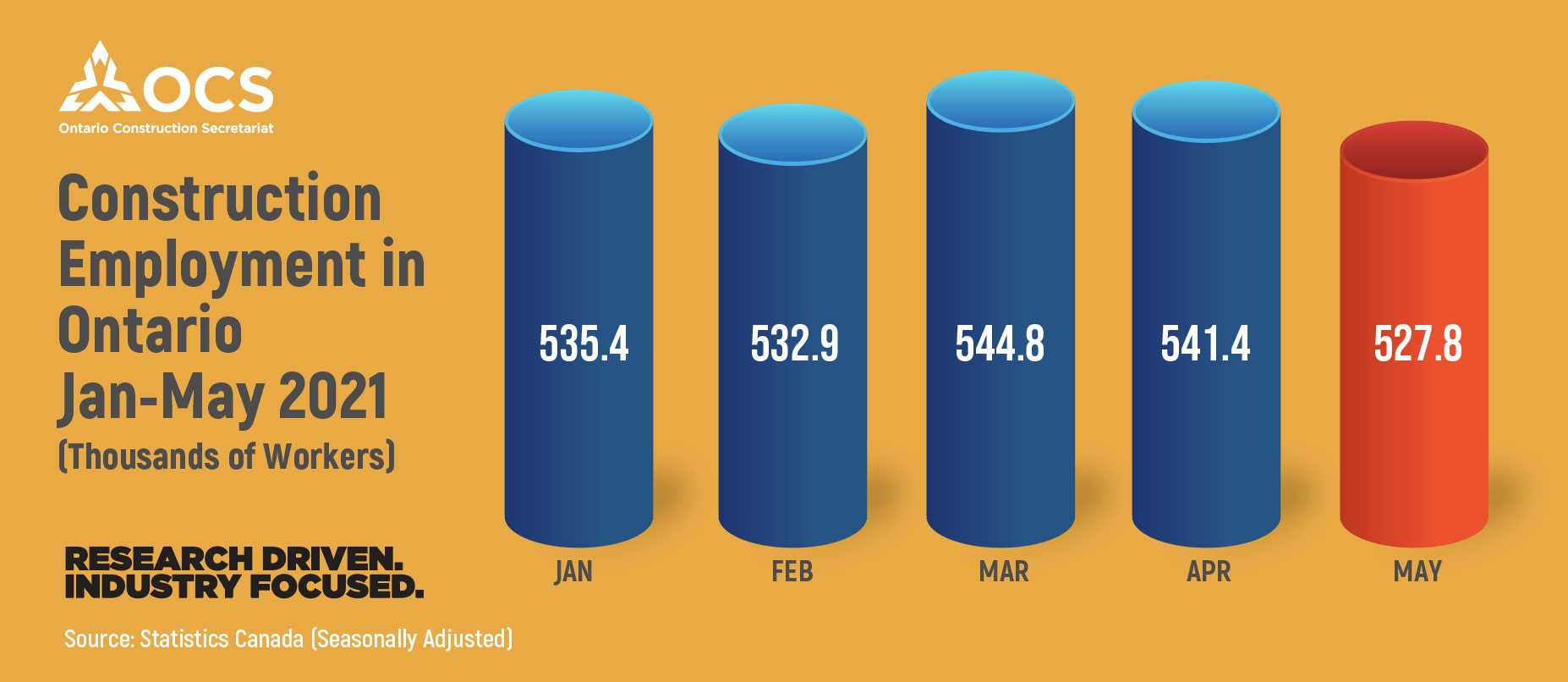 _____________________________
FOR MORE INFORMATION, CONTACT:
Katherine Jacobs
Director of Research
Ontario Construction Secretariat (OCS)
180 Attwell Drive, Suite 360, Toronto, ON M9W 6A9
P 416.620.5210 ext. 222
F 416.620.5310
kjacobs@iciconstruction.com