---
February 4, 2022
This week, Statistics Canada released building permit data for December, allowing us to assess building permit activity in Ontario for 2021 as a whole. ICI permit values in Ontario ended 2021 at an all-time annual high at $15.9 billion, just edging past the previous high from 2019. ICI permit values increased by 8.0% compared to 2020 (+$1.18 billion).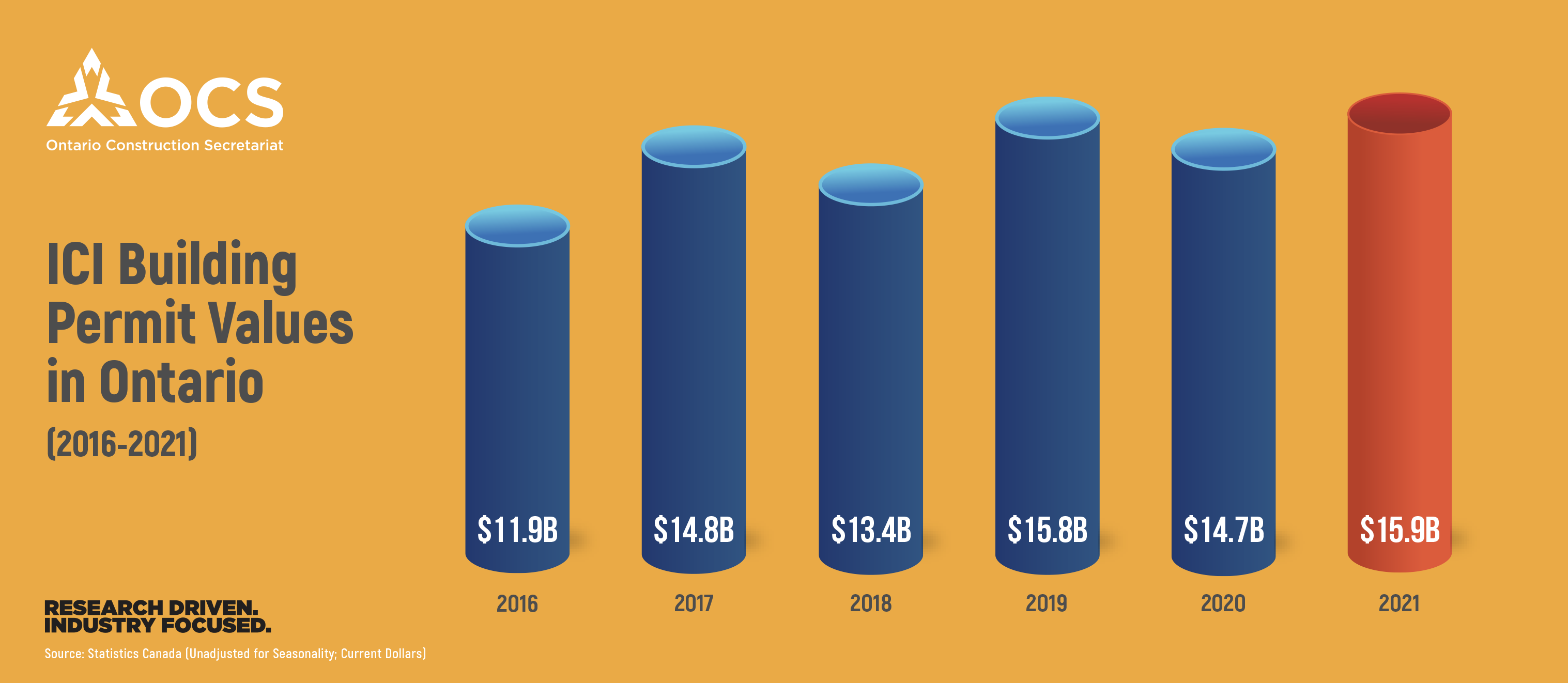 Permit values increased overall in 2021 in all three ICI sectors in Ontario. Industrial permit values increased by 20.7% (+$578 million) compared to 2020, while institutional permit values increased by 14.2% (+$419 million). In the commercial sector, 2021 permit values were up by 2.1% over 2020, an increase of $185 million.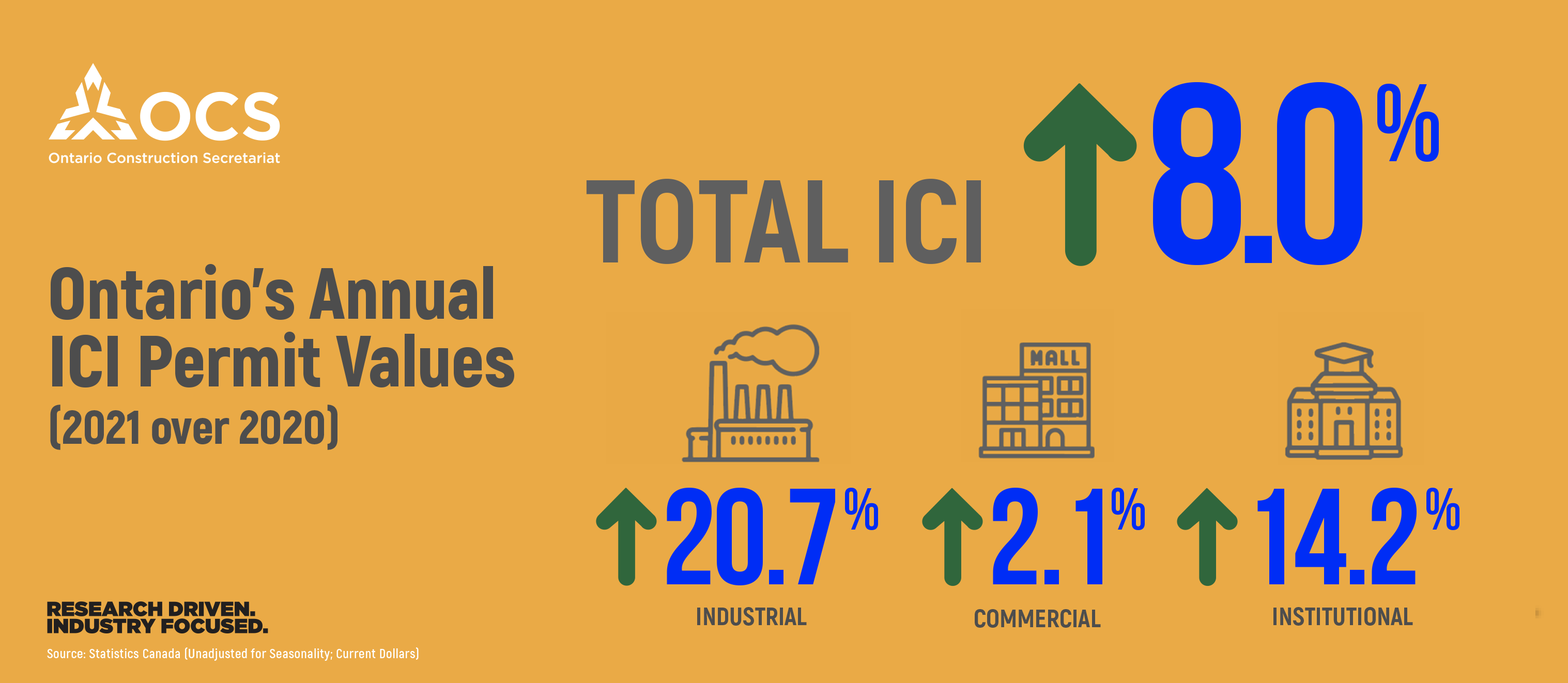 At the metro level, ICI permit values rose in all but five of Ontario's sixteen metro areas in 2021 compared to 2020. Increases in year-over-year permit values were observed in Barrie (+56.2%), Belleville (+37.5%), Guelph (+17.1%), Hamilton (+50.3%), London (+38.2%), Oshawa (+69.1%), Peterborough (+71.3%), St. Catharines-Niagara (+24.8%), Thunder Bay (+154.8), Toronto (+5.3%) and Windsor (+7.9%). ICI permit values declined in 2021 in Brantford (-7.0%), Greater Sudbury (-22.9%), Kingston (-11.3%), Kitchener-Cambridge-Waterloo (-6.6%) and Ottawa (-41.3%).
It should be noted that some of the major increases or decreases at the metro level are knock-on effects of unusual numbers in 2020. For example, Ottawa had a dramatic increase in permit values in 2020 over 2019 because of several major projects, including Project Python. This contributed to the seemingly significant decline in 2021. The inverse was the case in metro areas like Thunder Bay, Peterborough and Belleville.
It should also be noted that Statistics Canada has advised that the building permit data for Barrie, Brantford and Greater Sudbury be used with caution.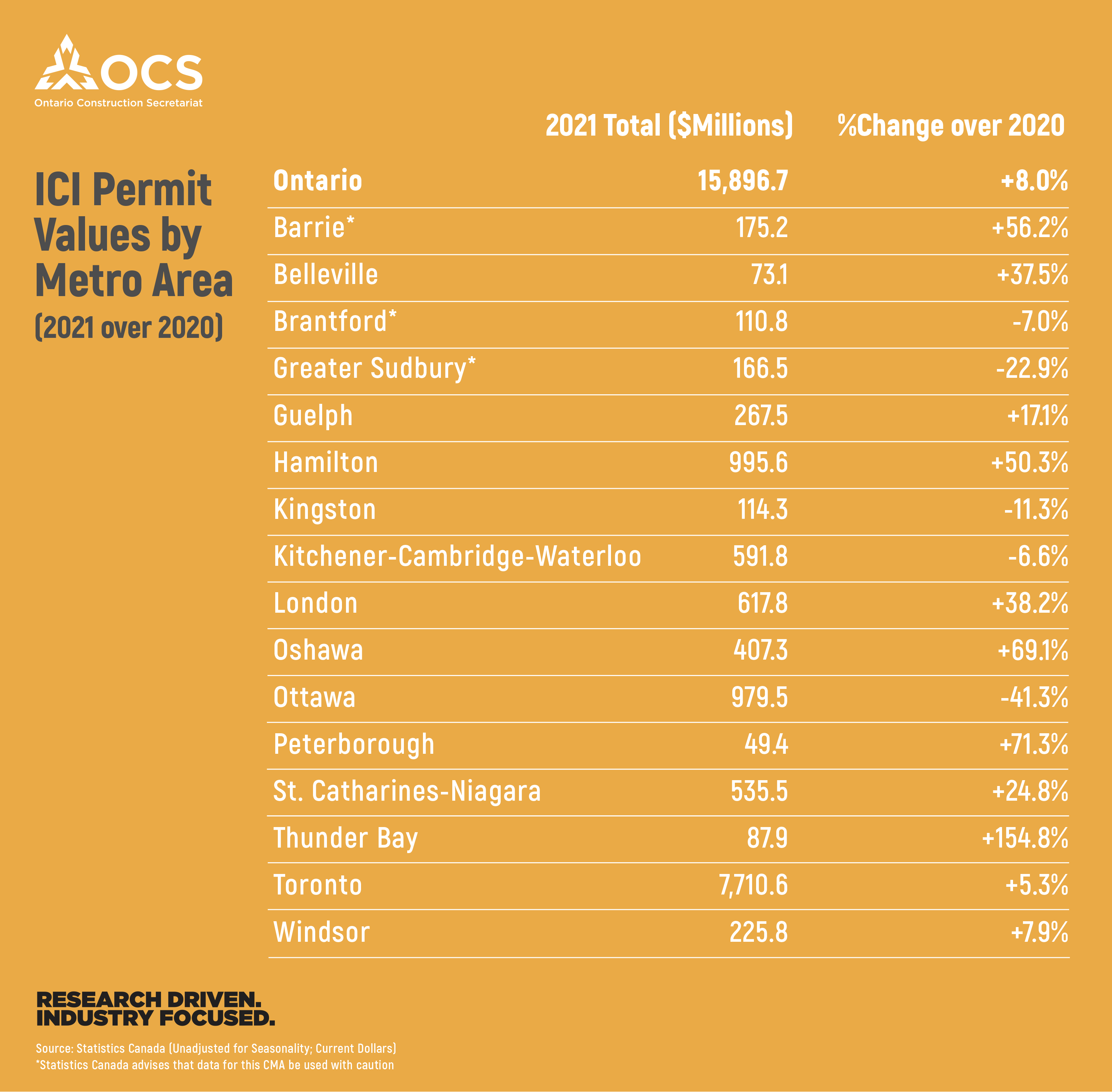 _____________________________
FOR MORE INFORMATION, CONTACT:
Katherine Jacobs
Director of Research
Ontario Construction Secretariat (OCS)
180 Attwell Drive, Suite 360, Toronto, ON M9W 6A9
P 416.620.5210 ext. 222
F 416.620.5310
kjacobs@iciconstruction.com