---
May 11, 2022
Statistics Canada recently released new building permit data and Labour Force Survey data, with both showing positive news for Ontario's ICI sector. Ontario's ICI permit values in March were up by a third (33.3%) compared to February. For the first quarter of 2022 overall, ICI permit values in Ontario amounted to $3.6 billion, an increase of 7.9% compared to last year's first quarter. Ontario's first quarter ICI total was also higher than any first quarter in previous years.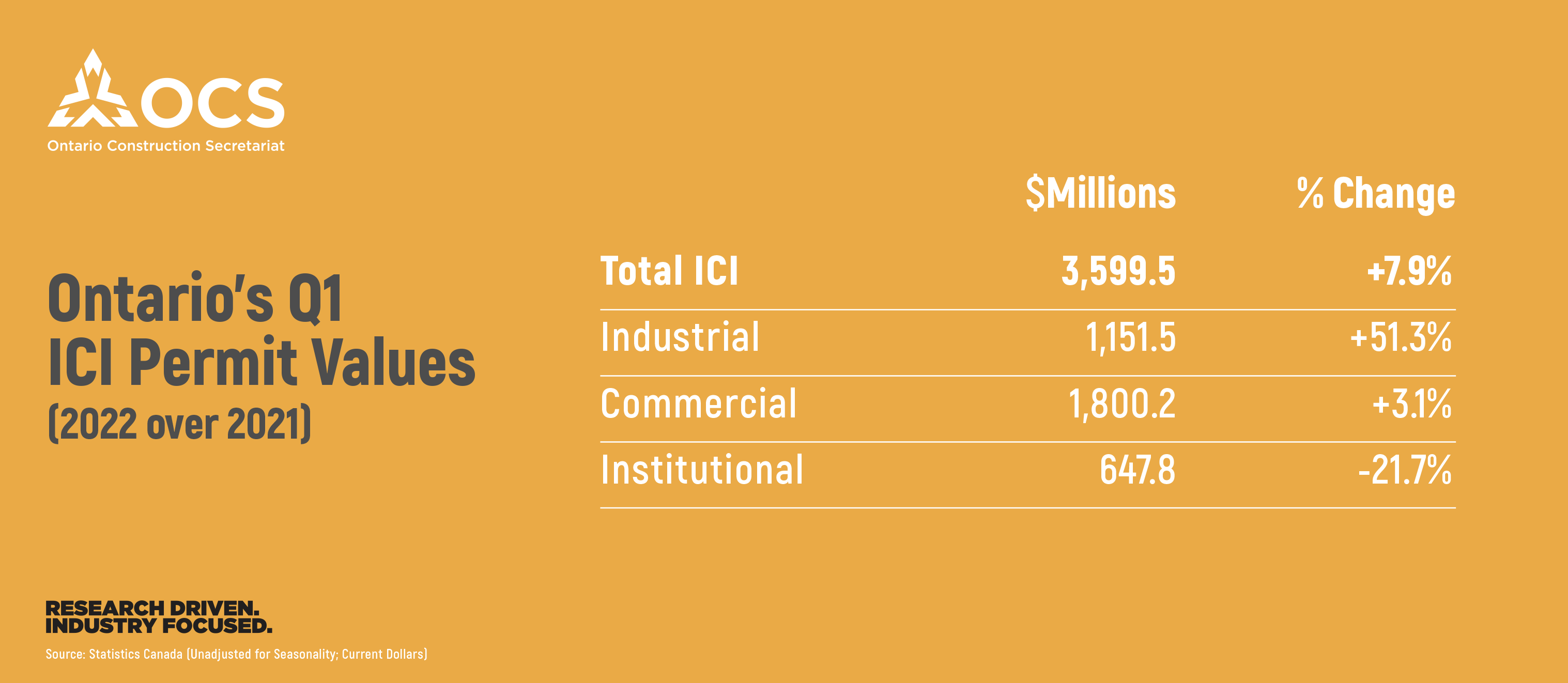 Industrial permit values for the first quarter of 2022 in Ontario were 51.3% higher than in the same quarter of last year, and the Q1 2022 total ($1.15 billion) was greater than any previous quarter in at least the past decade. Institutional permit values fell by 21.7% compared to Q1 2022.
As reported in a previous bulletin, commercial permit values in Ontario were down significantly in the first two months of 2022 relative to the last half of 2021. After a slow start to the year, commercial permit values rose by 24% month-over-month in March. This was the second month-over-month increase in the commercial sector. Furthermore, the March increase lifted Ontario's Q1 commercial permit values to $1.8 billion, 3.1% higher than in the first quarter of 2021.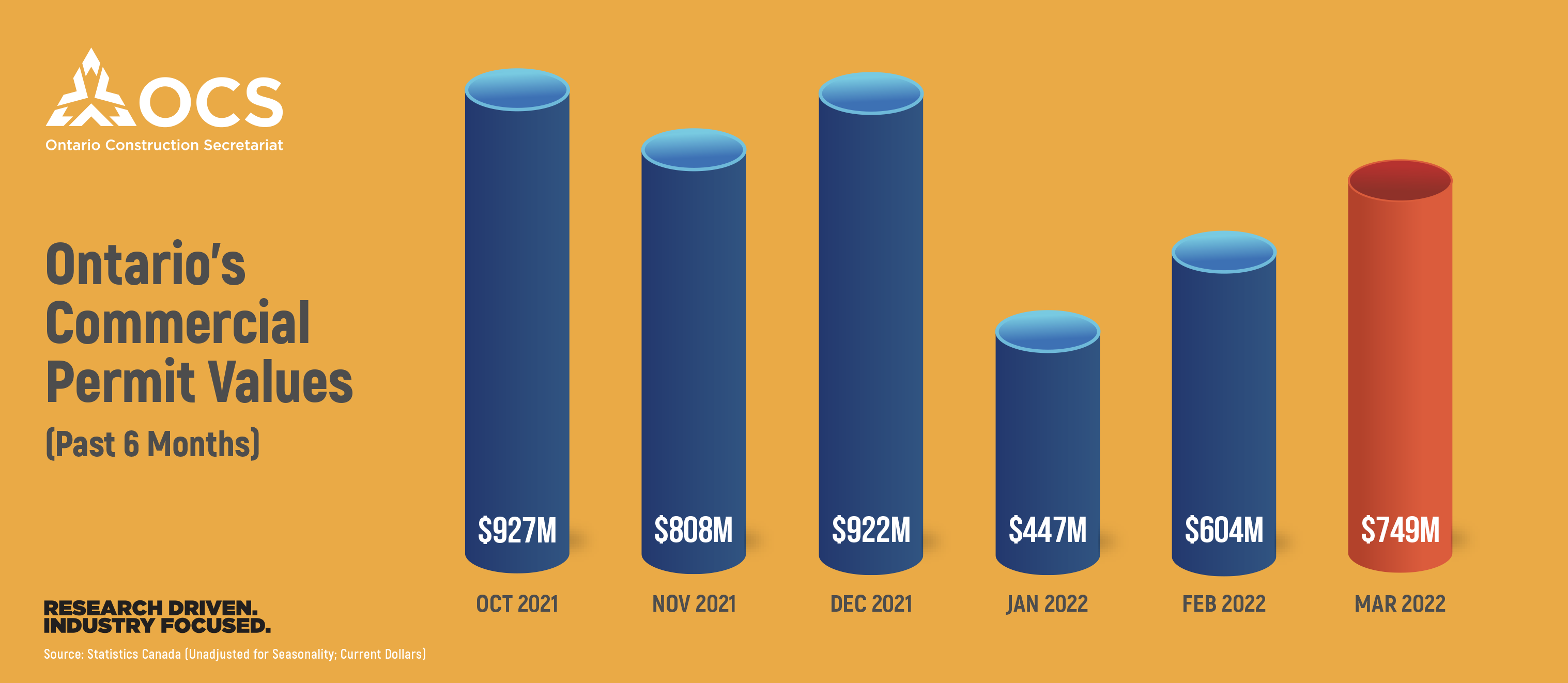 Statistics Canada's latest Labour Force Survey data reveals that the construction industry labour force in Ontario rose to 607,900 in April. This was the first time that Ontario's construction industry labour force surpassed 600,000. Employment in Ontario's construction industry also reached a record high in April, with 575,500 employed overall. The previous high (574,400) occurred in September 2019.
The unemployment rate in Ontario's construction industry fell to 5.3% in April, after spending the first three months of the year unmoved at 6.2%. Ontario's general unemployment rate was 5.5% in April, down from 5.8% in March.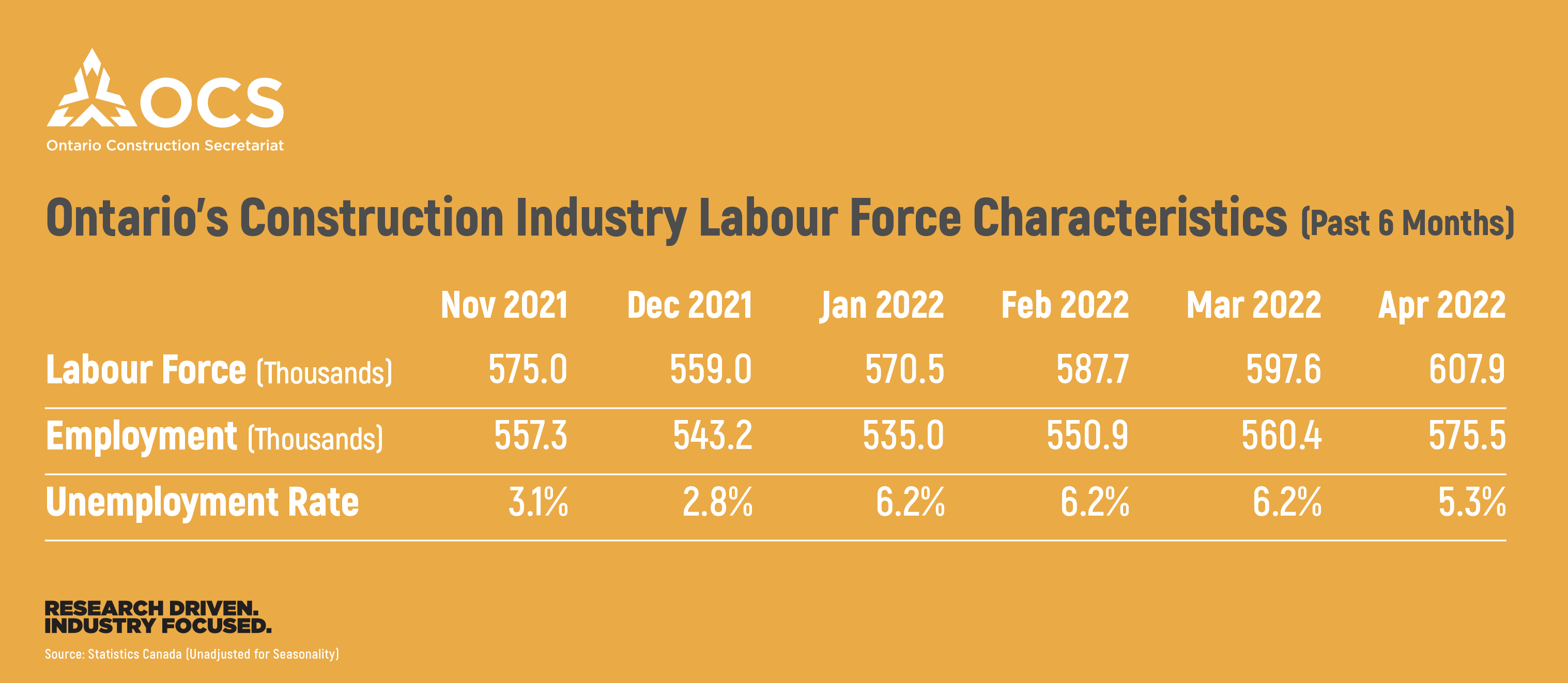 _____________________________
FOR MORE INFORMATION, CONTACT:
Katherine Jacobs
Director of Research
Ontario Construction Secretariat (OCS)
180 Attwell Drive, Suite 360, Toronto, ON M9W 6A9
P 416.620.5210 ext. 222
F 416.620.5310
kjacobs@iciconstruction.com