---
December 7, 2022
Summary: The labour market cooled slightly, but the unemployment rate remains relatively low. Permit values rebounded slightly compared to the decrease seen in September.
Labour
From October to November, the labour force shrank slightly from 608.4 thousand to 601.4 thousand. While this is the lowest level since June, it remains close to the numbers seen in May (601.1 thousand).
Employment also dropped slightly in November, decreasing from 592.1 to 586.5 thousand. While this is the lowest level from June-November, it remains higher than employment numbers from Jan-May.
Despite lower employment, the unemployment rate fell slightly from 2.7 to 2.5% due to the drop in the labour force. Overall, the unemployment rate has been relatively stable since July, but far lower than it was at the start of the year.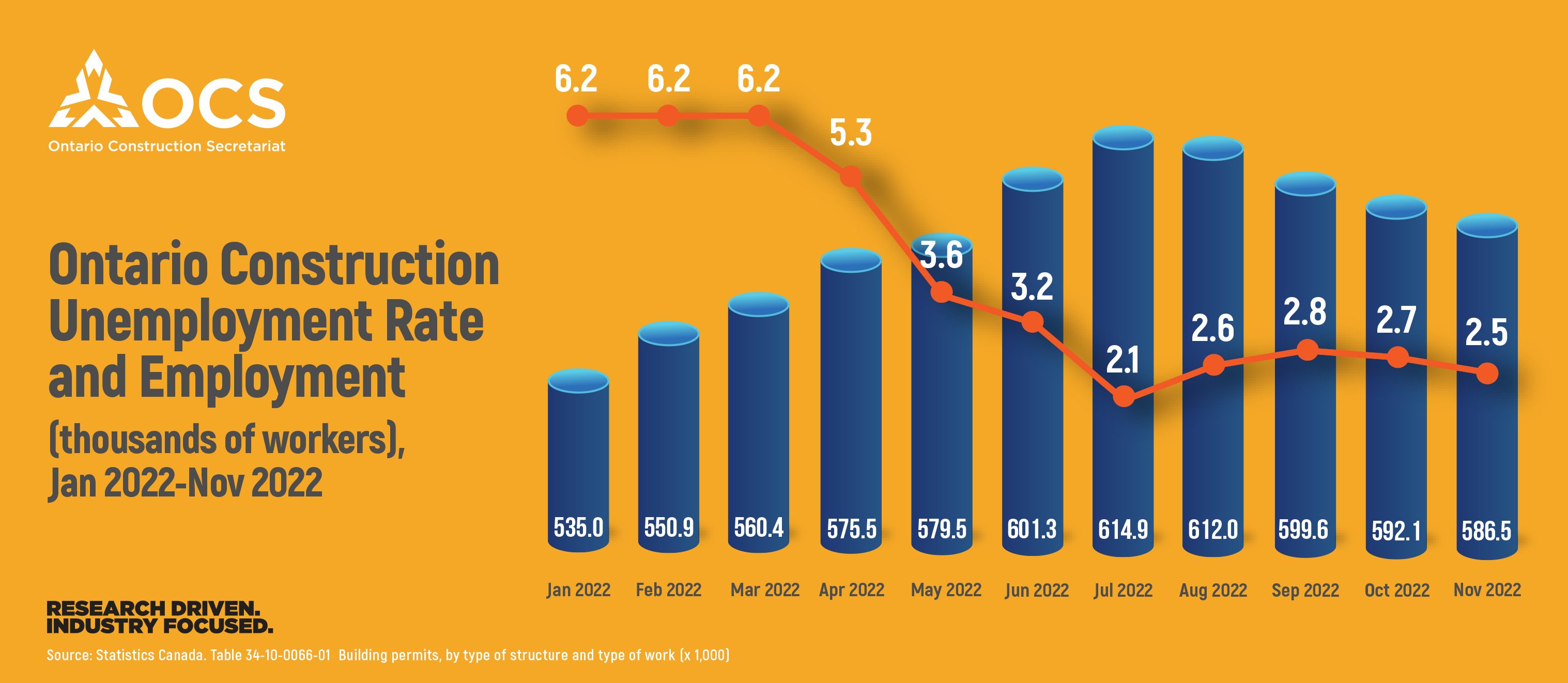 Permits
Building permit values increased from September to October by 46% ($1.08-$1.58 billion). The commercial sector led the way with an increase of 62.9% ($565-$920.2 million); according to Statistics Canada, multiple commercial projects were valued over $20 million. Industrial permit values increased by 31.9% ($331.7-$437.5 million) and this was largely due to a $114 million permit for a sewage project in Erin.  Institutional permit values rose by 21% ($186.6 – $225.9 million).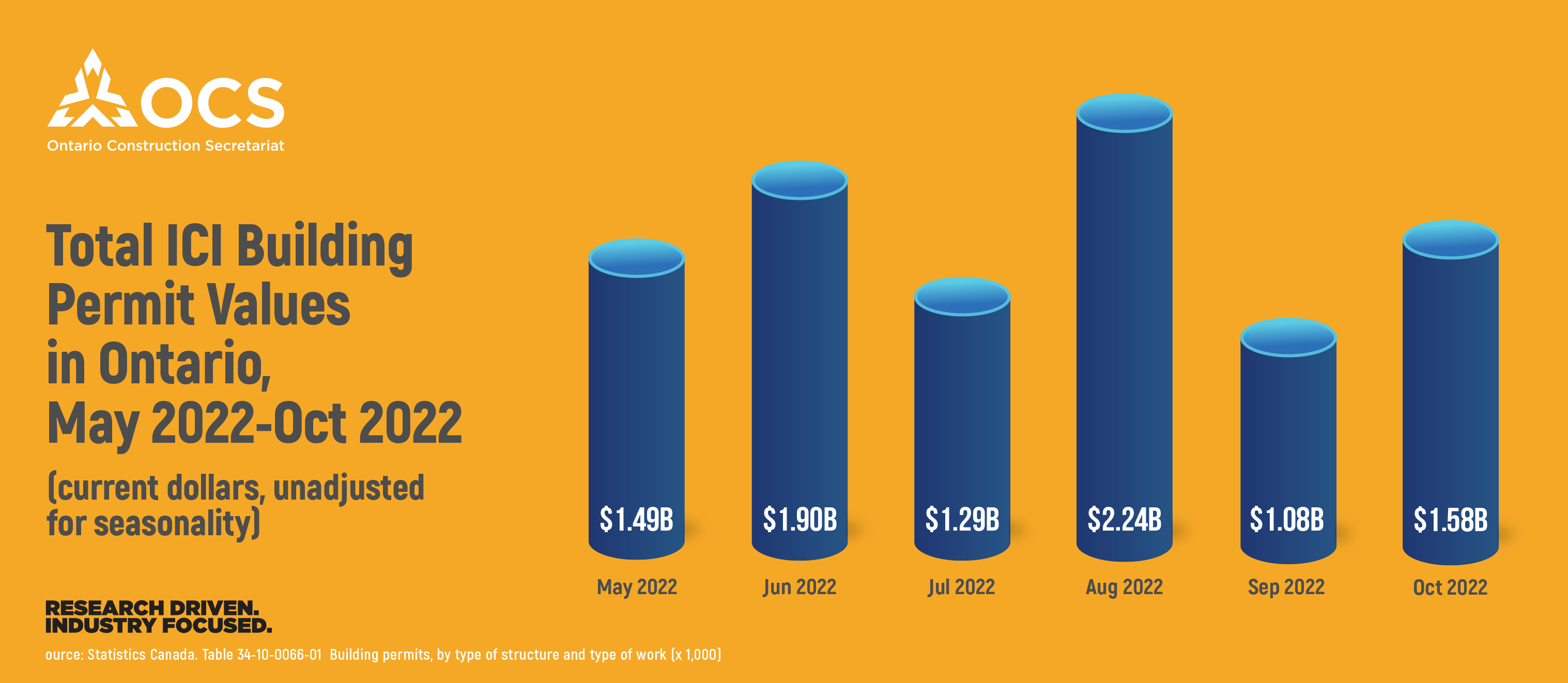 Year-to-Date (YTD)
Building permit values in the industrial sector were higher in January-October 2022 compared to the same timeframe in 2021, whereas YTD commercial and institutional building permit values remained relatively stable.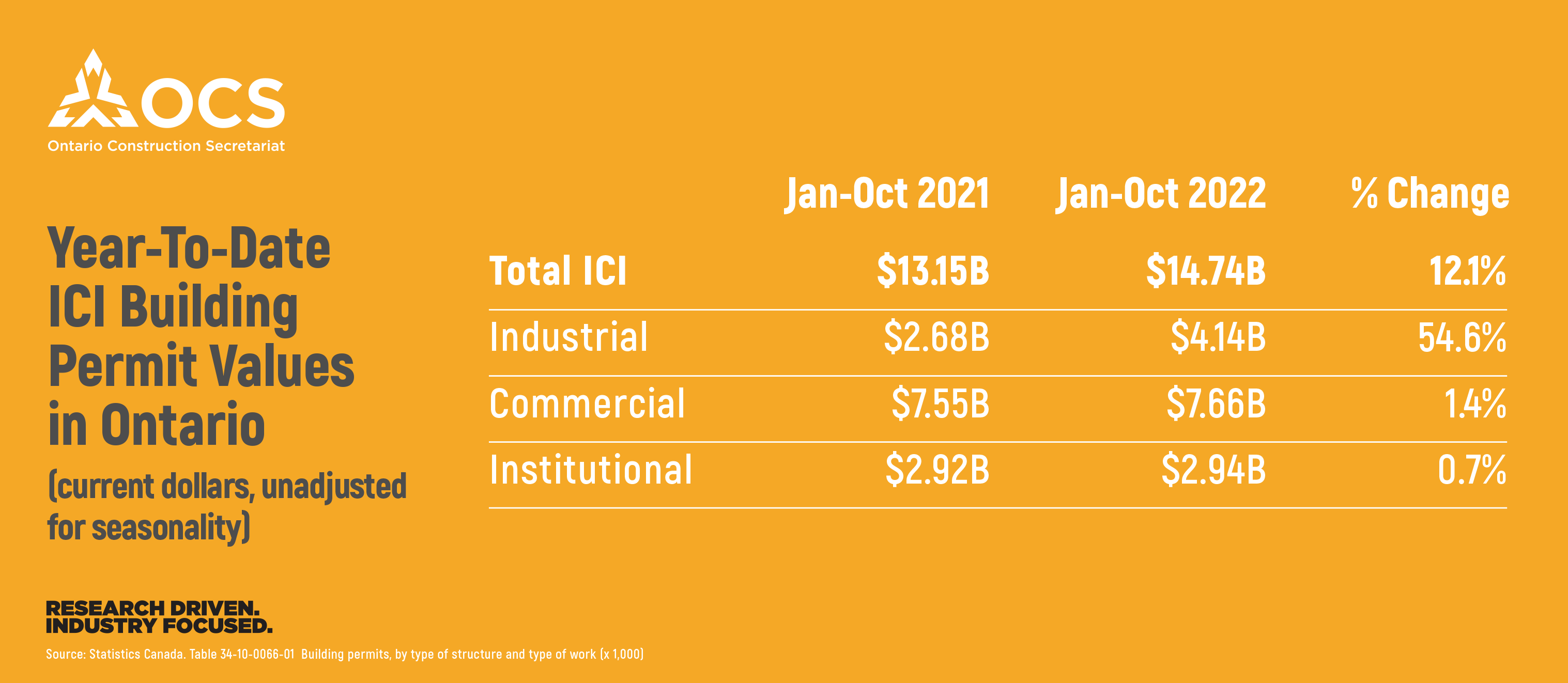 While monthly building permit values rebounded slightly from the decrease experienced in September, YTD values were up 12.1%, led by the industrial sector (up 54.6%). As permits are an indicator of future construction, we may see more upcoming industrial construction compared to last year.
_____________________________
FOR MORE INFORMATION, CONTACT:
Ali Ahmad
Research Analyst
Ontario Construction Secretariat (OCS)
180 Attwell Drive, Suite 360, Toronto, ON M9W 6A9
P 416.620.5210 ext. 222
aahmad@iciconstruction.com