---
April 20, 2023
Inflation has been a significant concern for the economy over the past year and as noted in the 2023 OCS Contractor Survey, material costs remain a prominent concern. This bulletin will take a look at the Consumer Price Index (CPI) and Industrial Product Price Index (IPPI) to track movements in inflation and some material costs.
Ontario Consumer Price Index
In Ontario, consumer price index inflation dropped from 5.1% in February (year-over-year compared to February 2022) to 4.3% in March 2023. This is down significantly from the high of almost 8% in June 2022, and the lowest reading since August 2021 (4%). Part of this drop can be attributed to falling energy prices, which decreased 5.4% year-over-year. This was the largest drop in energy prices in over a year and the first decrease since January 2021 (-4.9%). Excluding food and energy, inflation was still 4.3%. This is down slightly from the 4.5% reported for February, and down from the peak of 5.5% experienced in July 2022.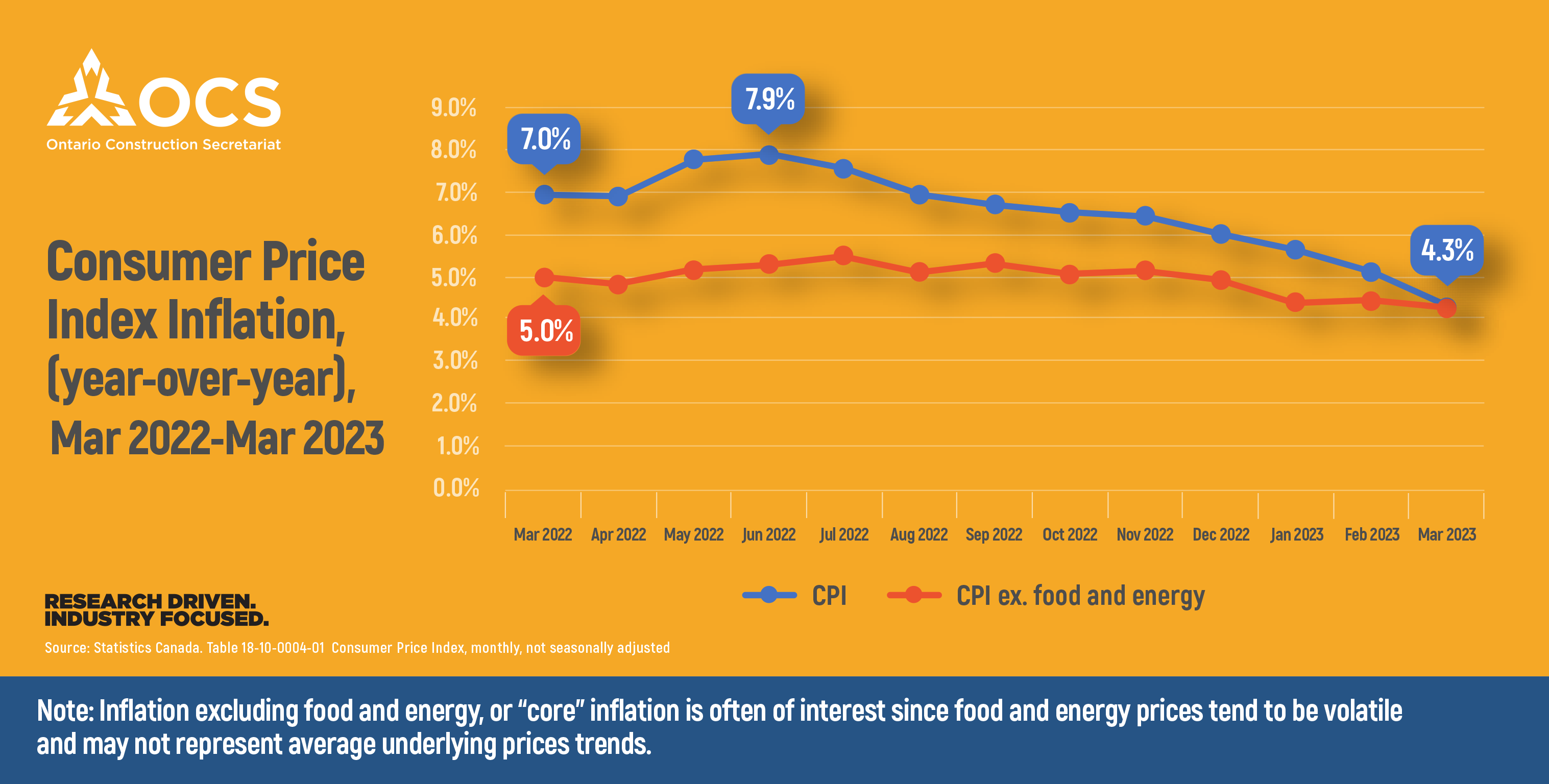 Decreasing Prices
Turning to the industrial product and raw material price index (Canada-wide), energy and petroleum product prices declined 13.4% compared to March 2022, the first decrease since January 2021.  The most significant decrease however was in lumber prices which fell 39.5% compared to March 2022, after already experiencing a 32.6% annual drop in February, and a 30.1% contraction in January; this is the 5th consecutive year-over-year drop in lumber prices.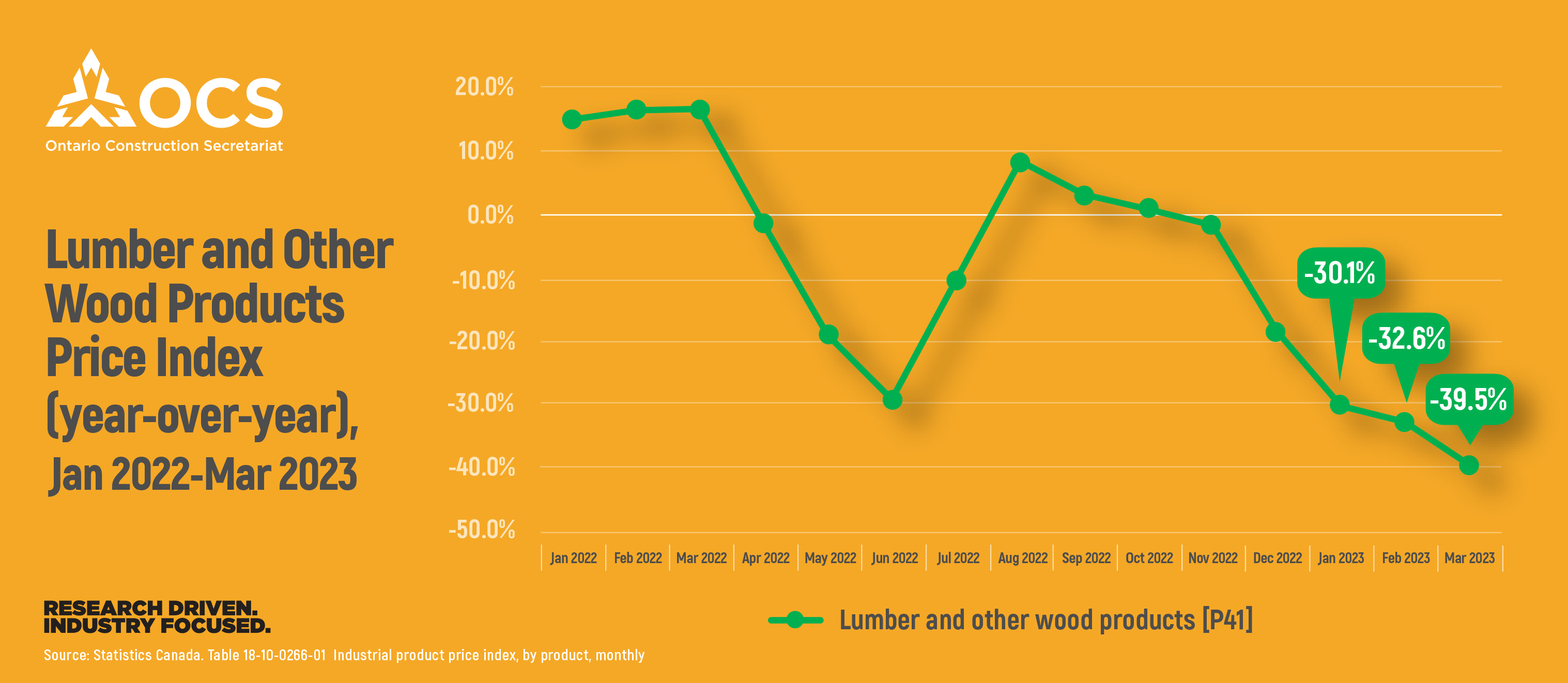 Slowing Prices
Fabricated Metal Products and Construction Materials year-over-year price growth has been slowing; it increased a mild 2%, lower than the 4.8% in February and much lower than changes over the last year (lowest prices increase since January 2021). Packaging Materials and Containers prices also slowed; 5.2% increase in March, down from the 7% in February.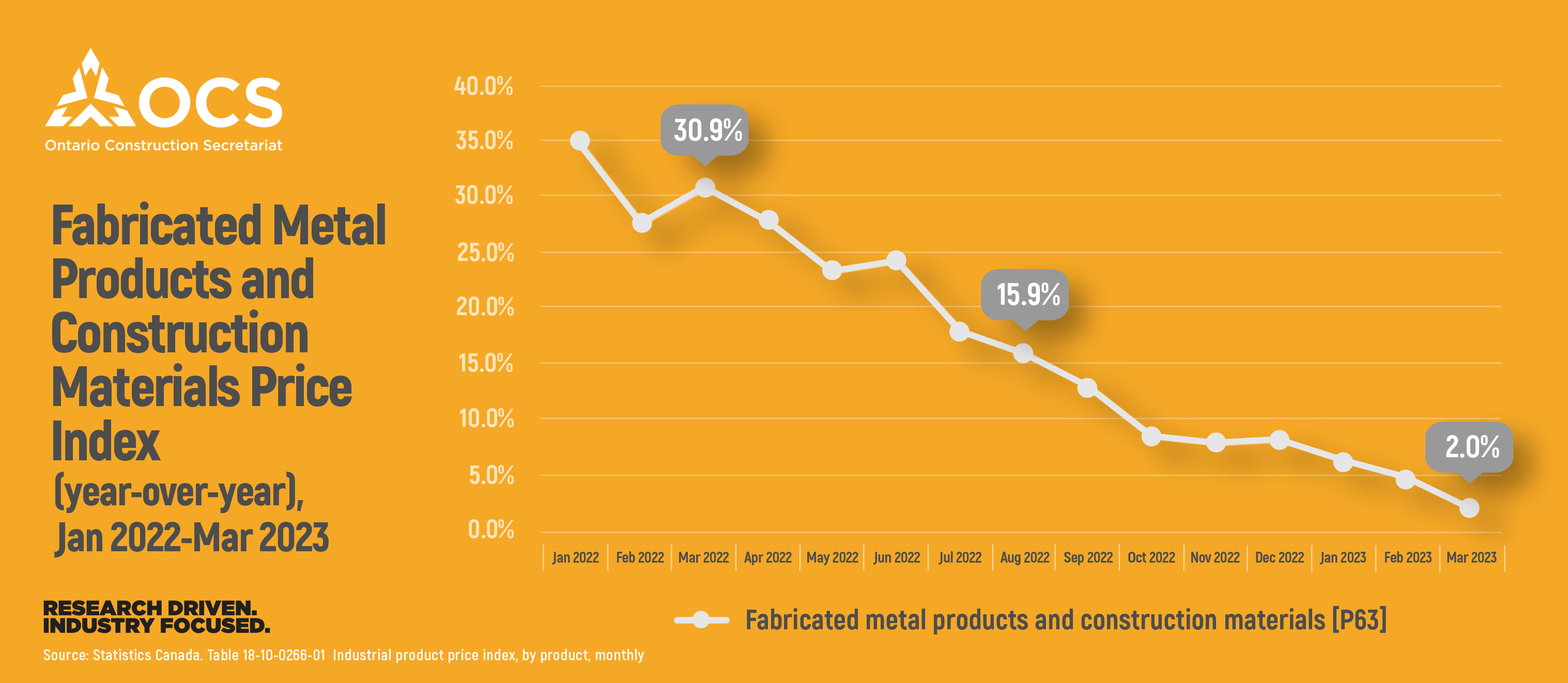 Elevated Prices
Cement, Glass, and other Non-Metallic Mineral Product prices remain elevated compared to early 2021, with a 12.4% annual increase in March, 12.6% in February, and 14.1% in January. Prices in this category have gradually increased as pandemic restrictions eased over the last couple of years. Machinery and Equipment prices are also much higher than the last several years, with a 10% increase in March, and similar levels over the past year.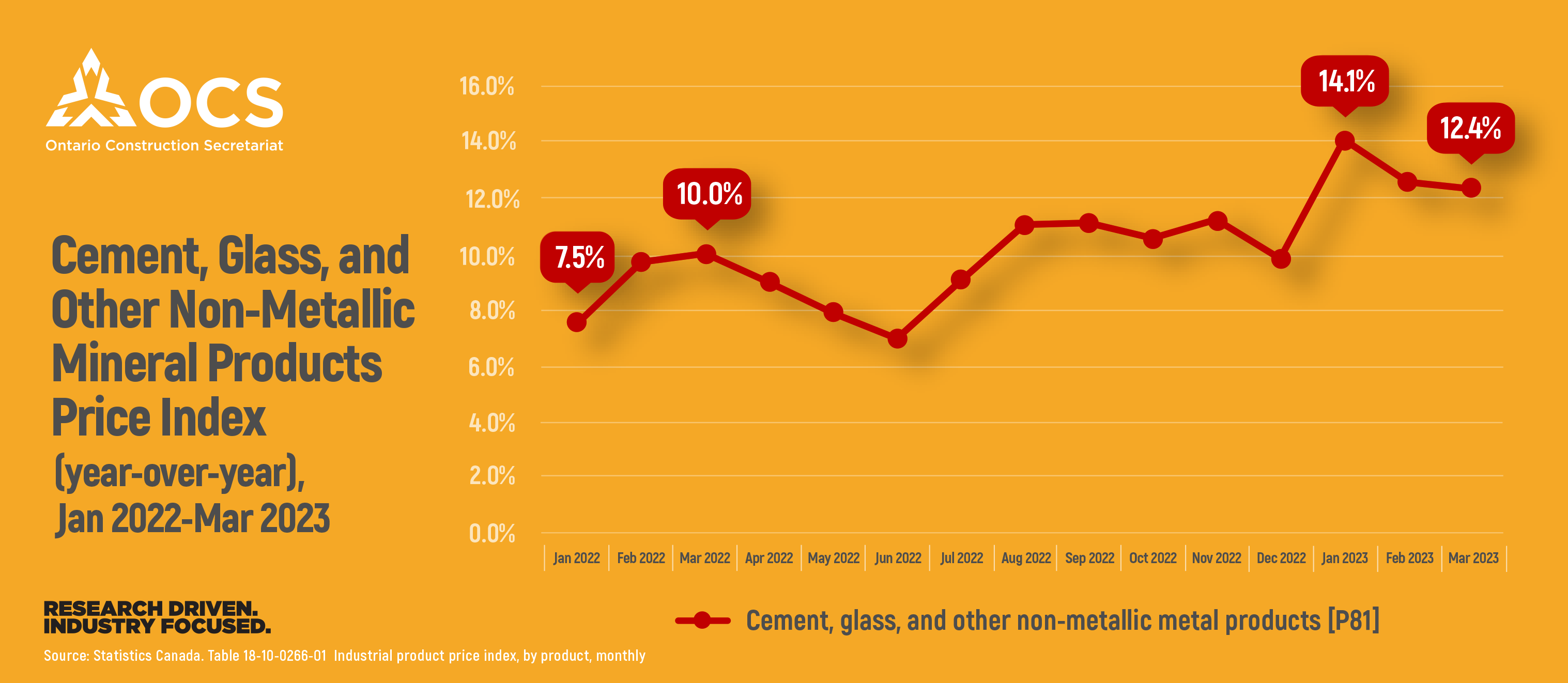 _____________________________
FOR MORE INFORMATION, CONTACT:
Ali Ahmad
Research Analyst
Ontario Construction Secretariat (OCS)
180 Attwell Drive, Suite 360, Toronto, ON M9W 6A9
P 416.620.5210 ext. 222
aahmad@iciconstruction.com