---
October 23, 2023
SUMMARY
Ontario headline inflation decreased from 3.8% in August to 3.6% in September. Inflation excluding food and energy decreased by a larger amount, from 3.6% to 3.2%. Lumber and other wood products continue to experience significant year-over-year price decreases, although at a slower rate than before. Energy and petroleum products inflation was nearly unchanged. Plastic and rubber products inflation fell below 2% for the first time since 2021.
ONTARIO CONSUMER PRICE INDEX
Ontario year-over-year headline inflation decreased from 3.8% in August to 3.6% in September. This was driven largely by falling services inflation, which fell from 4.1% to 3.6%, the lowest reading this year and near the 3.4% from September 2021. Likewise, core inflation also slowed from 3.6% to 3.2% (movements in core inflation are similar to services inflation). Food and energy inflation however, increased from 4.2% to 5.2%. Energy price inflation in particular, spiked up to 4.3% annually, reversing the trend of falling year-over-year prices which occurred from March to August. Goods inflation also increased from 3.5% to 3.7%.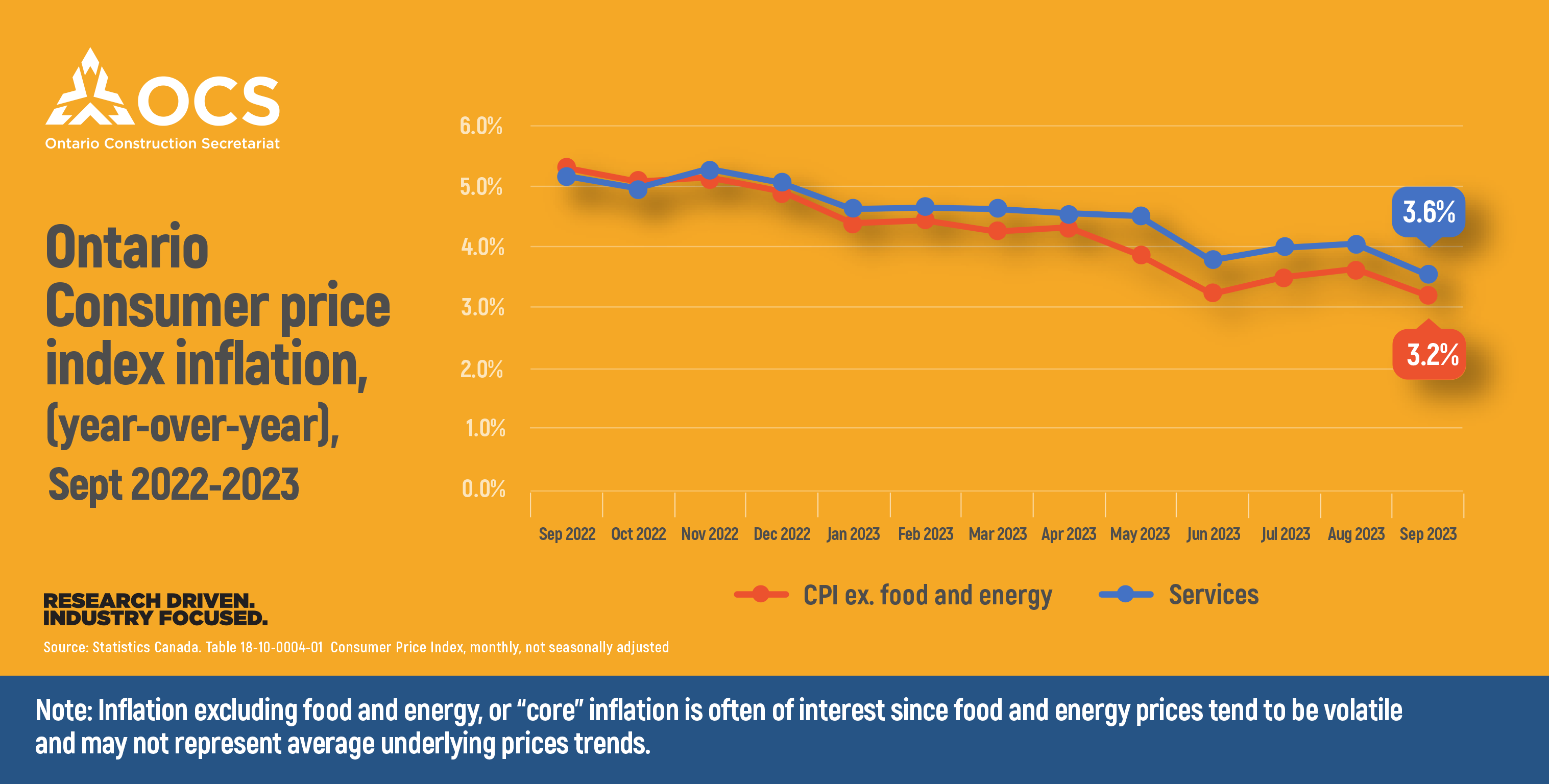 INDUSTRIAL PRODUCT AND RAW MATERIAL PRICE INDEX
Decreasing Prices
Lumber and other wood products inflation was -10.7%, marking the 11th consecutive decrease in year-over-year prices. However, this drop was lower compared to prior months, as price decreases have been slowing down over the course of the year; it was almost -40% y/y in March. Fabricated metal and construction materials inflation was -1.3% annually. This is the 7thconsecutive drop in this category and similar to the -1.5% inflation from August. Energy and petroleum product prices declined 0.8% annually, much lower than the 8.1% year-over-year decrease from August, and far lower than the -33% y/y inflation in June.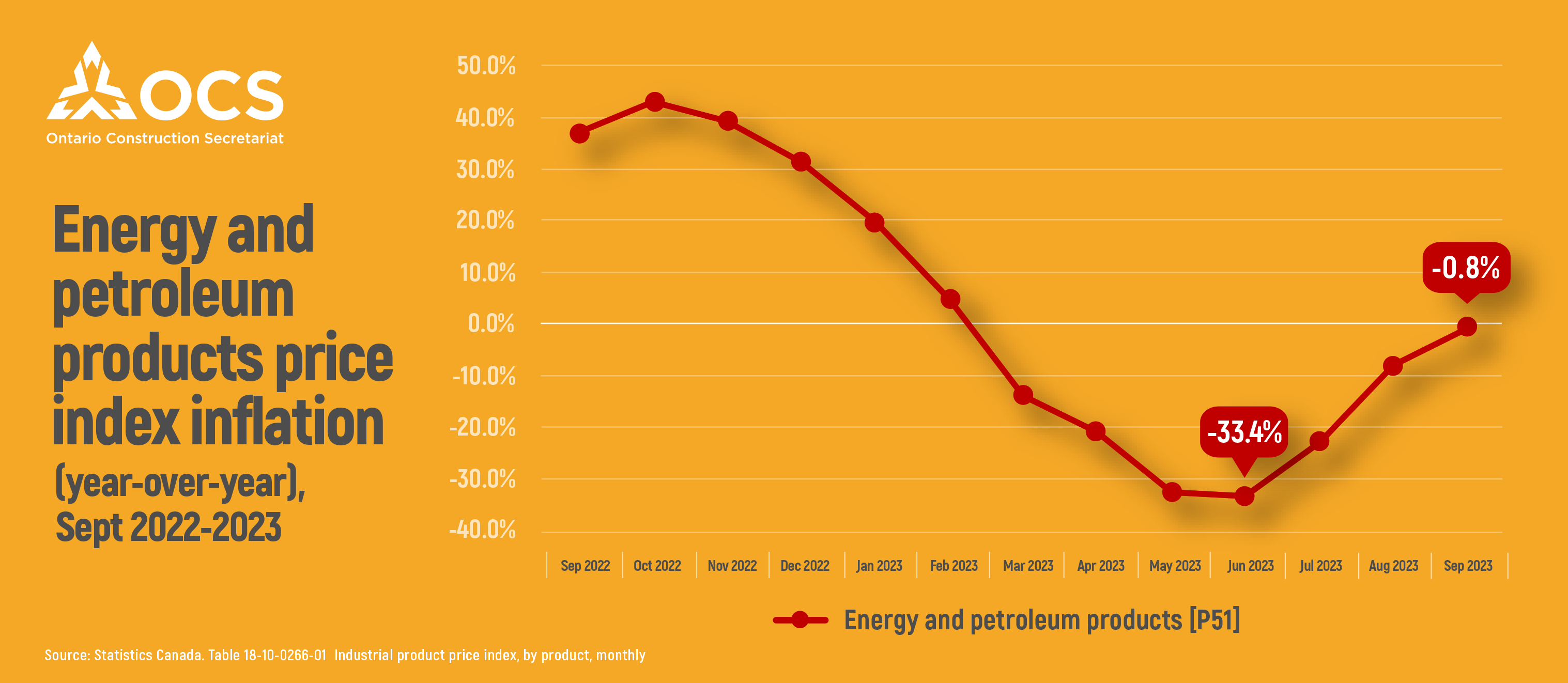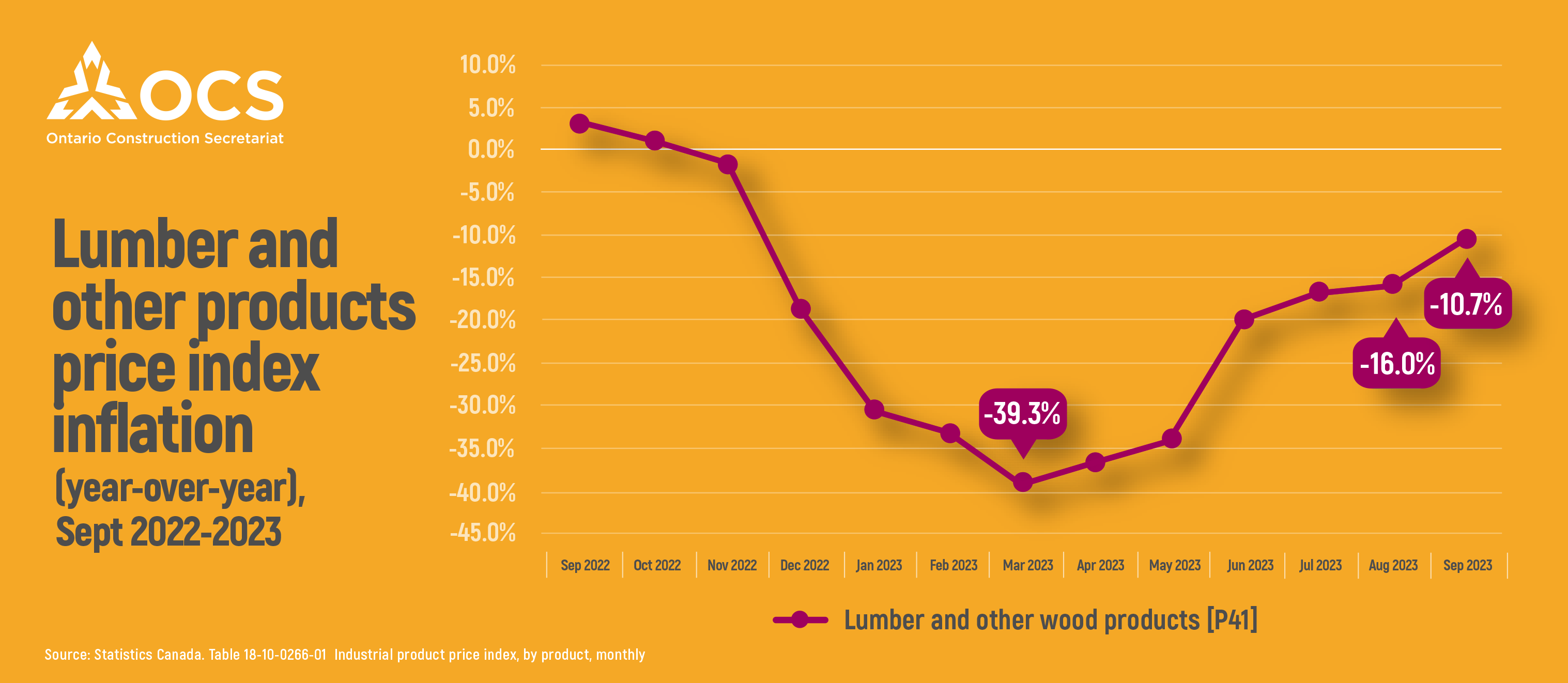 Slowing Prices 
Plastic and rubber product inflation was 1.4%. Inflation in this product category hasn't been this low since April 2021, when it was 1%.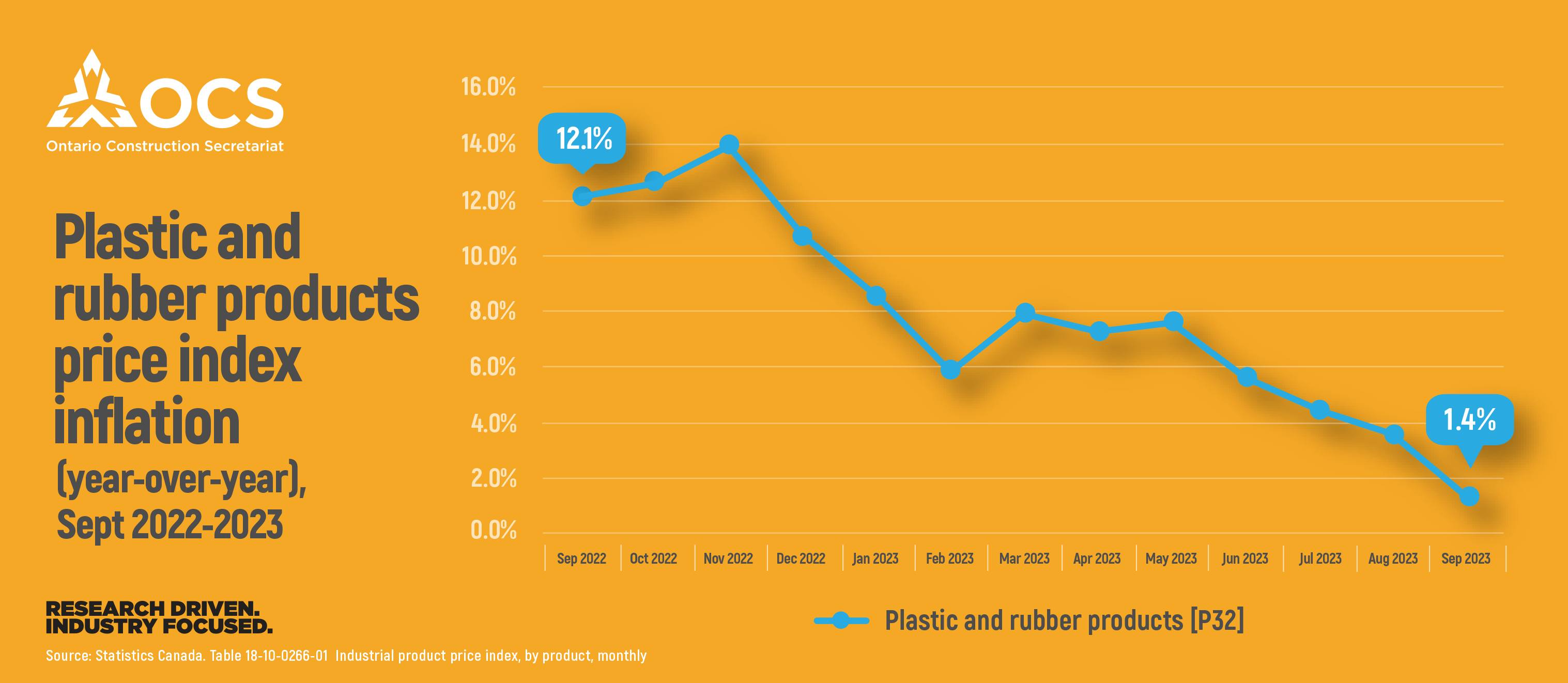 Elevated Prices
Cement, glass, and other non-metallic mineral product inflation remains elevated, with annual price inflation at 9.7% (up from 9.5% in August).


Note: some of the numbers reported in the last price index bulletin have changed due to revisions by Statistics Canada.
_____________________________
FOR MORE INFORMATION, CONTACT:
Ali Ahmad
Research Analyst
Ontario Construction Secretariat (OCS)
180 Attwell Drive, Suite 360, Toronto, ON M9W 6A9
P 416.620.5210 ext. 222
aahmad@iciconstruction.com