---
May 28, 2020
Statistics Canada released April's building permit numbers yesterday, revealing that Ontario's ICI building permit values fell to their lowest monthly total in over three years. The province's ICI permits amounted to $951 million (seasonally adjusted) in April, 23% less than March and 31% less than February.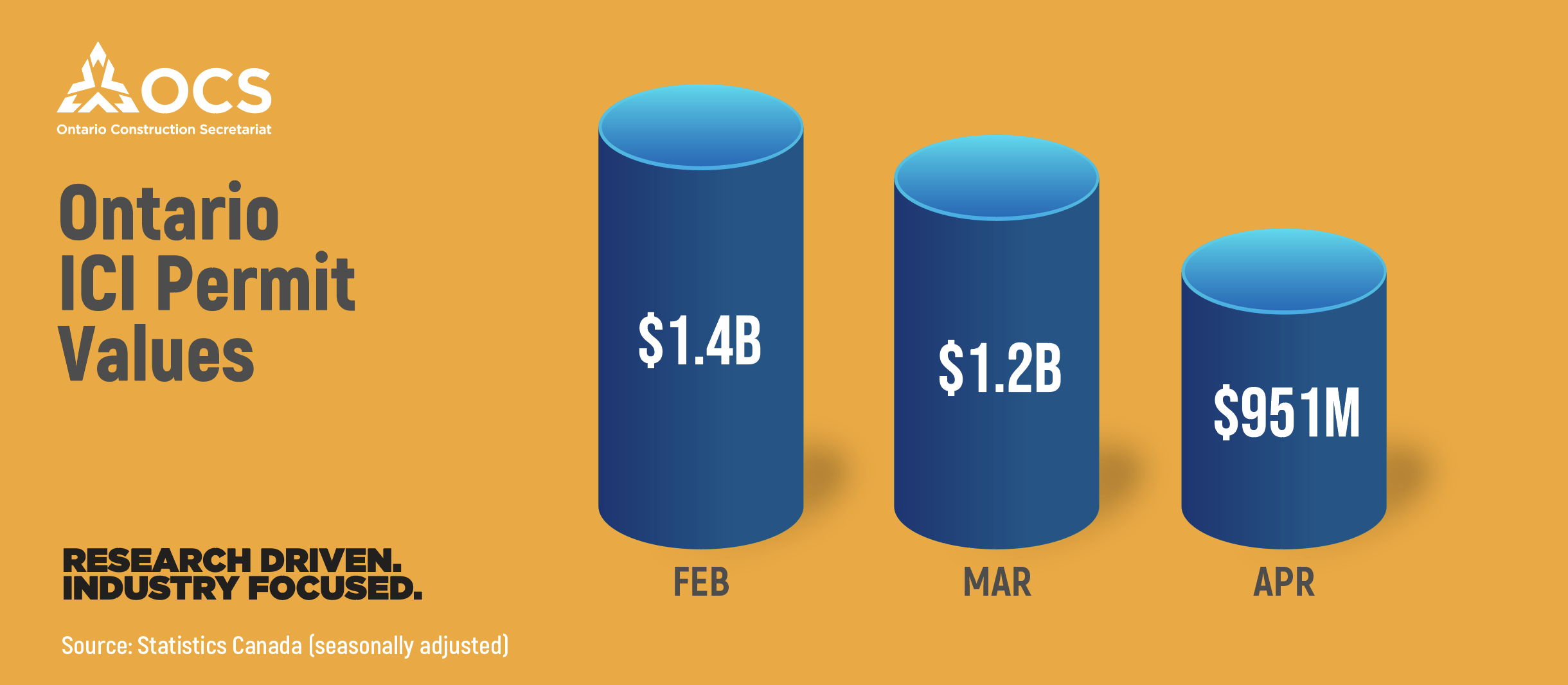 At the sector level it's worth looking at both the February-to-March and March-to-April percentage changes. In March, Ontario's industrial permit values actually increased by 8% then fell by 38% in April. Commercial permit values saw a greater drop in March (-16%) than April (-8%). Institutional permit values fell by 8% in March and a further 46% in April.
Toronto's ICI permit values fell by 26% in March, but increased by 10% in April. Three more of Ontario's sixteen census metropolitan areas saw declines in March and increases in April (Brantford, Oshawa, Peterborough). Only three metro areas had consecutive declines in ICI permit values in March and April (Barrie, Sudbury, Thunder Bay).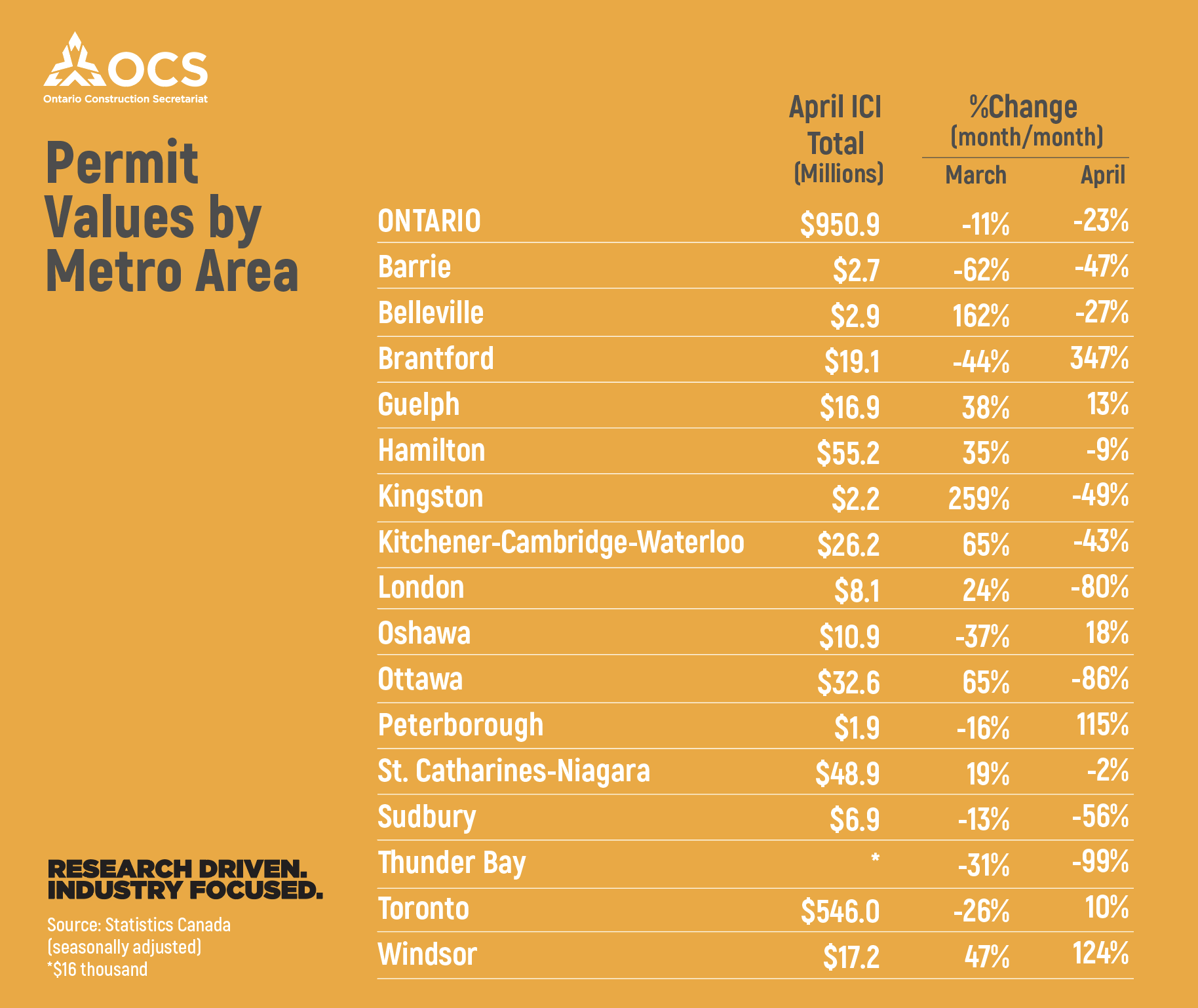 In many of Ontario's metro areas, permitting wasn't affected by the coronavirus economic disruption until April. Ottawa's ICI permit values increased by 65% in March, and fell by 86% in April. Similar trends were observed in Kingston (-49% in April), Kitchener-Cambridge-Waterloo (-43%), London (-80%), In other metro areas, April permit declines were not as significant. Hamilton's ICI permit values increased by 35% in March and declined by 9% in April. Belleville and St. Catharines-Niagara also had less-significant permit value declines in April.
ICI permit values actually increased in both months in Guelph (+38%, +13%) and Windsor (+47%, +124%).
The fluctuation in permit values between metro areas could be partially due to disruptions in the ability of municipal governments to issue permits. Recent reports have indicated that delays have been encountered in building permit processes in Ontario. Municipalities that were reportedly not issuing permits at some point in the past two months, include Toronto, Oakville and Brampton. McMillan LLP has been providing weekly updates on the status of building permitting in some of Ontario's larger municipalities. Their most recent update can be found here. Several of the contractors who were interviewed for the OCS' recent survey, Coronavirus Contractor Survey 2: Restart & Recovery, indicated that delays in issuing building permits were a challenge.
Note on discrepancies with previously-reported March permit data:
It should be noted that these March numbers do not match with the flash estimates presented in the April 9 Economic Update bulletin. Statistics Canada released those estimates in an effort to provide more timely information in this critical period. The Ontario flash estimates were based on data collected from 21 municipalities, along with open-source data from five other municipalities. According to StatsCan, there were several reasons why the March flash estimates ended up being some ways off the actual March numbers presented here. The open-source data could not be put through StatsCan's usual verification process, and ended up not being as accurate as was hoped. StatsCan also observed that permit values in some of the municipalities that couldn't be included in the flash estimates ended up increasing more than expected, cancelling out the estimated drop to some extent.
FOR MORE INFORMATION, CONTACT US.