---
August 16, 2021
Last week, Statistics Canada released its Investment in Building Construction data for June, providing the opportunity to examine second quarter ICI investment in Ontario. Q2 ICI investment in Ontario amounted to $5.94 billion, a record high for the province in any quarter. In June specifically, ICI investment in Ontario fell by 1.0% compared to May, ending a series of eight consecutive month-over-month increases that was reported last month. At the sector level, investment increased quarter-over-quarter in all three sectors in Q1 and Q2 this year.
Second quarter ICI investment in Ontario was up by 9.5% over Q2 2020, an increase of $515.2 million. Commercial investment in Ontario rose by 16.6% quarter-over-quarter. Institutional investment increased by less than a percent (+0.7%) compared to last year's second quarter, while industrial investment declined by less than a percent (-0.3%).

Since falling to a fourteen-month low in December 2020, institutional investment in Ontario has increased steadily for six consecutive months. Institutional investment in June surpassed $430 million for the first time since December 2018. Statistics Canada reports that increased institutional investment in Ontario has been driven in part by a long-term care home project in Mississauga.

While ICI investment in Q2 was up by more than $515 million, two metro areas accounted for greater than 99% of this: Toronto and Ottawa. ICI investment in Toronto in the second quarter increased by 6.3% over Q2 2020 (about $172 million), while ICI investment in Ottawa increased by 88.9% (about $343 million). The major projects driving the substantial investment increase in Ottawa have been discussed in a previous bulletin. That bulletin also reported that Ottawa had seen significant increases in ICI investment over four consecutive quarters. ICI investment in Ottawa declined slightly between the first and second quarters this year, but Q2 investment still amounted to over $700 million for the third quarter in a row.
ICI investment increased in four other metro areas in Ontario in the second quarter year-over-year: Kingston (+22.6%), Greater Sudbury (+17.0%), Hamilton (+2.4%) and St. Catharines-Niagara (+0.2%). In Ontario's ten remaining metro areas, ICI investment declined:  Kitchener-Cambridge-Waterloo (-0.2%), Brantford (-2.1%), Guelph (-2.4%), London (-3.2%), Oshawa (-10.6%), Belleville (-10.9%), Windsor (-11.5%), Barrie (-11.6%), Peterborough (-26.5%) and Thunder Bay (-38.4%).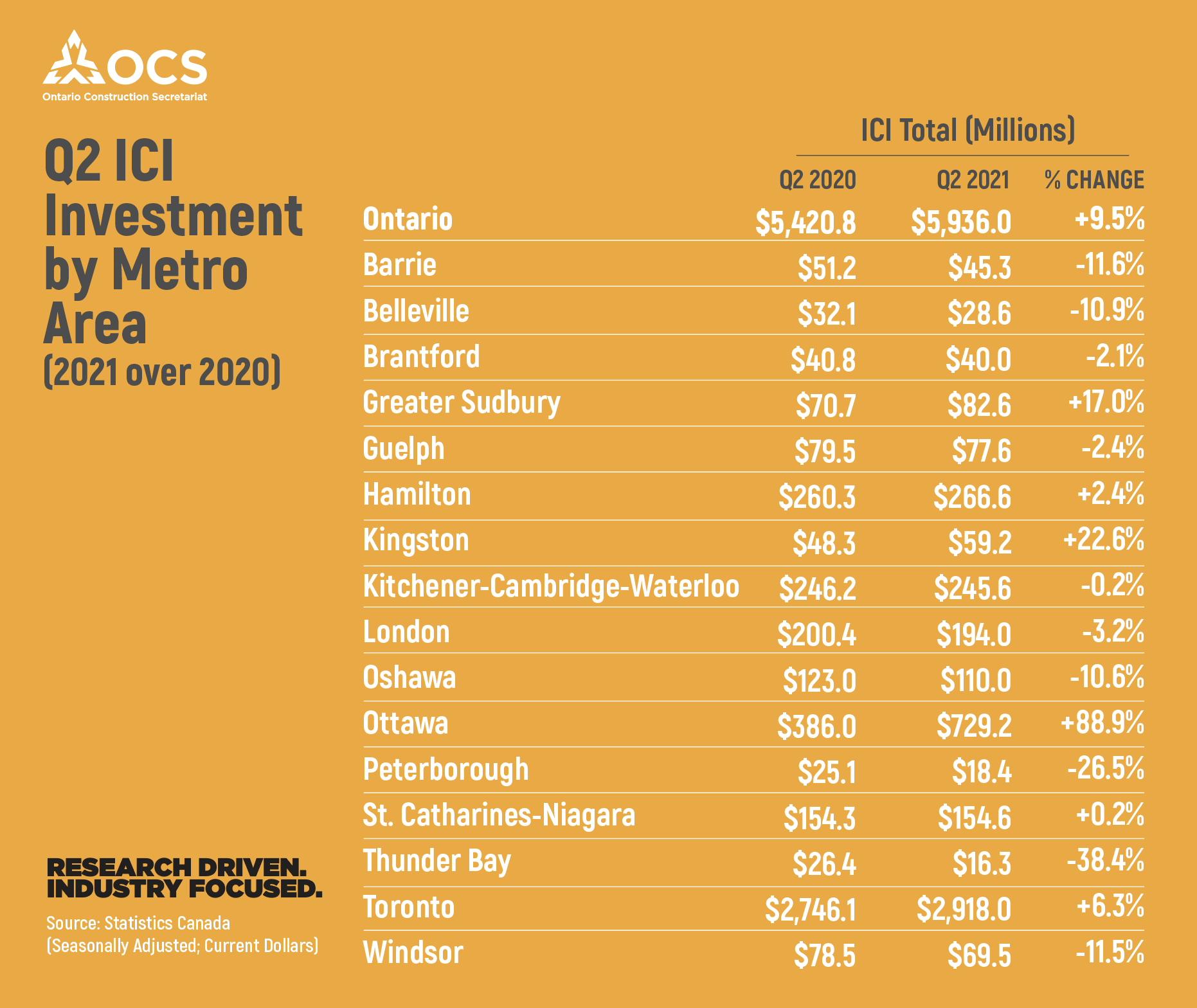 _____________________________
FOR MORE INFORMATION, CONTACT:
Katherine Jacobs
Director of Research
Ontario Construction Secretariat (OCS)
180 Attwell Drive, Suite 360, Toronto, ON M9W 6A9
P 416.620.5210 ext. 222
F 416.620.5310
kjacobs@iciconstruction.com