---
September 14, 2021
Ontario's Construction Employment Reaches 4-Month High
Statistics Canada's latest labour force data was released on Friday, showing an additional 10,000 construction industry jobs in Ontario in August compared to July (an increase of 1.9%). Employment in the construction industry in Ontario rose to 534,700 in August, the highest level since April.

In August, Ontario's general unemployment rate fell for the third consecutive month, reaching 7.6%. This was the province's lowest unemployment rate since March, and the second lowest since the pandemic began.

Ottawa's Commercial Sector Continues to Drive the Province's ICI Investment Growth
Yesterday, Statistics Canada published its Investment in Building Construction data for July, showing a slight increase in ICI investment in Ontario compared to June (+0.3%). Looking at Ontario for the year so far (January-July), ICI investment was up by 3.6% compared to the same period last year, the equivalent of almost half a billion dollars.
Industrial investment in Ontario was down by 3.4% year-to-date, and like ICI overall, industrial investment increased by 0.3% in July over June. Institutional investment in Ontario increased in July for the seventh consecutive month (since December), reaching the highest monthly total since October 2018. Institutional investment was up by 3.0% over June, and 15.1% over December. Statistics Canada reports that a York University building project has contributed to the increasing institutional investment in the province.

Commercial investment fell in Ontario in July for the fourth consecutive month (since March), although the overall decline since March amounts to only 4.0%. So far this year (January-July), investment in Ontario's commercial sector is up by 7.7% compared to the same period in 2020. As discussed in several previous bulletins, the increased commercial investment in the province has been driven by dramatic commercial investment growth in Ottawa.
The impact of Ottawa's investment growth can be illustrated by looking at the provincial data with Ottawa removed. With Ottawa's data excluded from the provincial totals, commercial investment would be down by 3.0% so far this year (rather than up by 7.7%), and total ICI investment would be down by 2.7% (rather than up by 3.6%).  Looking graphically at monthly commercial investment in Ottawa, it appears that the current boom plateaued at $222 million per month at the beginning of 2021. July's $185 million was the lowest monthly commercial investment total since October 2020.

In 2021 so far (January-July), ICI investment in Ottawa was up by 91.1% compared to the same period last year. Year-to-date ICI investment increased in three other metro areas in Ontario: Kingston (+12.4%), Greater Sudbury (+12.3%) and St. Catharines-Niagara (+0.8%). ICI investment in Guelph between January and July this year matched the total reached in the same period in 2020. Toronto's ICI investment was down in the January-July period compared last year, but only by a fraction of a precent (-0.3%). In Ontario's remaining ten metro areas, ICI investment was down year-over-year by more than six percent: Hamilton (-6.1%), Kitchener-Cambridge-Waterloo (-6.6%), Brantford (-9.0%), London (-9.6%), Windsor (-12.9%), Oshawa (-18.4%), Belleville (-21.9%), Barrie (-22.5%), Peterborough (-30.5%) and Thunder Bay (-43.1%).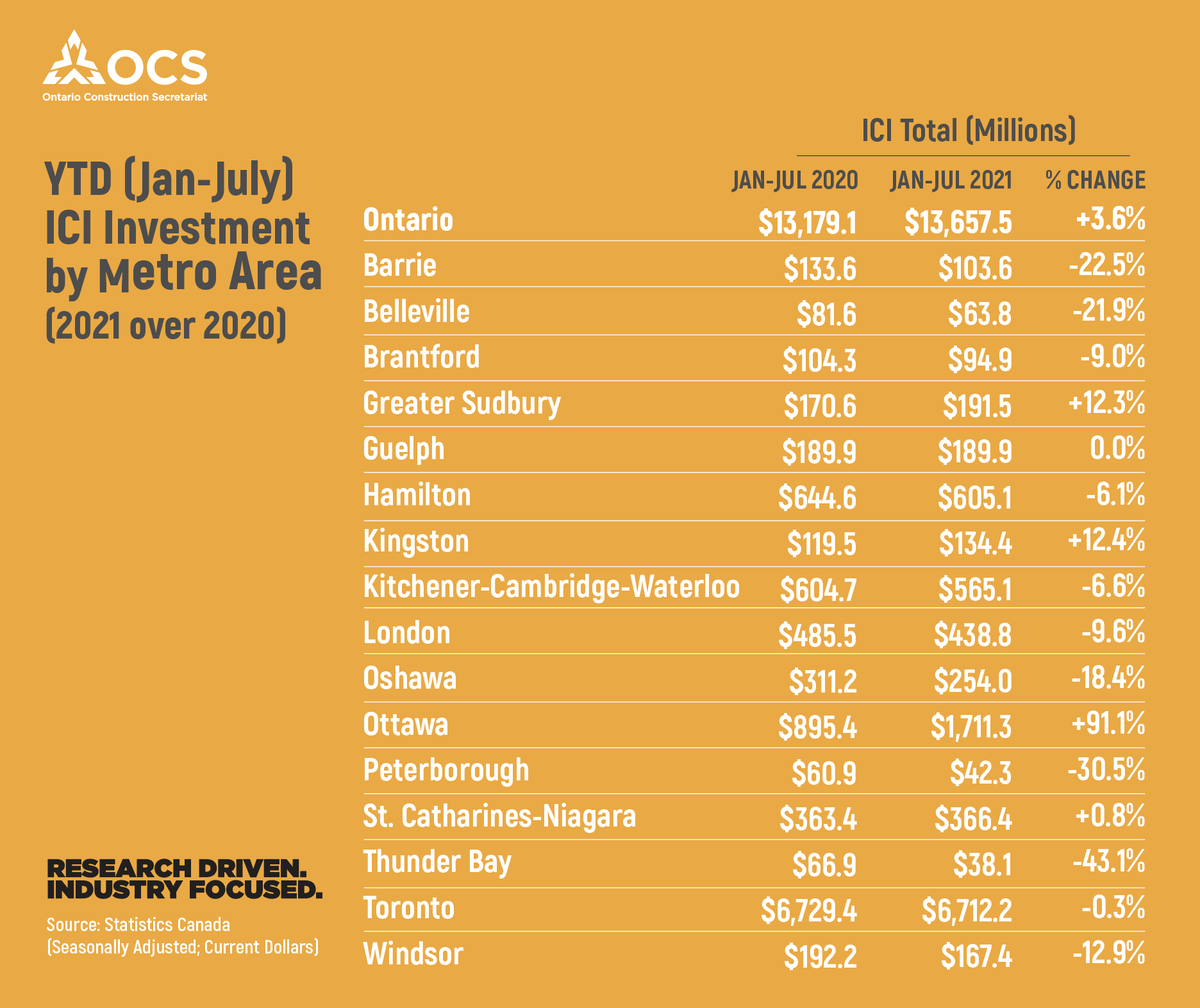 _____________________________
FOR MORE INFORMATION, CONTACT:
Katherine Jacobs
Director of Research
Ontario Construction Secretariat (OCS)
180 Attwell Drive, Suite 360, Toronto, ON M9W 6A9
P 416.620.5210 ext. 222
F 416.620.5310
kjacobs@iciconstruction.com